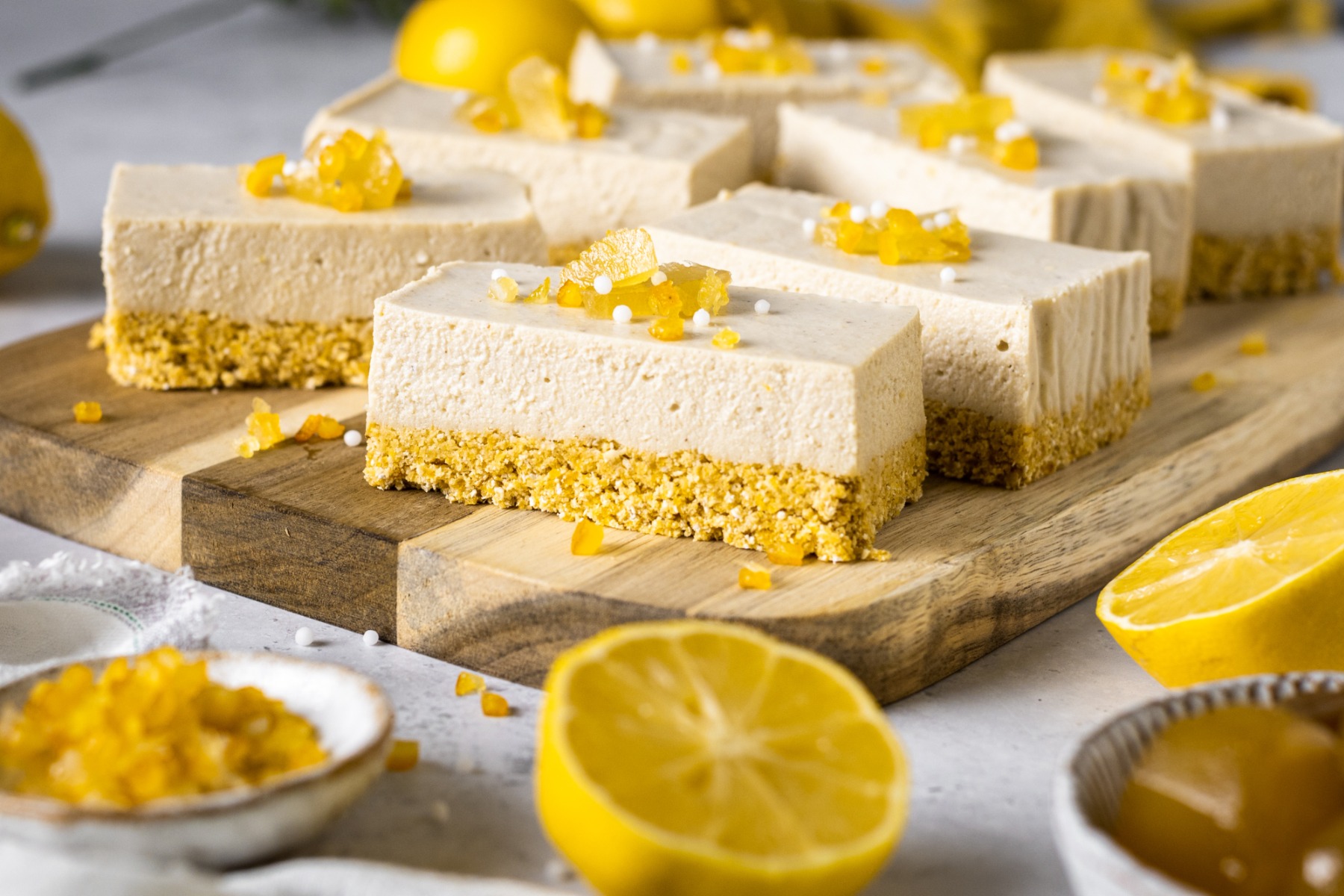 Recipe and images courtesy of Romy London (@romylondonuk on Instagram)
The best no-bake cheesecake slices! Flavoured with lemon zest and fresh ginger for the ultimate zesty zing, this vegan cheesecake is created with a fruity and nutty base and topped with a gorgeously creamy lemon & ginger cashew based filling. Perfect for sharing & freezer-friendly, so you can always have a slice of your favourite cheesecake to hand!
Prep time: 60 mins (+ 4-6 hours soaking time)
Cook time: 0 mins
Ingredients (makes 10 slices):
For the base:
For the cheesecake filling:
To decorate:
Method:
Start by soaking your cashews in water for 4-6 hours or ideally overnight until they are softened. Drain & rinse, then place them into a high-speed blender alongside the yogurt, lemon juice & zest, vanilla, maple, coconut oil, ginger, nutmeg, cinnamon and cardamom. Blend on a high speed until smooth.
In the meantime, place the oats, coconut flour, lemon zest, and apricots into a food processor and pulse until you get a sticky dough.
Transfer the dough into a 6 x 6 inch lined dish and firmly press the dough into all corners of the dish, creating an even layer. Pour the cheesecake filling on top of the base layer. Gently tap the dish onto the counter to remove any air bubbles, then place it in the fridge for a minimum of 5 hours or overnight to set.
Once set, carefully remove it from the dish & slice the cheesecake with a sharp knife. Decorate the top with stem ginger & chopped mixed peel and serve alongside some delicious ice tea!
The cheesecake bars can be stored in the fridge in an airtight container for up to 5 days, or frozen up to 3 months!