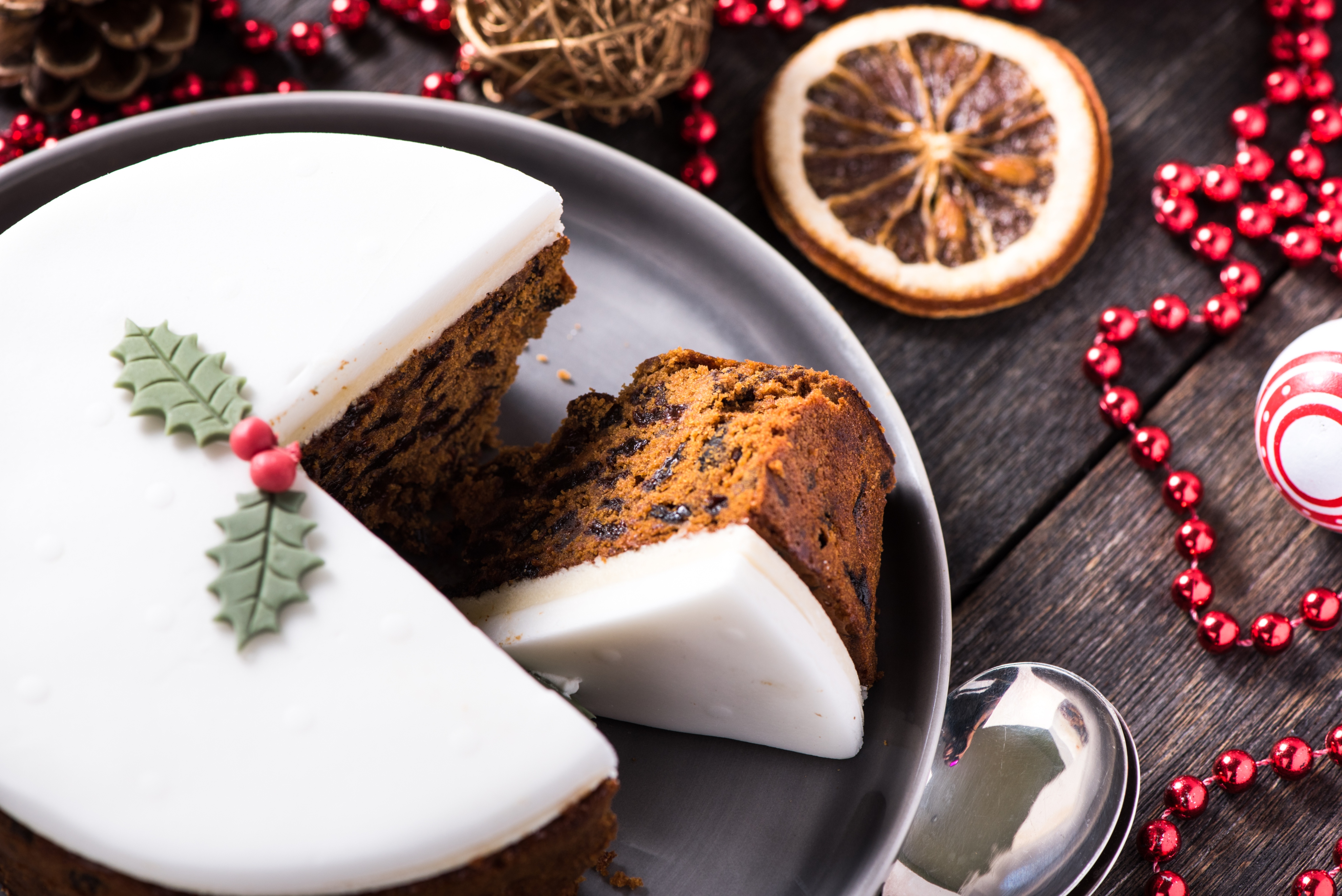 Grape Tree's Classic Christmas cake recipe is of course delicious, but, also naturally vegetarian. And, for the 2021 Christmas Cake recipe, we have included our vegan Christmas cake alternative recipe, plus a couple of options for decoration. There are no rules make it your own and feel the fruity festivity goodness.
If you make this in advance, you will have ticked off a major festive item from your to-do list. Bake this Xmas fruit cake in advance of the big day for all the tastiness to soak in and be perfect for your dinner table.
Ingredients
For the fruit mix:
For the cake batter:
Bringing it together:
For the decorating:
To make it vegan:
Method
Wash and dry all the fruit and place in a large mixing bowl. Pour over the tea or alcohol and mix well. Cover and leave to stand overnight.

Line a 20-24cm round cake tin with baking paper.

Cream the butter and sugar until light and fluffy. Add the fruit rinds, vanilla essence, treacle, and marmalade and beat well.

Add the eggs one at a time, beating well after each one. If the mixture starts to curdle add a little of the flour.

In a separate dish mix together the nuts, spices and flour.

Fold into the cake mix the prepared fruits, alternating them with the nuts, spices and flour. Mix well.

Pour the mixture into the lined tin, smooth over the top and bake at 140°C for 3-4 hours. The cake is ready when a skewer inserted in the centre comes out clean.

When the cake has cooled take it out of the tin and wrap in greaseproof paper and then tinfoil and store in an airtight container.

Just before Christmas remove the wrapping and decorate how you wish. Enjoy!
Decorating
You are spoiled for choice with this festive favourite.
First up is to dress the cake with pecans, almonds and glace cherries with warm apricot jam spooned over as a glaze.
But you can also cover with rich marzipan and royal icing which can be bought ready-rolled.
Grape Tree tip
To make this a vegan recipe replace the butter with 225g of coconut oil; soft brown sugar with 225g of coconut sugar; the eggs for 4tbs of golden linseed soaked in 12tbs of water for 30 mins.
More recipes