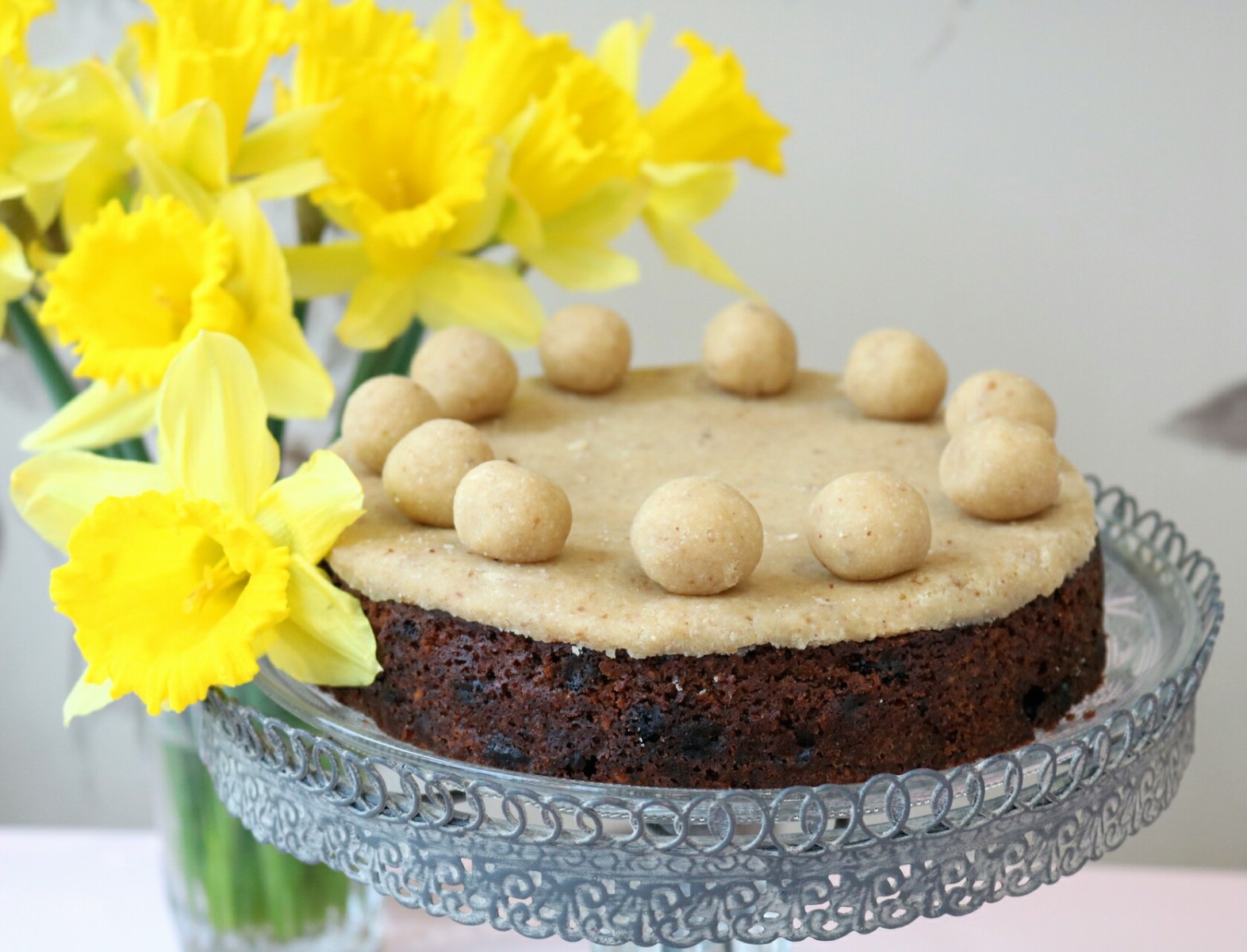 Traditionally, this fruit cake is eaten during Easter in the UK and Ireland. Easter Simnel Cake is a rich fruit cake which is filled with a marzipan centre that melts and combines with all the other flavours during cooking. It is then finished off with another generous layer of marzipan and decorated with eleven marzipan balls, representing Jesus' disciples minus Judas the traitor.
Almonds are the foundation in all marzipan and the dates, with their natural high sugar content, provides the sweetness. In this recipe we have used natural marzipan with no refined sugar and makes it that much more special.
Lighter and more spring-like than a fruit cake baked at Christmas, filled with plenty of moist dried fruit, zesty peel and fiery ginger. And, most importantly, unlike Easter eggs, its homemade, vegan and consciously good!
Ingredients
1 cup raisins
1/2 cup currants
zest of an orange
Juice of one orange
1/4 cup glacé cherries
2 tbsp grated ginger
1 cup vegan butter
1 cup coconut sugar
1 cup self-raising flour
4 flax "eggs" (4 tbsp ground flaxseed + 80ml water)
1 tsp mixed spice
For the filling and topping:
3 cups ground almonds
10 dates. (Soak if needed)
2 tbsp apricot jam
Method
The night before you bake the cake, soak the dried fruit, ginger and orange zest in orange juice.
The next day pour the ground almonds into a food processor or blender and add the dates. Run on high speed until the ground almonds and dates are turned into a nice and slightly sticky marzipan. Cover the marzipan and keep it in the fridge until you need it.
Line a 20cm round cake tin and preheat oven to 150c.
In a bowl, beat the Vegan butter, sugar, flour, spices and flax eggs with an electric mixer. Until well combined and fluffy. Then stir in the soaked fruit.
Spoon half of the mixture into the cake tin and level the surface. Take a third of the marzipan, roll it out to 20cm diameter and layer it on top of the mixture. Spoon the rest of the mixture onto of the layer of marzipan and level the cake mixture off.
Bake for 1¾ to 2 hours. Test cake by inserting a skewer, if you find cake browning to quick cover with foil.
Remove from oven, let cake cool completely before decorating.
Brush the top of the cake with the apricot jam. Roll another third of the marzipan into a 20cm diameter circle and place on top of the cake.
Take the remaining marzipan and roll it into 11 balls and place around the cake.