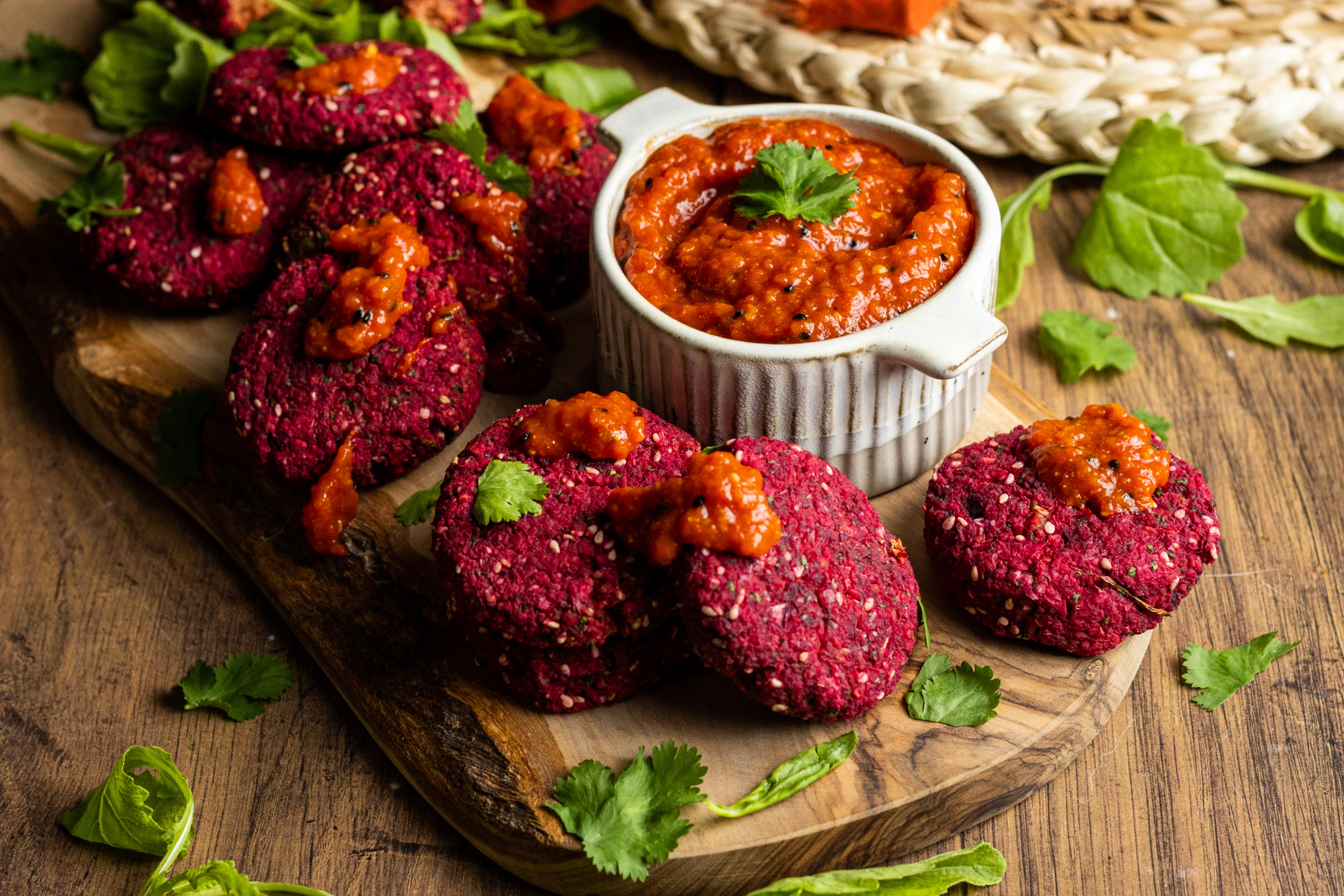 Recipe and images courtesy of Romy London (@romylondonuk on Instagram)
Looking for the perfect grab and go food? Look no further, these Beetroot Falafels are delicious and packed with flavour especially accompanied by homemade Harissa paste. Add these Falafels into a wrap, pitta or simply on their own. The added coriander adds a fresh vibrant taste to this dish.
Prep time: 20 mins (plus overnight soaking)
Cook time: 120 minutes
Ingredients:
For the beetroot falafels:
125g dried chickpeas
150g pre-cooked beetroot
1 tsp olive oil
1 red onion, chopped (roughly 100g)
½ tsp sea salt
4 cloves garlic, minced
10g fresh coriander
1 tsp Ground cumin
1 tsp Ground coriander
¼ tsp black pepper
1 tbsp sesame seeds + extra if you like them crispy
For the harissa paste:
3-5 dried birds-eye chillies
2 large red bell peppers
5 large garlic cloves
1 tsp toasted caraway seeds
1 tbsp tomato paste
½ tsp ground coriander
1 tsp ground cumin
1 tsp Smoked paprika powder
¼ tsp Salt
1 tbsp fresh lemon juice
Method:
Start by soaking the dried chickpeas in fresh water overnight. The next day drain and
rinse the chickpeas. Place them into a saucepan with 3x the amount of water and
bring to a boil for 10 minutes, then simmer for 85 minutes until the chickpeas are
softened.
In the meantime, heat the olive oil in a non-stick pan and fry the red onion until
softened for 3-4 minutes. Sprinkle in the salt, then add the minced garlic and cook for
one more minute, then remove from the heat.
Place the pre-cooked beetroot, onion, garlic, cooked and drained chickpeas and
fresh coriander into a food processor and pulse for 10-15 times until the mix is
roughly broken down and sticky. Stir in the ground cumin, ground coriander, pepper
and sesame seeds, then preheat your oven to 200C.
Carefully scoop out the falafel mix and roll into bite-size balls - it's best to wear gloves
for this, if you don't fancy staining your hands! Gently place them onto a lined baking
tray and give them a little squeeze from the top to shape them into mini patties. For
an extra crunch, you can roll them in more sesame seeds.
Transfer the tray to the preheated oven and bake at 200C for 12-15 minutes or until
golden and crunchy.
To create the harissa paste, place your red peppers under the grill of your oven and
grill until the skin begins to blacken. Remove the peppers from the oven and set them
aside to cool down for 10 minutes, then remove the skin and seeds.
In the meantime, place the dried chillies into boiling water to soften for 10 minutes.
Toast your caraway seeds in a small pan on the stove for 2-3 minutes whilst stirring.
Transfer the peppers, chillies, garlic, caraway seeds and tomato paste to a small food
processor and blend for 1-2 minutes until the ingredients are broken down into a
smooth sauce. Stir in the seasonings and lemon juice.
To serve, drizzle the harissa paste over the beetroot falafels and enjoy either on their
own or in a delicious wrap!