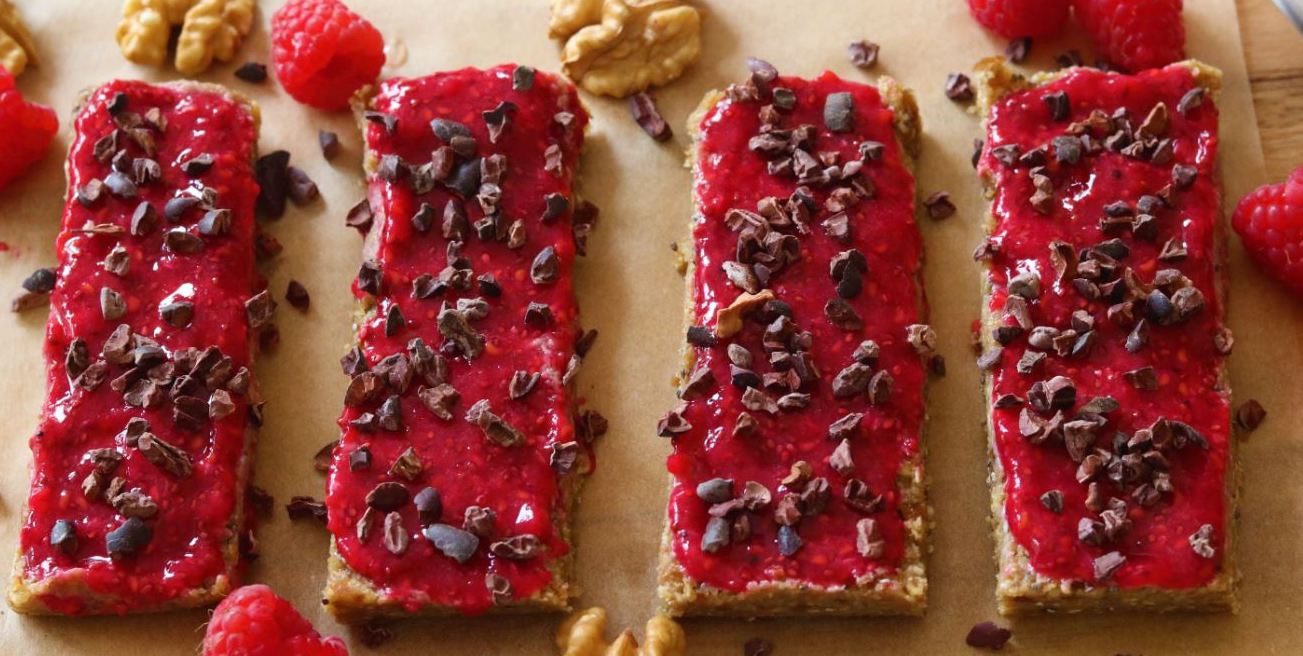 Sweet raspberry chia jam perfectly complements the fruity oatmeal bar in this no-bake breakfast recipe. Not only does the jam topping look a treat it also provides a healthy dose of omega 3 fatty acids, calcium, fibre and minerals thanks to the loaded chia seeds contained inside! Make ahead of the week for a delicious breakfast on the go or healthy snack in between meals.
Prep time: 15 minutes
Ingredients Make 6 bars
For the raspberry chia jam:
100g raspberries
1 tsp maple syrup
1 tsp lemon juice
1 tbsp chia seeds
For the bars:
100g oats
100g walnuts
1 tbsp chia seeds
20 pitted dates
1 vanilla pod (or 1 tsp of vanilla extract)
1/2 tsp Himalayan Pink Salt
A sprinkling of cacao nibs
Method
Place the chia jam ingredients in a food processor and process until smooth. Set the jam aside to thicken in a separate bowl for about 15 minutes while you prepare the bars.
Rinse the food processor. Pulse the oats in the food processor until they become the texture of coarse flour. Add the walnuts, chia seeds, whole vanilla bean and salt. Turn the processor on and with the motor running, add the dates through the feeder one at a time until the mixture is uniform in texture.
Evenly press 3/4 of the mixture in an 8-inch by 8-inch square pan.
Spread the chia jam over the mixture in the pan. Cover and refrigerate for at least one hour before cutting into bars. Once cut sprinkle each bar with cacao nibs. Store bars in the refrigerator.