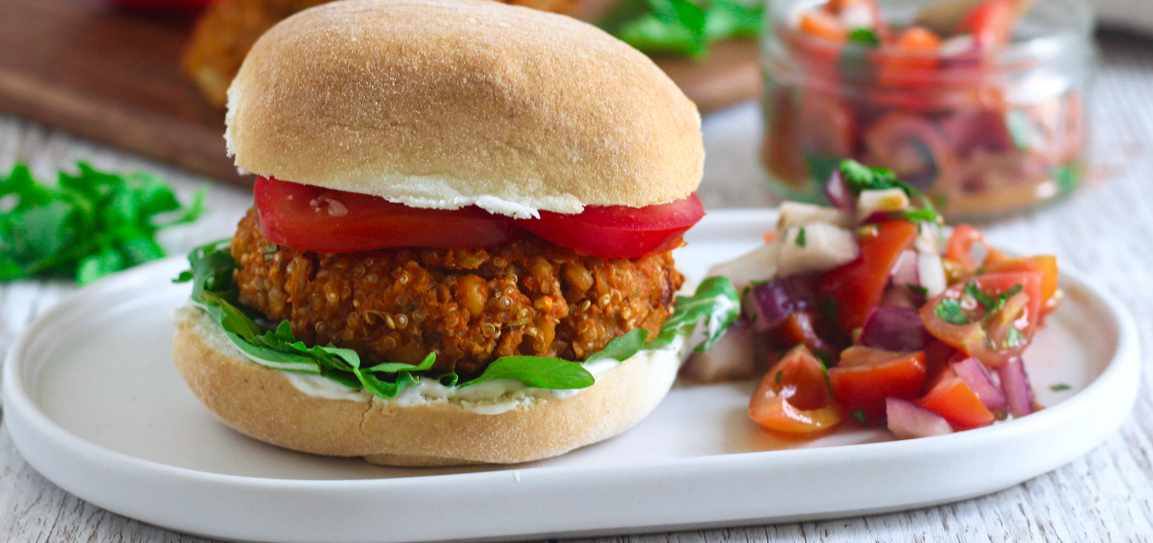 Recipe and images courtesy of Nourishing Amelia, Award Winning Blogger
Who said you have to miss out on anything whilst following a plant-based diet? This recipe is the ultimate for the best vegan burgers you'll ever eat. They have an amazing texture, they're high in protein and full of flavour. Plus, they're really easy to make and don't require a blender, unlike most burger recipes out there. We love these burgers served in a bun with a side of chunky salsa, the recipe for which is included below!
Ingredients
Burgers -
60g quinoa
1 x 400g tin chickpeas
1/2 white onion
2 cloves garlic
3 tbsp tomato puree
5 tbsp chickpea flour
2 tsp cumin
1 tsp paprika
1 tsp mixed herbs
1 tbsp. Golden Linseed (flaxseed)
Salsa -
8 cherry tomatoes
1/4 onion
1 clove garlic
1 tbsp fresh chopped coriander
2 tbsp apple cider vinegar
1 tbsp rapeseed oil
Pinch of salt
Method
Pre-heat the oven to 180 degrees celsius.
Rinse the quinoa under cold water and add to a saucepan with 120ml water. Bring to the boil then reduce to a simmer and cook for around 10 minutes, or until the quinoa has soaked up the water and has become all fluffy.
Drain and rinse the chickpeas then add to a mixing bowl. Roughly mash with a fork or potato masher until well mashed but with some chunks still visible.
Finely chop the onion then add this to the mixing bowl along with the crushed garlic clove, cooked quinoa and all the other ingredients. Mix well.
Line a baking tray with baking paper. Mould the burger mixture into patty shapes and place them on the baking tray. You should make 6 burgers.
Place the burgers into the oven and cook for 20 minutes, making sure to turn them over halfway through cooking.
While the burgers are cooking it's time to make the super simple but super tasty salsa! Simply chop the tomatoes into quarters and finely chop the onion. Add these to a small bowl along with the crushed garlic and all the other ingredients. Mix well.
Serve the burgers alongside the salsa, and maybe some delicious sweet potato fries!