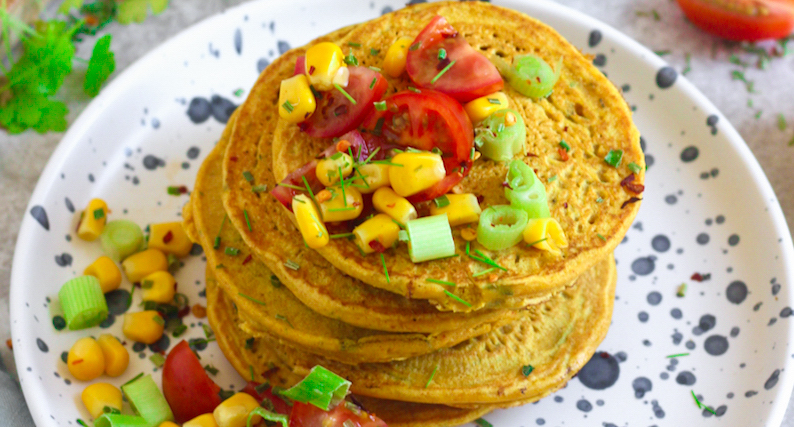 Recipe and images courtesy of Nourishing Amelia, Award Winning Blogger
These savoury spiced pancakes are quickly becoming our go-to lunch! They take hardly any time at all to throw together and taste simply amazing. They're the easiest things to make yet truly are incredibly special with an abundance of flavour, an unbeatable texture and they're wonderfully satisfying too! Try topping with avocado for added healthy fats and lots of juicy cherry tomatoes, fresh peppery rocket and sweetcorn for a perfect lunch or light dinner.
Ingredients (makes 4-5 mini pancakes)
100g chickpea flour
1 tbsp nutritional yeast
1 tsp paprika
1 tsp dried chives
1/2 tsp turmeric
1/2 tsp cumin
1 tsp apple cider vinegar
1 tbsp lemon juice
1/2 tsp baking powder
150ml water
Salt & pepper
1 tsp coconut oil
Method
Sift the chickpea flour into a mixing bowl then stir in the nutritional yeast and all the dried spices and herbs.
Stir in the water then add the apple cider vinegar, lemon juice and baking powder. Mix well.
Add the coconut oil to a frying pan over a medium heat and allow to melt.
Add around 1/4 of the pancake mixture to the saucepan - I use a ladle to spoon it in, this makes it easier to create a round shape.
Cook the pancake for around 3 minutes on one side, or until bubbles begin to appear on the surface. Flip the pancake and cook for a further couple of minutes on the other side. Repeat with the rest of the pancake mixture. You should make 4-5 pancakes.
Serve your pancakes with whatever you fancy! Avocado, rocket, cherry tomatoes, sweetcorn and spring onions are a great option.