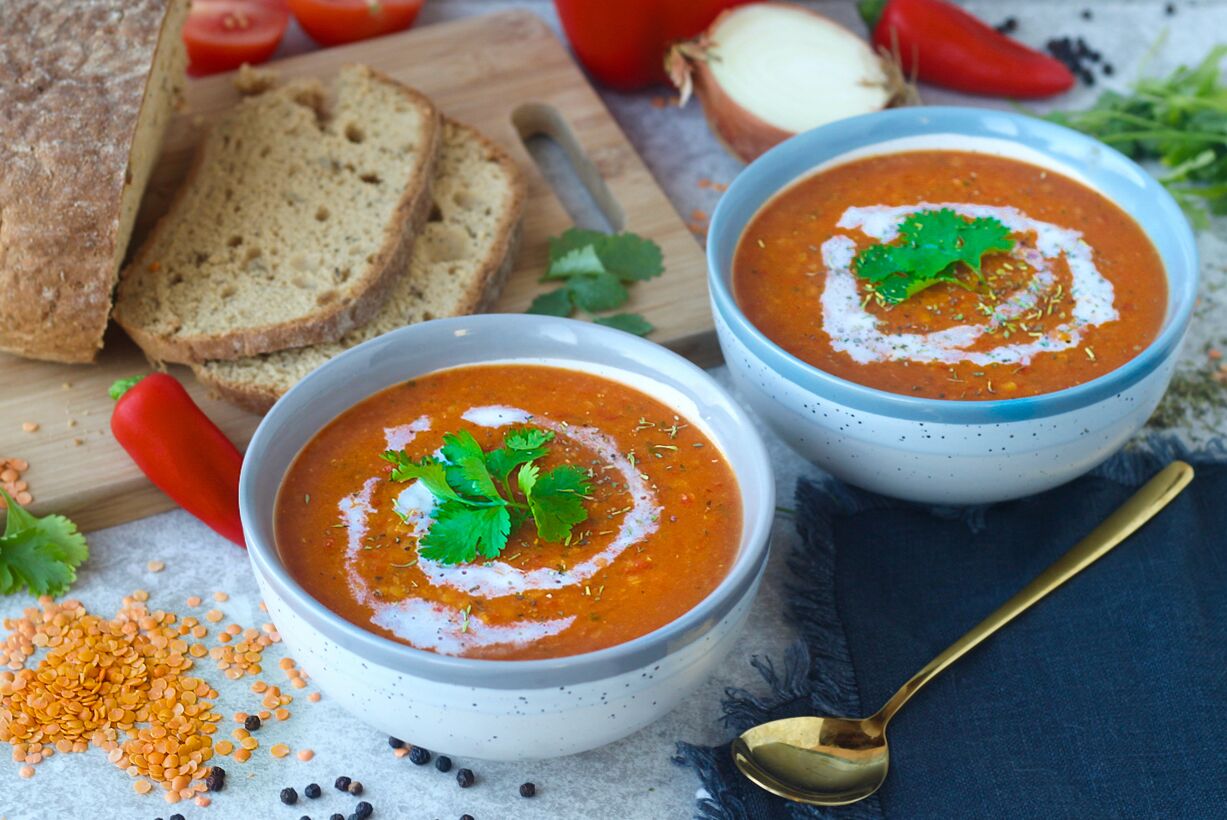 Recipe and images courtesy of Nourishing Amelia, Award Winning Blogger
This Roasted Red Pepper & Lentil Soup is an amazing and delicious lunch option! Its so filing thanks to the protein packed red lentils, is loaded with immune-boosting vitamin C with the amazing red peppers, gives you a boost of healthy fats with the added coconut milk and will help tonight off any cold or flu with the help of the garlic and turmeric powder. This recipe is also great to make at the beginning of the week to last you a few days or even freeze in batches, ready to be cooked and enjoyed whenever you want it!
Ingredients
200g red lentils
red peppers
4 tomatoes
1 tbsp olive oil
600ml vegetable stock
1/2 red onion
2 cloves garlic
2 tsp herbs de provence
3 tbsp coconut milk (from a can)
1 tsp turmeric
2 tsp paprika
8g fresh coriander
Salt & pepper
Method
Pre-heat the oven to 180 degrees celsius.
Add the lentils to a saucepan and cook according to packet instructions.
Chop the red peppers, tomatoes and onion then place on a baking tray along with the garlic cloves. Toss with 1 tbsp olive oil, salt and pepper then place into the oven to roast for 10 minutes.
Once the vegetables have cooked, add them to a food processor along with the vegetable stock, half of the lentils, the coconut milk, turmeric, paprika, herbs de provence, fresh coriander and a little more salt and pepper. Blend until smooth.
Pour the mixture into a saucepan and stir in the remaining half of the lentils. Gently warm on a low heat and serve with an optional extra drizzle of coconut milk and sprinkling of fresh coriander.