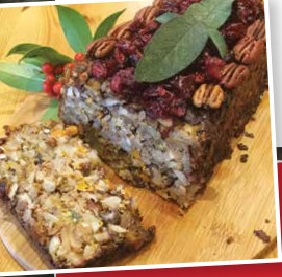 You no longer have to feel left out at Sunday roast or Christmas dinner! And why should you? This delicious nut roast recipe will definitely not disappoint. The nuts and mushrooms have a meaty texture and it is packed full of flavours. Serve with a side of vegetables and your favourite sauces.
Ingredients:
250g mixed nuts (we use hazelnuts, almonds, walnuts??and brazils)
150g cooked chestnuts
150g chestnut mushrooms
50g dried apricots
1 large parsnip
1 large carrot
1 onion
2tbsp olive oil
100g stilton
50g brown breadcrumbs
2tbsp thyme
1 clove garlic
1tbsp honey
1/2 tsp cumin seeds
1 large egg
For The Topping: 30g pecans, 30g dried cranberries, 4 sage leave
Method:
Roast nuts for 10 mins at 180 degrees celsius. Leave to cool chop roughly. If you want a Finer Loaf chop nuts finely.
Peel the carrot and parsnip. Cut into cubes and put into a roasting tin with 1tbs olive oil, the honey and cumin seeds. Roast for 50 mins at 180 degrees celsius or until they are soft with slightly brown edges. Once cooked mash and put into a large mixing bowl.
Finely chop the onion and garlic clove and fry in the remaining olive oil until soft. Add the sliced chestnut mushrooms and cook for 5 mins. Add to the carrot and parsnip mixture.
Add chopped nuts to the mixture along with the chopped cooked chestnuts and breadcrumbs. Then add the crumbled stilton, the chopped thyme and apricots and beaten egg. Mix thoroughly.
Grease a loaf tin and line with silver foil. Grease again and then add the mixture pressing down firmly. Cover with silver foil and bake at 180 degrees celsius for 45 mins. Remove the foil and cook for a further 15 mins until golden brown.
Turn out the loaf, peel away the silver foil and decorate with pecans, cranberries and sage leaves. Serve with roasted vegetables or slice cold with pickles.