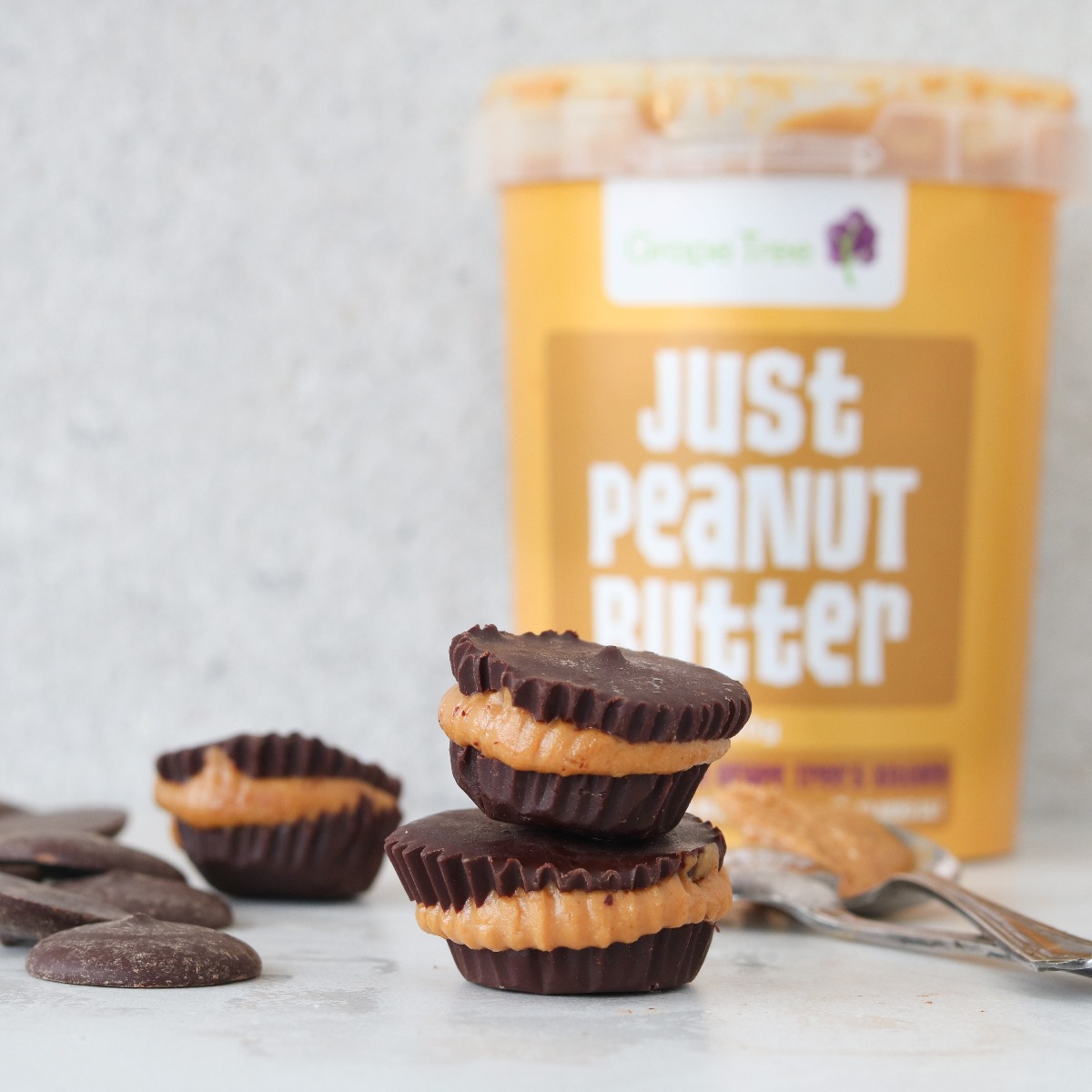 Vegan Chocolate Peanut Butter Cups
One of the most popular
vegan cake
s amongst the team at
Grape Tree
.
These vegan chocolate peanut butter cups are simple to make, with just a few ingredients you can make delicious tasty treats. They have no refined sugars and are gluten-free, healthy Reese's cups anyone?
Ingredients
100g organic cacao nibs / buttons

2 tsp vanilla essence

2 tsp coconut nectar

¼ tsp Himalayan pink salt

70g peanut butter
Method
1. Line a mini muffin tin with small cupcake liners.
2. Add 2 inches of water to a large saucepan and bring to a boil over medium-high heat. Then set a medium glass or ceramic mixing bowl on top, making sure it's not touching the water. Add to the bowl 50g of the cacao nibs and let melt - 2-3 minutes.
3. Once starting to melt add 1 tsp vanilla essence, 1 tsp coconut nectar and a pinch of salt and stir. Taste and adjust flavour if needed.
4. Pour a small amount of the chocolate mixture into the bottom of each liner, until the bottom is thinly covered. Then place in the freezer for 10mins for the chocolate to harden.
5. Meanwhile mix 70g peanut butter, 1 tsp coconut nectar and a pinch of salt.
6. Once the chocolate has hardened spoon peanut butter mixture onto each of the chocolate layers. Place back in the freezer to harden.
7. Once the mixture has hardened repeat the chocolate method and spoon chocolate onto each of the peanut butter layers. Place back in the freezer for 10mins.
8. Once set store your peanut butter cups in the fridge.
Prep time: 30 minutes
Cook time: 00:30
Total time: 1:00
Makes approx: 12 cakes