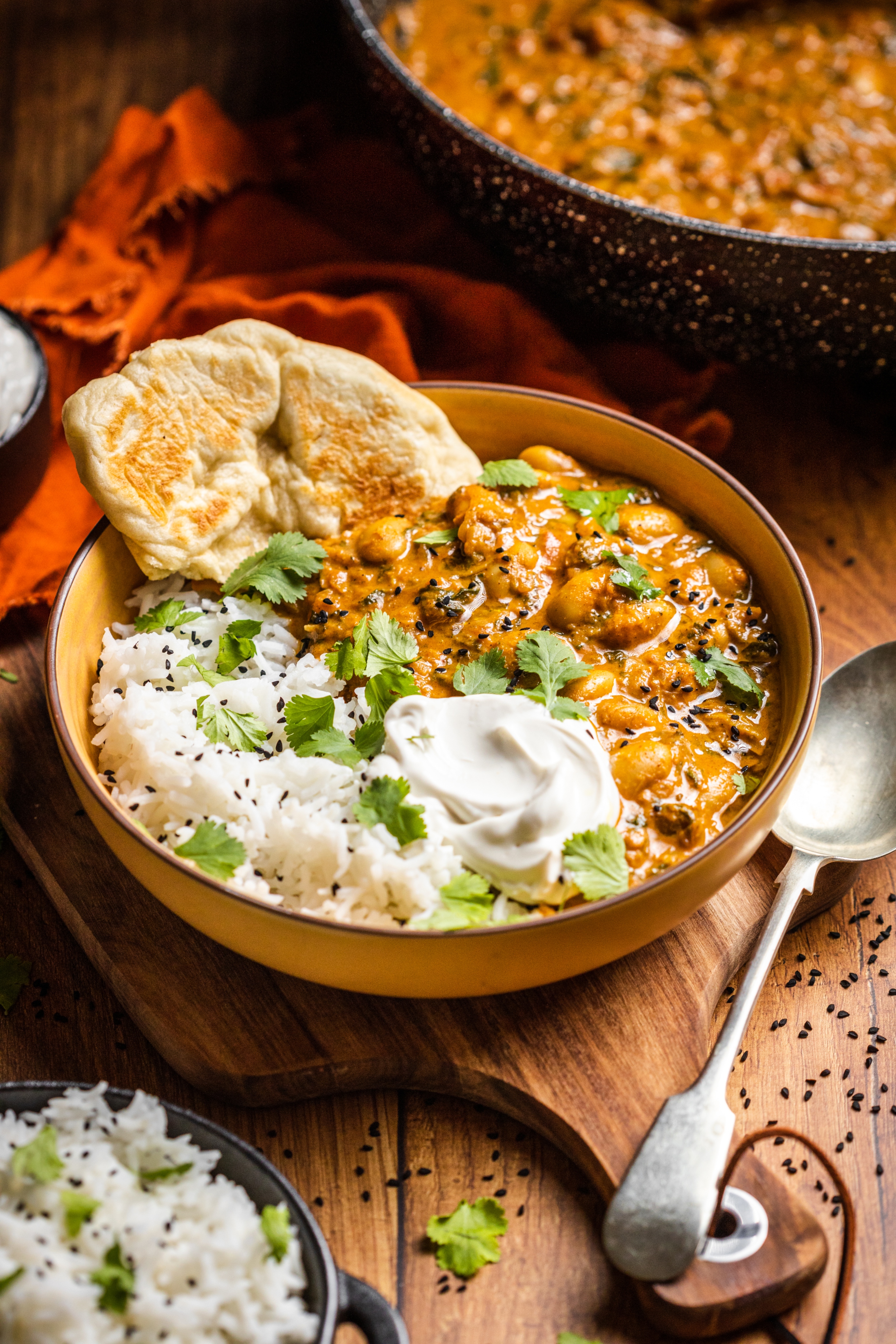 Recipe and images courtesy of Romy London (@romylondonuk on Instagram)
An Indian takeaway favourite with a vegan twist! Created with dried butter beans and a deliciously fragrant curry sauce, this Vegan Butter Bean Curry might soon be a firm favourite on your kitchen table.
Prep time: 15 minutes
Cook time: 25 minutes
Serves 4
Ingredients:
160g dried butter beans (or 2 400g-tins of butter beans, drained)
1 tbsp rapeseed oil
1 small yellow onion
5 cloves garlic, grated
¼ tsp of salt
2 tsp grated fresh ginger
½ tsp Ground coriander seeds
½ tsp ground cumin
2 tsp Garam masala
2 tbsp curry powder (or to taste, see notes)
Chilli powder to taste (optional)
1 tin chopped tomatoes (400g)
1 tin of coconut milk (400ml)
150g frozen spinach
Salt to taste
To serve:
Basmati rice
Fresh coriander
Homemade naan bread
Coconut yoghurt
Method:
Soak the butter beans in clear water overnight or for at least 8 hrs. Discard the soaking water, then transfer the butter beans into a saucepan, cover in fresh water and cook for 40-45 minutes or until softened. Drain and set aside.
In a large skillet, heat the oil and saute the onions for 4-5 minutes until softened. Stir in the garlic and sprinkle with salt.
Add the grated ginger to the skillet, then stir in all spices. Let them toast for 1-2 minutes or until fragrant.
Pour the tinned tomatoes and coconut milk into the skillet and stir to combine. Allow it to simmer over low to medium heat for 15 to 20 minutes.
Lastly, add the frozen spinach and stir until thawed. Season to taste with salt then serve your butterbean curry alongside basmati rice, homemade naan bread, fresh coriander, and a dollop of coconut yoghurt.