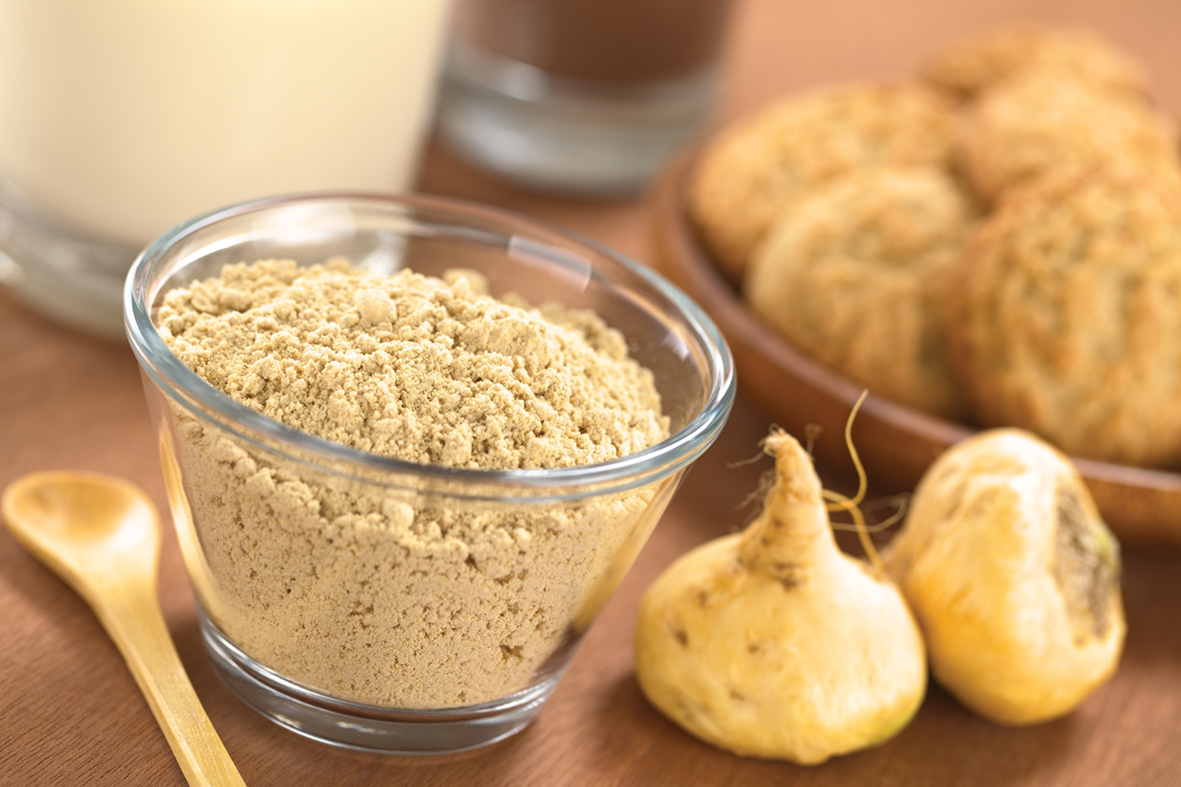 Maca, is a root that grows in the Andes Mountains of Peru at an elevation of 3800 – 4400m (12500 – 14400ft) above sea level. The colour varies considerably; from white, to yellow, red, purple and black, has been eaten for hundreds of years, and it is mainly grown for its nutritional and health benefits.
The superfood has a rich caramel flavour, a toffee-like aroma and a spoonful can be added to anything; smoothies, milkshakes, juices, cakes.
As well as being rumoured to be an adaptogen (it helps the body adapt to stress), Maca Powder carries numerous amount of health benefits. Its rich Calcium content helps build strong bones and teeth, regulates muscle contractions (including heartbeat) and ensures that blood clots normally.
A lack of Calcium can cause rickets in children or osteoporosis in later life. Adults need 700mg of Calcium a day (stated by the NHS) and there is 250mg of Calcium in 100g of Maca Powder. 
Maca is also rich in vitamin C which his good for protecting cells, is necessary for the maintenance of connective tissues and aids healthy wound healing.
In the UK, it is advised that adults have 40mg of vitamin C a day (stated by the NHS) as a lack of vitamin C can lead to scurvy. There is 285mg of vitamin C in 100g of Maca Powder.
The powder is also packed with a variety of other vitamins; including B1 and B2 and vitamin E which protects cell membranes. Maca Powder is also made up of 10% protein, 60% carbohydrate, 8.5% fibre and has 20 amino acids (8 of which are essential).
Health Benefits of Maca Powder
Calcium content contributes to normal blood clotting
Promotes normal collagen formation and maintenance of normal bones and teeth due to levels of Calcium in Maca Powder
Calcium found in Maca Powder contributes to normal neurotransmission
Normal energy-yielding metabolism from Calcium in Maca Powder
The Calcium in Maca Powder contributes to normal muscle function
Normal function of digestive enzymes from Calcium
The Vitamin C levels in Maca Powder contribute to the maintenance of the normal function of the immune system
Reduces tiredness and fatigue due to Vitamin C content
The Calcium in Maca Powder plays a role in the process of cell division and specialisation
Consumers claim it boosts libido, cures erectile dysfunction and provides relief from Menopause and Andropause symptoms
These health benefits are due to the nutrients highly concentrated in Maca Powder, and may not necessarily be related to Maca Powder
Blueberry Banana Crunch Smoothie Bowl
Ingredients
3 cups fresh spinach
1 frozen banana
1 cup frozen blueberries
½ cup filtered water or almond milk
½ cup ice
1 scoop vanilla plant-based protein powder (optional Sunwarrior or Vega)
1 tablespoon organic almond butter
1 teaspoon Maca Powder
Dash of cinnamon
Stevia to sweeten
Top with homemade granola
Method
Combine all ingredients into a high speed blender until thick and creamy.
Add additional ice as needed to thicken.
Pour into a large bowl and top with granola of your choice.
Serve immediately.