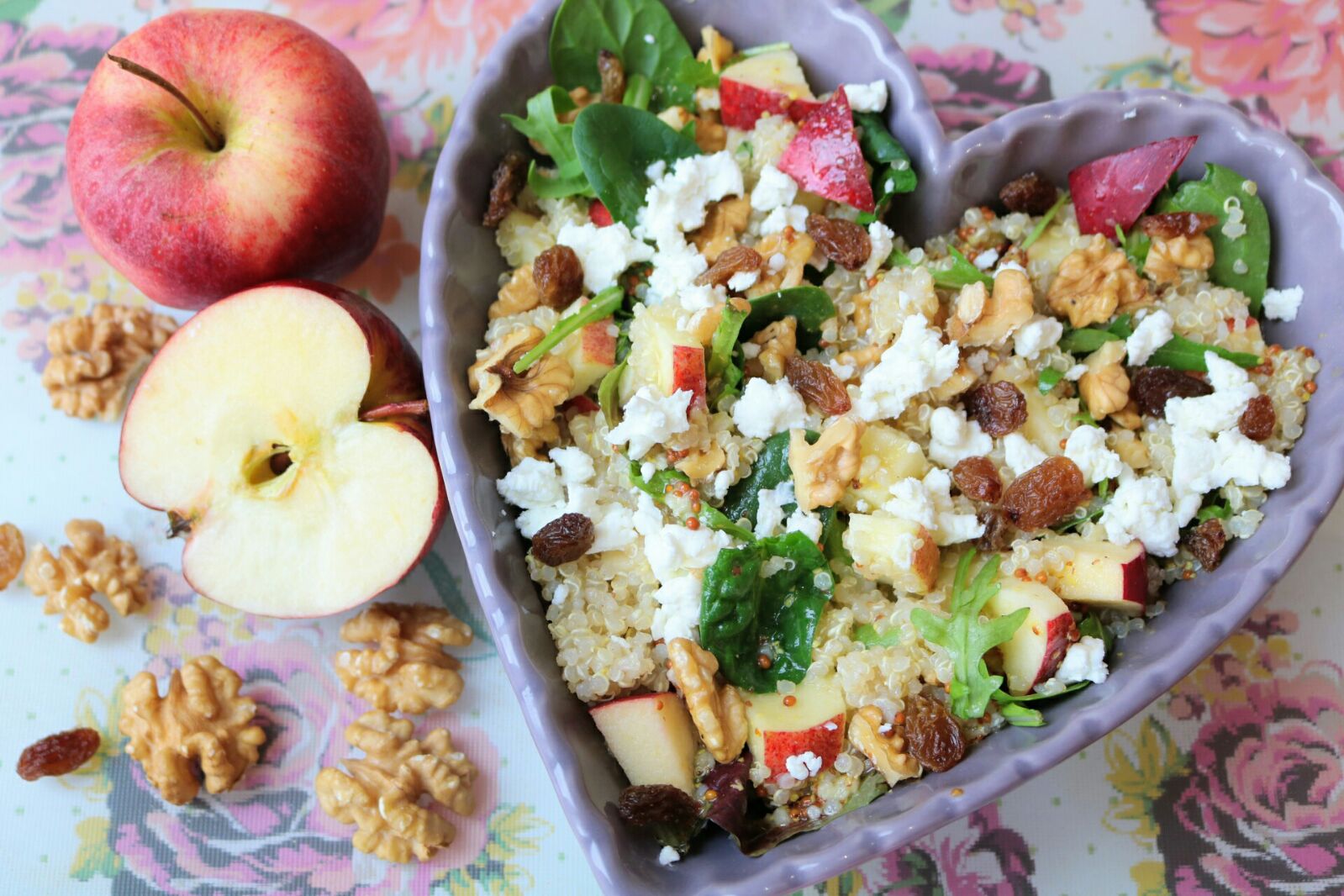 Celebrate the change of seasons with this fresh and colourful salad. This loaded salad is filling enough to be a main meal, its perfect for lunch, or it can be served as a side dish to any meal. You will love all of the textures and flavours, including protein-packed quinoa, crisp sweet gala apples, sweet dried sultanas, crunchy walnuts, creamy goat cheese, and that amazing maple and apple cider vinegar dressing.
Ingredients (Serve 4)
For the dressing:
 3 tbsp olive oil
1/2 fresh lemon juice
2 tbsp apple cider vinegar
1 tbsp pure maple syrup
1 tbsp wholegrain mustard
2 cloves garlic, minced
Himalayan salt and black pepper, to taste
For the quinoa salad:
Method
First cook quinoa –
Rinse 120g of quinoa in cold water.
Bring 400ml of water to the boil on the hob.
Add quinoa to the boiling water.
Cover with a lid, reduce the heat and simmer for 20minutes until most of the water has been absorbed.
Remove from the heat, drain off any excess water and stand for 10mins.
Separate with grains with a fork and set aside.
Dressing –
In a small bowl, mix together the olive oil, lemon juice, apple cider vinegar, maple syrup, wholegrain mustard, garlic, salt, and pepper.
Salad –
In a large bowl, add the cooked quinoa, leaves, apples, sultanas, goat cheese, and walnuts. Toss until salad is combined. Season with salt and black pepper, to taste.
Drizzle with dressing and toss again. Serve and enjoy.