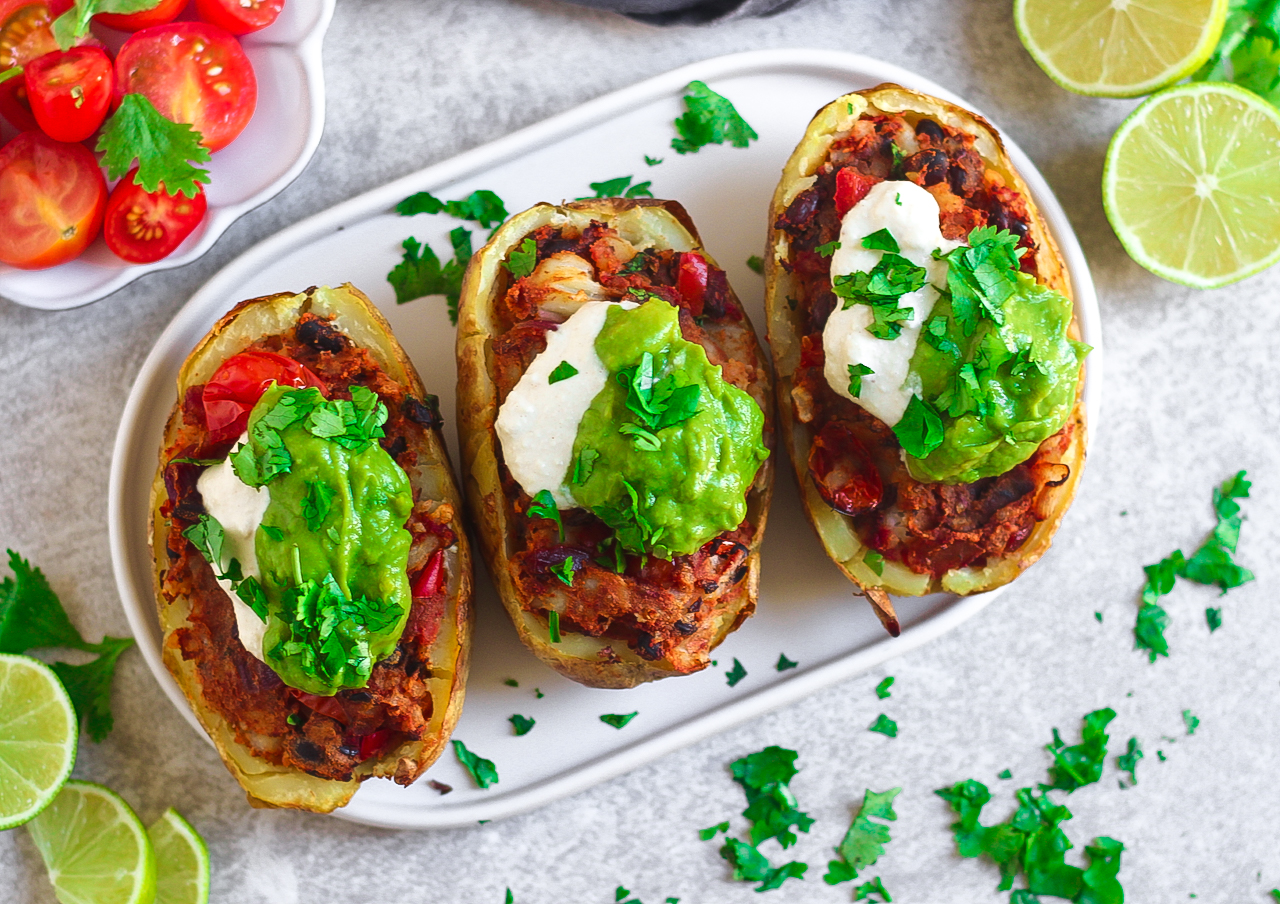 Recipe and images courtesy of Nourishing Amelia, Award Winning Blogger
Say hello to your new favourite meal! These vegan fajita skins are the most comforting, warming, delicious meal for all to enjoy this Autumn/Winter. The potato skins themselves are made with high-protein black beans, juicy cherry tomatoes, rich red pepper and the amazing, flavoursome fajita seasoning stocked at Grape Tree.
The Mexican flavoured potato skins are topped with a homemade vegan sour cream (which is easy to make than you might think!) and freshly made guacamole to give this meal even more of a fajita-inspired vibe! You can enjoy these fajita skins as they are with a side salad for a lighter meal or with brown rice and steamed greens for a truly hearty, filling meal.
Ingredients (Makes 4) Potato Skins
2 large baking potatoes
1 tbsp olive oil
160g black beans (drained weight)
10 cherry tomatoes
4 tbsp tomato puree
4 tbsp water
Juice 1/2 lime
1/2 onion
1 clove garlic
1/2 red pepper
2 tsp fajita seasoning
1 tsp smoked paprika
1 tsp herbs de Provence
6g fresh coriander
Salt & pepper
Vegan Sour Cream
50g cashews
2 tbsp light tahini
Juice 1/2 lemon
4 tbsp water
Pinch of salt
Guacamole
1 avocado
Juice 1/2 lime
1/2 tsp chilli
Pinch of salt
Method
Pre-heat the oven to 180 degrees celsius.
Add the cashews to a bowl and cover with boiling water. Allow to soak for at least 30 minutes.
Wash the potatoes thoroughly and prick several times with a sharp knife.
To speed up cooking microwave for around 8 minutes.
Coat the potato in a little olive oil and a sprinkling of salt then wrap each one in tin foil before baking - this will make the perfect crispy on the outside/fluffy on the inside potatoes. Bake in the oven for 30-35 minutes if you pre-cooked in the microwave or around 60 minutes if you skipped that step.
To make the filling start by heating 1 tbsp olive oil in a frying pan over a medium heat. Finely chop the onion then add this to the frying pan and allow to soften. Half the cherry potatoes and add these to the frying pan along with the crushed garlic clove. Mix well and allow to cook for around 5 minutes.
Drain and rinse the black beans then add these to the frying pan along with the chopped red pepper, tomato puree, water, fajita seasoning, smoked paprika, dried herbs, salt & pepper. Cook for 5-6 minutes, stirring regularly.
Add the lime juice and fresh coriander to the frying pan. Stir again and allow to cook on a low heat for a further 3-4 minutes.
Once the potatoes are baked remove them from the oven and allow to cool for at least 10 minutes before cutting in half. Carefully scoop out the middle of each potato and place in a bowl. Add about 3/4 of the potato mixture to the frying pan (you can use the rest of the mixture as a side to the meal) with the rest of the filling mix and stir together well.
Fill each potato skin with the fajita inspired filling mixture, making sure it's firmly packed in. Then place the potato skins on a baking tray and place in the oven to cook and crisp up for 15 minutes.
To make the sour cream start by draining the soaked cashews and adding to a blender with all the other ingredients. Blend until smooth and creamy!
To make the guacamole simply cut the avocado in half and discard the stone. Scoop out the flesh into a bowl and add the lime juice, chilli flakes and salt. Mash well with a fork until fairly smooth.
Once the potatoes are nice and crispy remove them from the oven. Serve by topping each potato skin with a dollop of the dairy-free sour cream and freshly made guacamole.