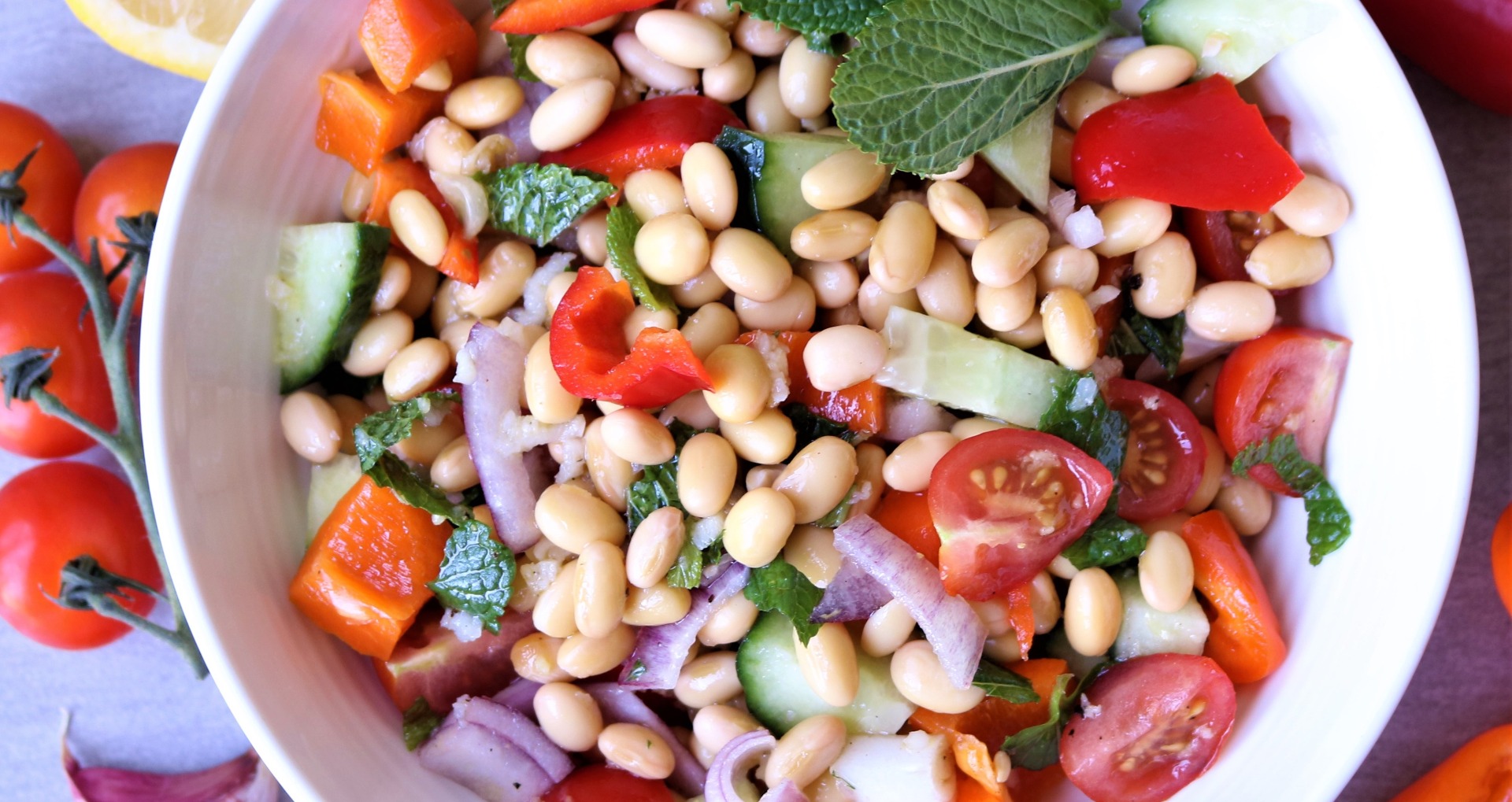 A refreshing vegetarian bean salad infused with apple cider vinegar, lemon and fresh mint. It can be used as a light lunch or a side dish for a family dinner and any leftovers will taste even better the next day after all the flavours have had time to come together. This salad can be pulled together in less than 10 minutes. Plus, you add any other vegetables you want, even maybe some feta cheese or, anything going spare in the fridge that you need to use up!
Ingredients (Serves 4)
3 tbsp olive oil
4 tbsp fresh squeeze lemon juice
2 tbsp apple cider vinegar
1 tbsp lemon zest
3 minced garlic cloves
1/4 tsp Himalayan pink salt
1/4 tsp ground pepper
100g soya beans
10 cherry tomatoes halved
1/2 cucumber, chopped
2 sweet mini peppers, chopped
1 red onion, chopped
10g fresh chopped mint leaves
Method
Soya beans - Do not eat raw.
Soak 100g of beans in 500ml of water for 12 hours.
Drain and rinse.
Place the beans in 500ml water.
Bring to the boil and boil for 10 minutes.
Reduce the heat and simmer for 80 minutes. Once cooked set aside and leave to cool.
In a medium bowl whisk the oil, lemon juice, vinegar, zest, cloves, salt, and pepper until well mixed.
Add the beans, tomatoes, cucumber, bell pepper, onions, and mint.
Serve immediately or store in the refrigerator. The salad tastes better the more time the beans have had a chance to marinate.
Enjoy!