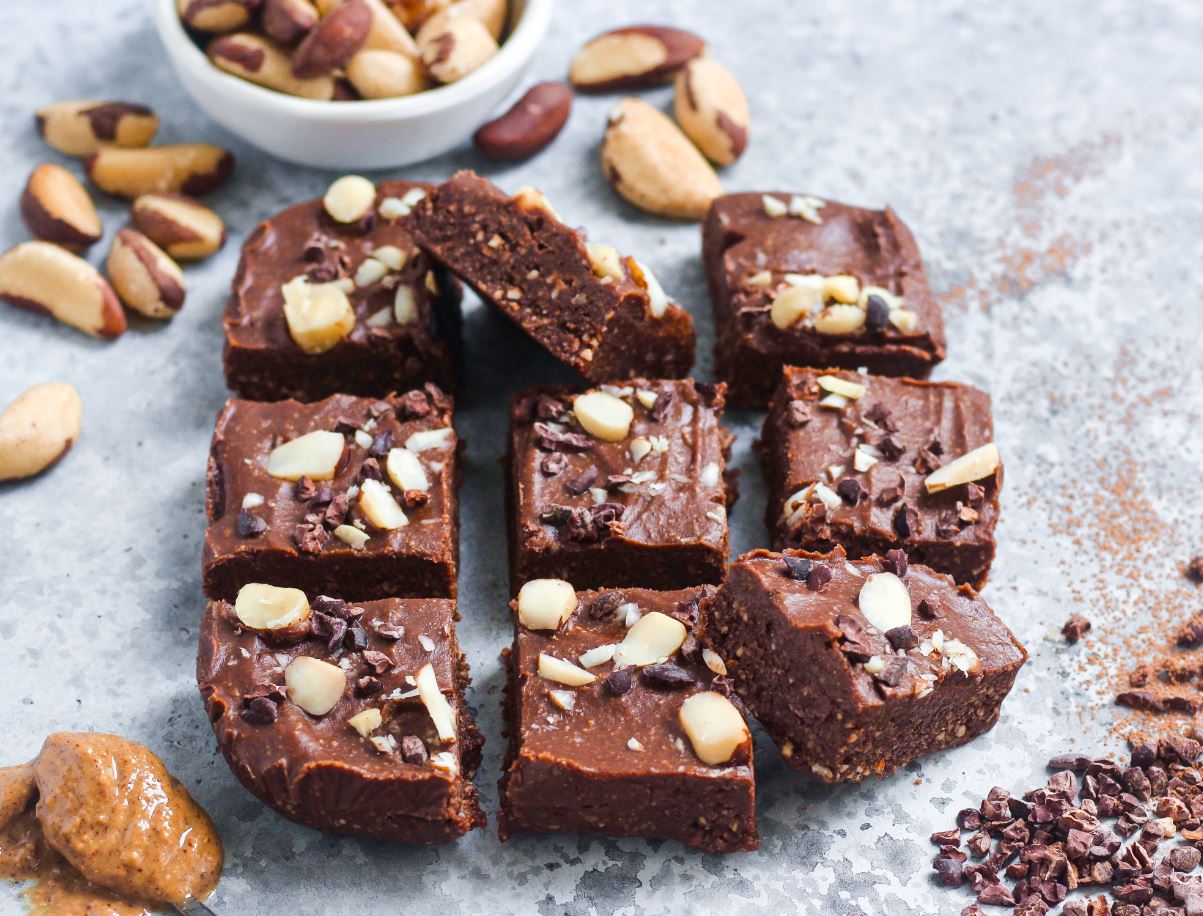 Recipe and images courtesy of Nourishing Amelia, Award Winning Blogger
Who doesn't love a brownie? These raw chocolate & Brazil nut brownies are a healthier take on the classic brownie. The brownies themselves are so fudgy thanks to the Medjool dates and have the most incredibly rich flavour thanks to the cacao powder, while the creamy vegan frosting really adds something special! These brownies are totally indulgent yet contain only natural, plant-based ingredients and host an array of vitamins, minerals and antioxidants to leave you feeling on top of the world!
Ingredients:
(makes 8 brownies)
Brownie:
120g almonds
30g brazil nuts
8 medjool dates
2 tbsp cacao powder
1 tsp maca powder (optional)
2 tbsp coconut oil
2 tbsp maple syrup
1 tsp vanilla powder
Pinch of salt
Frosting:
2 tbsp peanut butter
1 tbsp coconut oil (melted)
2 tbsp maple syrup
1/2 tsp vanilla powder
Extra brazil nuts for topping
1 tbsp cacao nibs for topping – optional
Method:
Add the almonds and the Brazil nuts to a food processor and blend into a coarse flour.
Pit the medjool dates and add these to the food processor along with all the other brownie ingredients.
Blend until well combined into a sticky mixture.
Add the mixture into a container (you could use a baking tray, tupperware or wide loaf tin), spread out evenly and press down firmly. Place in the fridge while you make the frosting for the top.
Mix together the melted coconut oil, peanut butter, maple syrup and vanilla until a smooth, creamy mixture forms. It should look like chocolate spread.
Remove the brownies from the fridge and pour the frosting over the top, spreading out evenly.
Sprinkle with a few pieces of chopping Brazil nuts as well as the cacao nibs.
Place back into the fridge for 2 hours to set.