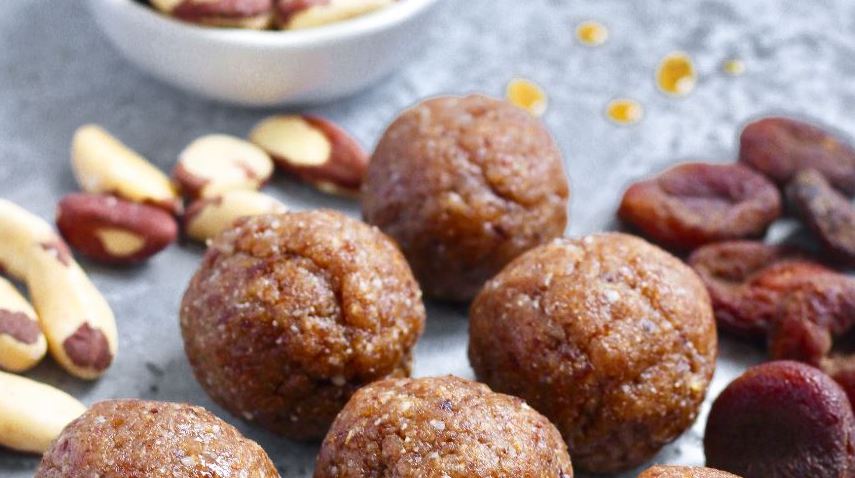 Recipe and images courtesy of Nourishing Amelia, Award Winning Blogger
These apricot and Brazil nut energy balls are the perfect snack to make on a Sunday, ready to be consumed throughout the week! The energy balls contain plant-based protein, healthy fats and only natural sugars to give you a boost when you need it. Dried apricots are a source of iron which is essential for your energy levels and they're great for healthy digestion too. Brazil nuts are a source of selenium which is an antioxidant that assists thyroid function as well as improving the function of vitamins E and C.
Ingredients:
(makes 6-8 energy balls)
80g almonds
30g brazil nuts
60g dried apricots
8 medjool dates
2 tbsp maple syrup
1/2 tsp cinnamon powder
Pinch of salt
Method:
Add the almonds and brazil nuts to a food processor and blend until a coarse flour forms
Add the pitted dates, dried apricots, maple syrup, cinnamon and a pinch of salt to the food processor and blend again until sticky dough-like consistency forms. If it's a little dry simply add a touch more maple syrup or a little water and blend again.
Using your hands scoop out some of the mixture and roll into a ball (just a little smaller than the size of a golf ball). Place this ball on a plate or tray then repeat with the rest of the mixture
Place the balls in the fridge for 2 hours to harden up, then they're ready to enjoy!