Rewarding Your Loyalty Online
If you shop online with us and have registered for an online account then as of the 1st June 2021 you will automatically collect Online Reward Points when shopping online with us.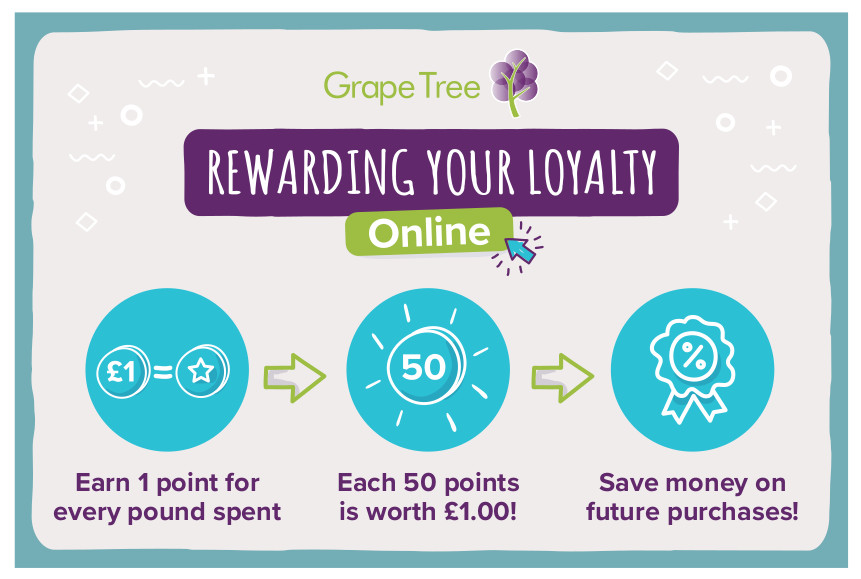 Earn 1 point for every pound spent. Each 50 points is worth £1.00! Save money on future purchases!
Simply log into your online account before starting your order. As an Online Rewards account holder Grape Tree will endeavour to offer you:
• 1 Reward Point for every full pound spent online at grapetree.co.uk
• Periodic vouchers or notification of exclusive special offers and bonus point opportunities online at grapetree.co.uk
Whilst logged into your online account you will be able to check your Rewards Points balance and earn Reward Points against online orders.
Terms & Conditions
Online Reward Points not redeemed within a 24-month period will expire. You may not be notified beforehand.
The current redemption rate as at 01.06.21 is 2p for every point earned.
Online Reward Points can only be added or redeemed whilst logged into a registered online account before completing an online order.
Online Reward Points may only be redeemed against goods online at www.grapetree.co.uk and have no monetary value.
If we refund you for purchases that attracted Online Reward Points, we reserve the right to deduct these Reward Points from your Online Rewards Points balance.
You will not accrue Online Reward Points on purchases that are fully paid for by redeeming previously awarded Online Rewards Points. If you part-pay for a purchase by redeeming Online Rewards Points, you will only accrue Points on the balance of the purchase above the value of the points redeemed.
The management of JG Foods Limited t/a Grape Tree reserve the right to amend or change any of the above conditions without notification. The issue of new terms and conditions and subsequent use of an Online Reward Account will be deemed as acceptance by the customer.
We reserve the right to postpone or cancel a Online Reward Account or withdraw the Online Reward Account scheme and will be under no obligation to provide reasons for doing so.
Any personal details provided to www.grapetree.co.uk will not be shared with third parties.