Find out all the great stuff we've packed inside the latest issue of the Grape Tree Magazine.
Pick up a copy in your latest store or inside your next online order.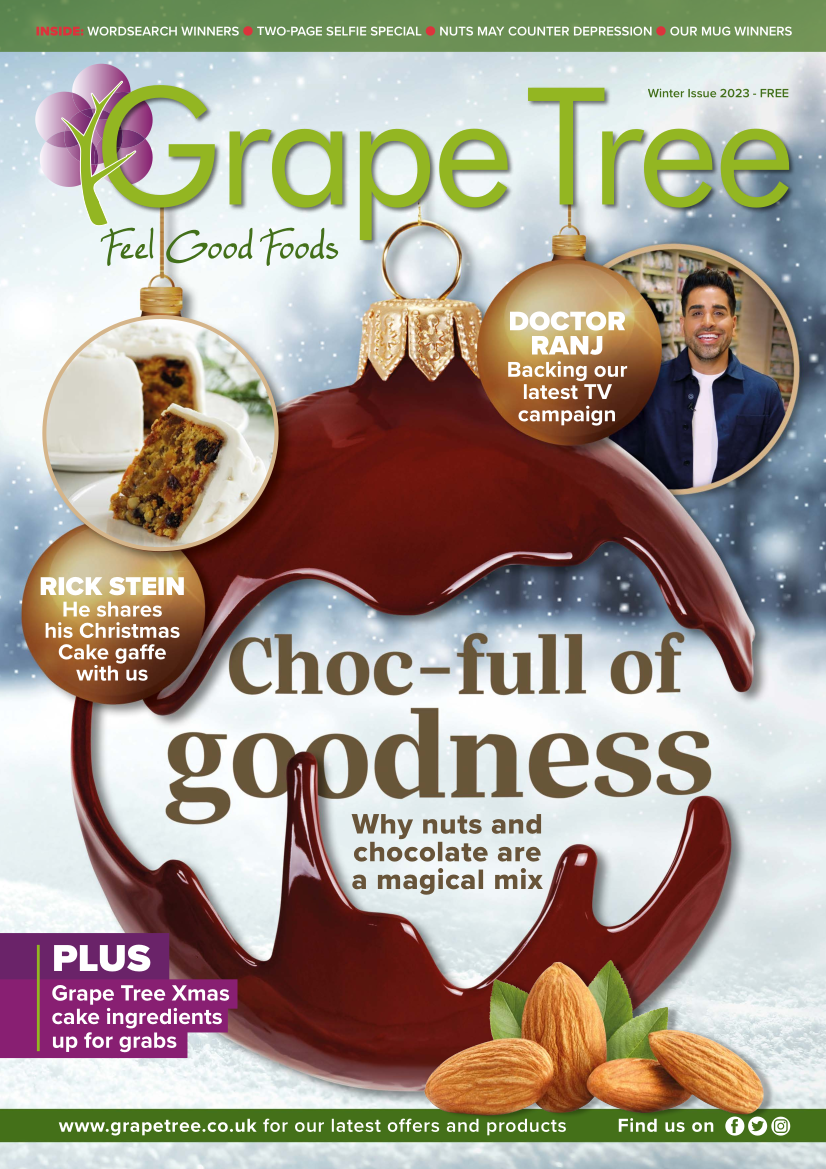 Feast your eyes on the latest Grape Tree Magazine
Find a choc-full of goodness in our Winter magazine and indulge your love of good health.
Plus, Rick Stein shares his secret for his ideal fruit cake to take you beyond the whirl of Christmas.
There's more health news, recipes and tips, plus a two-page selfie special where we share photos and kind comments received.
This you could win the festive ingredients for your Christmas centrepiece, plus another £100 worth of wordsearch vouchers are up for grabs.
You can pick up a complimentary copy of our latest magazine in your local store, or inside your next online order!
Magazine enquiries can be sent to:
The Fighting Cocks
23 Rockham Street
Pulborough
West Sussex
RH20 2EU

Grape Tree Competition Terms and Conditions
As a responder to our 'wordsearch' or other competitions which appear in Grape Tree magazine, JG Foods Ltd T/A Grape Tree may contact you with news of your entry by email or post.
Winning entries will be chosen at random from the entries received by 5pm on the date given in the 'wordsearch' in the magazine as the closing date.
No late entries will be accepted after that time. The Editor's decision is final.
Entries can be submitted by post only and by the closing date given in Grape Tree magazine.
Envelopes must be marked Grape Tree Wordsearch Competition.
Spoiled or illegible entries will not be eligible for entry.
Only entries giving a full name and address for contact reasons will be accepted.
There must only be one entry per household.
Full postage must be paid by the sender.
Should you be a winner your name and geographical location (not full address) will be printed in Grape Tree magazine.
You will be contacted by representatives of JG Foods Ltd to confirm your win and your winning voucher will be enclosed.
The vouchers can be redeemed in your chosen store.
These terms and conditions will be governed by UK law and any disputes will be subject to the exclusive jurisdiction of the courts of England and Wales.
Our registered office is Building 2, Dandy Bank Road, Pensnett Trading Estate, Kingswinford, West Midlands, DY6 7TD.