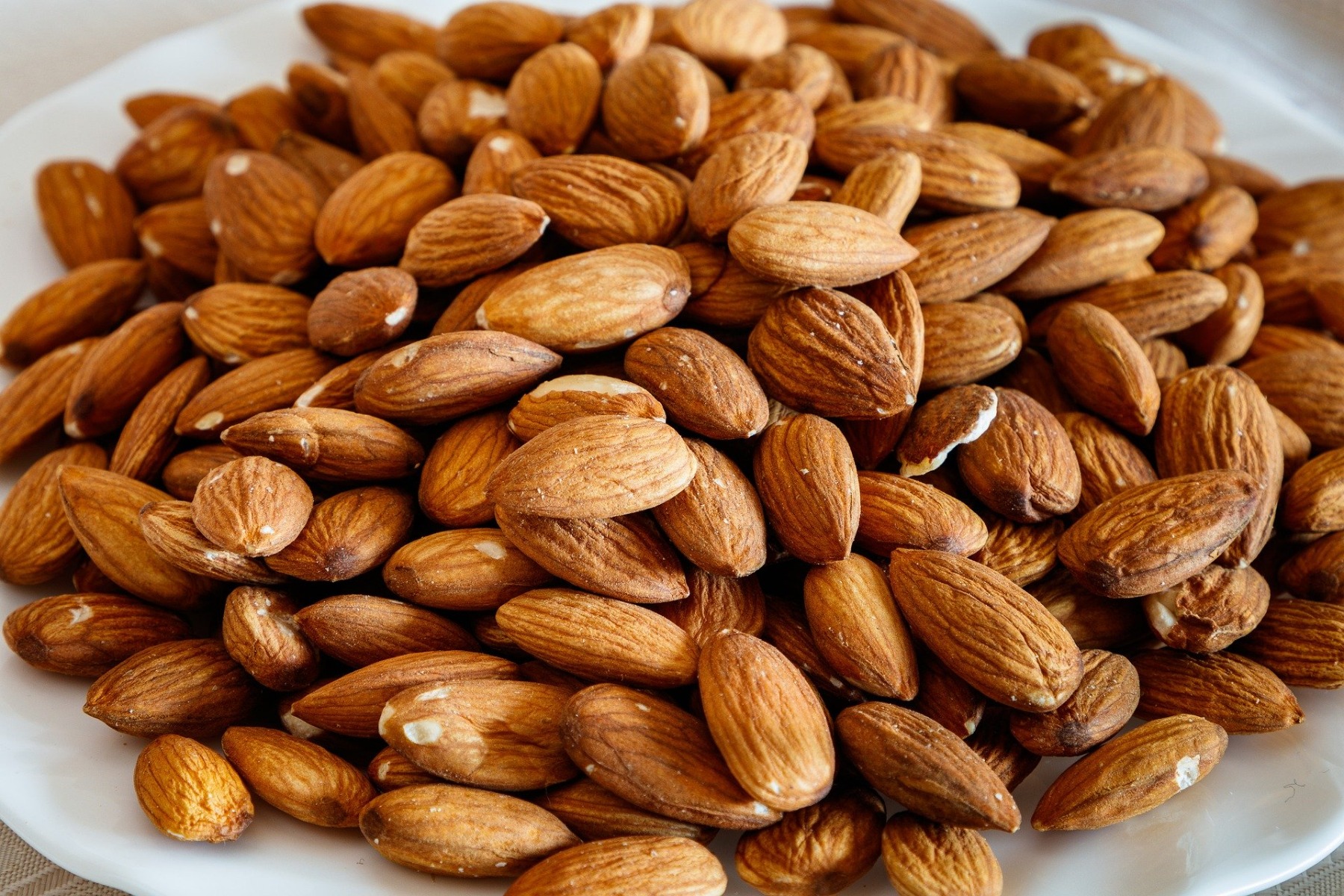 Come February and the almond orchards begin bursting into bloom. Stunning though the sight may be across California, southern Europe and the Middle East it is no more amazing than the nuts it produces.
Almonds are one of the best food sources of Vitamin E the antioxidant linked to fighting heart disease as well as keeping skin and eyes healthy and supporting the immune system. They are packed with unsaturated fats which helps reduce "bad" cholesterol and maintain the good variety. Eating a handful of nuts daily has been shown to dramatically reduce the risk of heart disease and early death.
A handful of almonds (around 40g) has 8g of protein, a third of your magnesium for the day (see page 5), a quarter of your copper and well over a tenth of your calcium. In addition, there are important amounts of zinc, manganese and phosphorous.
It also has six B vitamins including almost a third of your daily need for B2, important for skin, eyes and the nervous system. Of course, the easy way to access this nutritional powerhouse is to simply plunge and hand into the almond jar and tuck in. But there are so many other ways to eat almonds.
Almond Milk
Almond milk is a multi-billion-dollar global commodity but making your own is simplicity itself. Cover 100g of whole nuts with cold water in a bowl and leave to soak overnight. Rinse and put in a blender with 400ml of cold water and blitz for 2-3 minutes. Line a fine sieve with muslin and pour the mixture through it into a jug. Squeeze the muslin to extract all the milk. Chill and enjoy it exactly like dairy milk. Your home-made milk will keep for 3-4 days in the fridge.
It is possible to use the leftover pulp in snacks like energy balls or crackers or, after it has been dried in the oven, it can be blitzed to create ground almonds.
Soaking and Sprouting
Soaking almonds for 12 hours or so, before eating, makes them softer and less bitter which some prefer. But it is possible to take a further step...sprouting. Having removed the nuts from water and rinsed them it is a question of waiting another 12 hours or more until a small white sprout appears from the sharp end of each nut. The process removes a naturally occurring inhibitor called phytic acid and that makes the nutrients in the nut more available. The sprouted nuts can be eaten immediately. Or they can be dried first in a low oven or a dehydrator. Nuts that have been blanched, roasted or pasteurised will not sprout.
Baking
Almonds have a key role in many traditional recipes either whole, flaked, chopped or in the form of ground almonds, also known as almond meal or almond flour which is, of course, gluten-free. Bakewell tart, Dundee cake, mince pies are among the classics. There are endless recipes for almond cakes. Ground almond and icing sugar are the basis of marzipan.
Dining
Almonds can feature from the soup (broccoli and almond for example) to main courses like almond-crusted fish or lemon chicken with almonds, through to the pudding-like almond baklava. In Hindi almond is badam. It features in a host of curry dishes and recipes like Badam Burfi (almond fudge) and Kesar Badam Halwa (Saffron Almond Pudding).