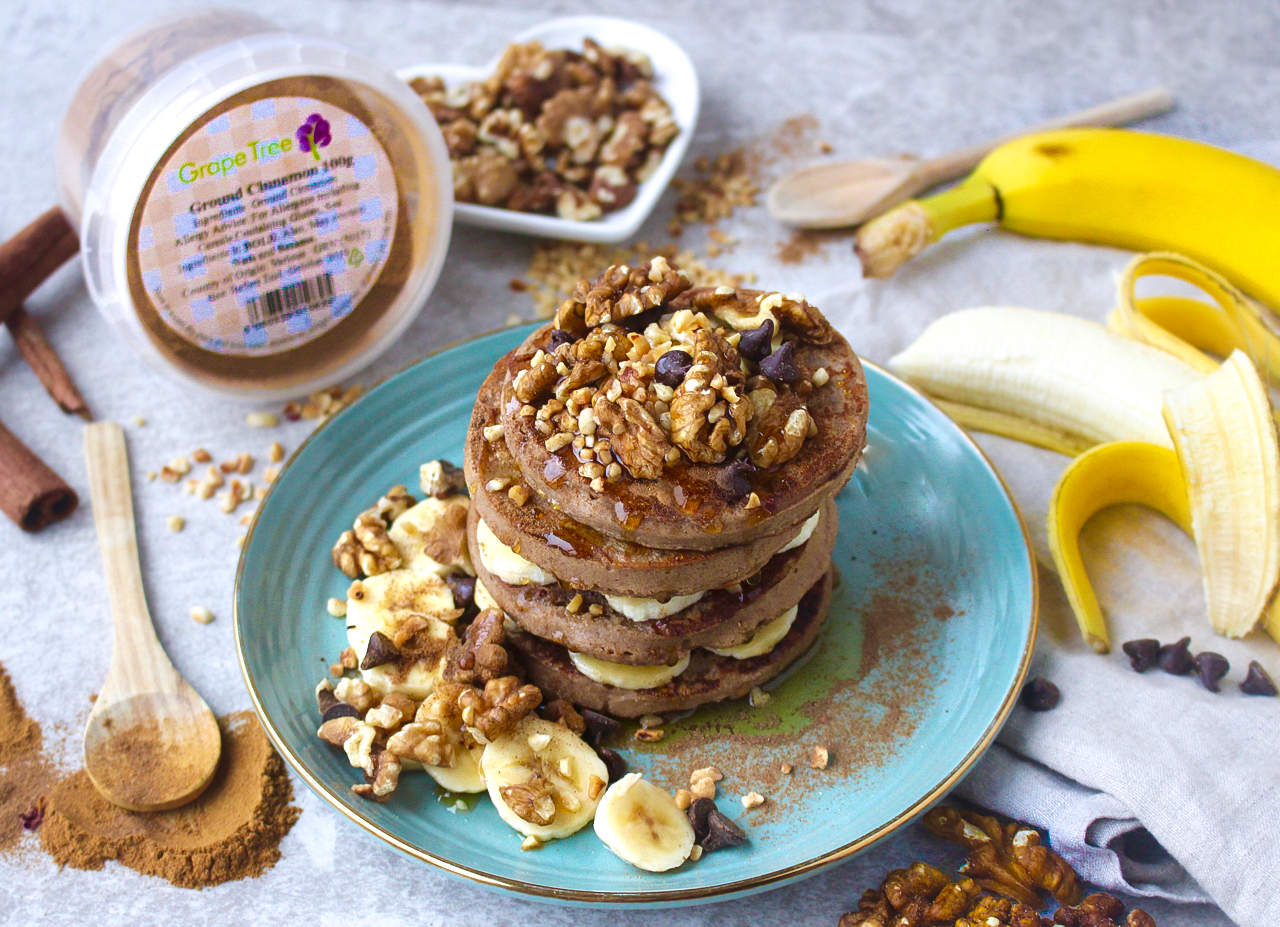 Recipe and images courtesy of Nourishing Amelia, Award Winning Blogger
Pancake Day is coming up and what better pancake stack than these sweet and delicious Walnut, Banana & Cinnamon Spice Pancakes?
The pancakes themselves are entirely plant based and gluten free, they're such a fluffy texture with the most gorgeous sweet taste from the banana and maple syrup as well as crunchy walnuts sprinkling over the top which compliments the taste of all the other ingredients amazingly. These pancakes are such a treat - they'll make the perfect pancake day recipe or why not make them as an indulgent weekend breakfast?
Ingredients
100g buckwheat flour or brown rice flour
1 ripe banana
120ml almond milk
2 tbsp. brown linseed (?axseed) mixed with 6 tbsp water
2 tbsp maple syrup
2 tsp cinnamon
1/2 tsp ginger
1/2 tsp baking powder
40g walnuts
1 tsp coconut oil for cooking
Optional additional toppings - dairy free chocolate chips, chopped nuts and an extra drizzle of maple syrup
Method
Mix the brown linseed (flaxseed) and the water together then leave for 5 minutes to form into a thick paste.
Add the flour, banana, almond milk, maple syrup, cinnamon, ginger and baking powder to a blender along with the now thickened ?axseed mixture. Blend until a thick, creamy mixture forms.
Add the coconut oil to a frying pan over a low-medium heat and allow to gently warm for a couple of minutes before adding around 1/4 of the pancake batter to the frying pan using a large spoon or ladle.
Allow the pancake to cook for around 3 minutes or one side (or until bubbles begin to form on the surface) then flip and cook for a further 2-3 minutes on the other side. Remove the pancake form the pan and repeat with the rest of the mixture until its all used up. You should make about 4 mini pancakes.
Stack the pancakes and top with the walnut pieces, an extra sprinkle of cinnamon and any other toppings you fancy!