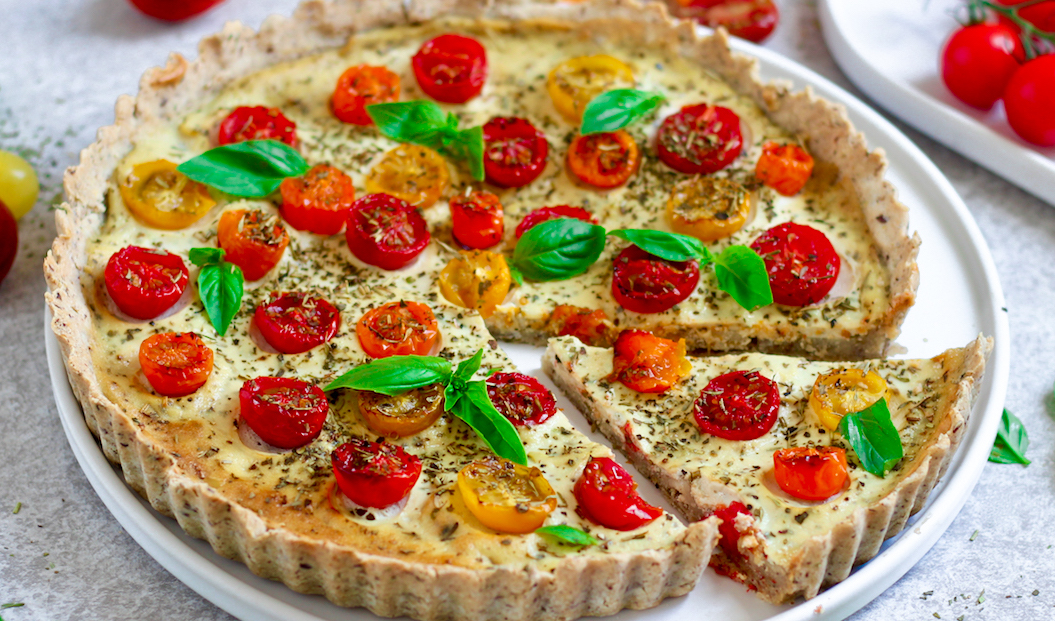 Recipe and images courtesy of Nourishing Amelia, Award Winning Blogger
This vegan, gluten-free quiche is so close to your classic quiche recipe both in taste and texture that really you couldn't tell any difference. The pastry is made from a mixture of gluten-free flours and ground almonds and the egg free filling is made with silken tofu which when baked creates this egg like consistency, plus it's still super high in protein and incredibly filling!
This quiche recipe is made super simple with a tomato and basil filling but you could add anything you want - from mushrooms to broccoli, spinach to peppers, vegan cheese to caramelised onions. It's so adaptable and can be adjusted to fit anyone's taste preferences. Serve with homemade potato salad, a jacket potato or herby quinoa for a perfect Summer meal.
Ingredients
160g gluten free flour
50g buckwheat flour
50g ground almonds
2 tbsp linseed (flaxseed) mixed with 6 tbsp water
2 tbsp rapeseed oil
6 tbsp soy milk
2 tbsp water
1 tsp dried mixed herbs
300g silken tofu
1/2 tsp dried garlic
1 tsp dried basil
15 cherry tomatoes
Salt & pepper
Method
Pre-heat the oven to 160 degrees celsius.
Combine the linseed (flaxseed) with the water and allow to sit for 10 minutes to thicken up.
Sift the gluten free flour and buckwheat flour into a mixing bowl then add the ground almonds. Stir in the soy milk, water, oil, thickened linseed mixture, dried herbs, salt and pepper. Mix well into a dough.
Press the dough evenly into a tart tin. Prick the base with a fork several times then cook in the oven for 10 minutes.
While the tart base is in the oven it's time to make the filling. Drain the tofu and add to a food processor along with the dried garlic, salt and pepper. Blend into a smooth, creamy mixture.
Remove the tart from the oven and add the tofu mixture to the centre, spreading evenly.
Cut the cherry tomatoes into halves then place on top of the tofu mixture. Sprinkle with dried basil, salt and pepper.
Bake the tart in the oven for 20-25 minutes.
Allow to cool for at least 15 minutes before removing from the tart tin and serving.