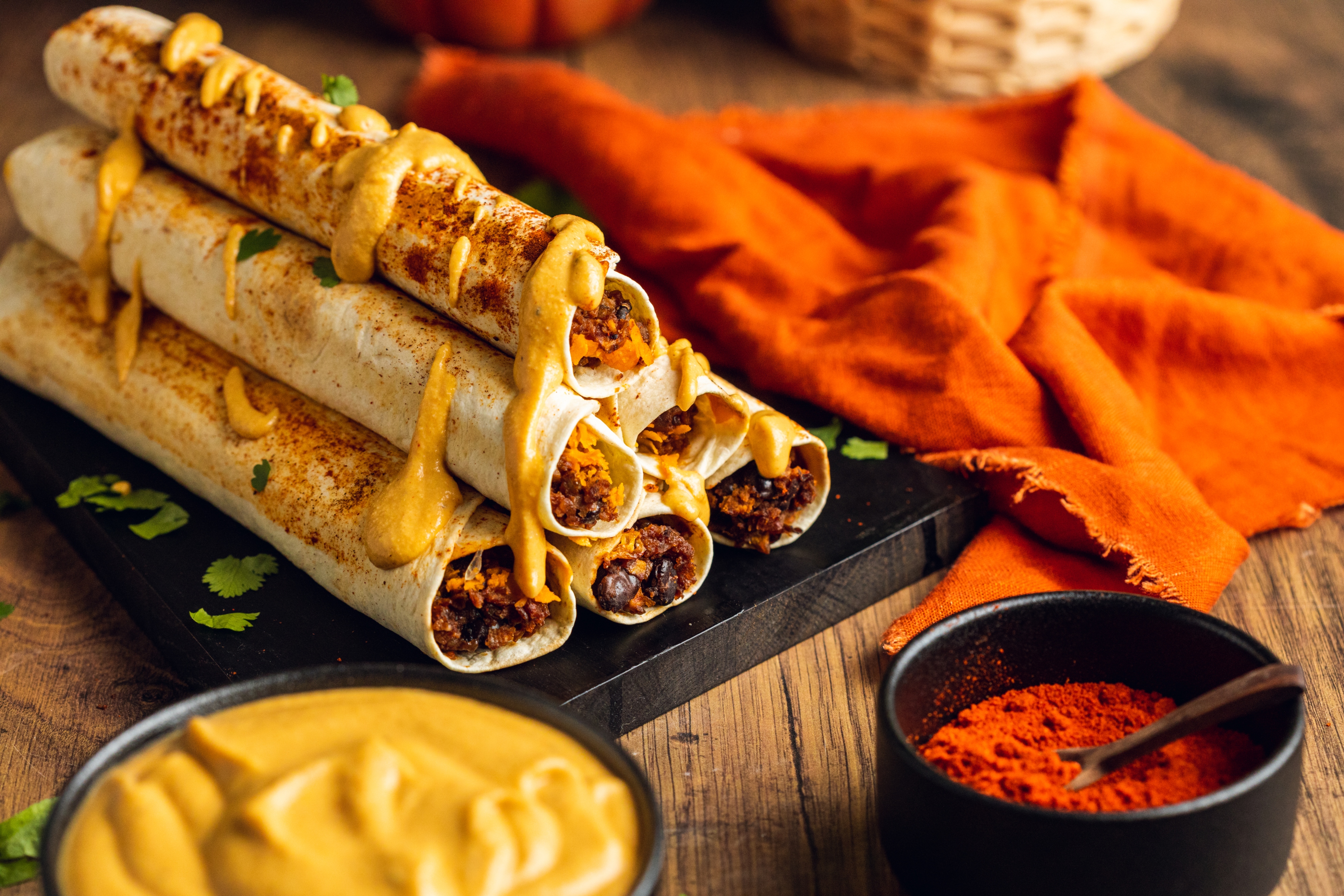 Recipe and images courtesy of Romy London (@romylondonuk on Instagram)
These crispy vegan Taquitos will be a new family favourite, they are filled with hearty Textured Vegetable Protein, onions and black beans. This recipe is easy and simple to enjoy with a delicious Queso dip.
Prep Time: 40 minutes
Cook Time: 25 minutes
Ingredients (makes 8)
8 small tortilla wraps
100g vegan cheese, grated
2 tbsp plain flour + 3 tbsp plant milk
2 tbsp lime juice
½ tsp smoked paprika powder
For the filling:
150g potatoes, peeled & cooked
1 tbsp olive oil
60g finely diced red onion
½ tsp sea salt
4 cloves garlic, crushed
150g chestnut mushrooms, finely diced
60g textured vegetable protein
70g tinned black beans
2 tsp smoked paprika powder
3 tbsp tamari soya sauce
2 tbsp maple syrup
1 tbsp tomato paste
50ml vegan-friendly red wine or vegetable stock
½ tsp black pepper
2 tbsp pickled jalapeno juice
For the queso dip:
55g cooked potato
35g cooked carrot
65g cashew nuts
2 tbsp nutritional yeast
1 tsp white miso paste
1 tbsp coconut milk powder
¼ tsp sea salt
¼ tsp black pepper
½ tsp garlic powder
1 tsp onion powder
¼ tsp mustard
1 tsp tomato paste
1 tbsp lemon juice
2 tbsp pickle brine
50ml soya milk
¼ tsp paprika powder
Method:
Start by mashing the peeled and cooked potatoes with the back of a fork and set
them aside.
Heat the olive oil in a non-stick pan and fry the diced red onion for 3-4 minutes until
softened. Sprinkle with salt and add the crushed garlic, then cook for another 1-2
minutes until fragrant.
Add the diced mushrooms and textured vegetable protein to the pan and stir to
combine. Cook on a low heat for 10-15 minutes or until the mushrooms have
released their liquid.
Add the black beans to the pan, then season with the paprika powder, soya sauce,
maple syrup, tomato paste, red wine, black pepper and pickle juice. Stir to combine
and cook for a further 5-10 minutes or until the TVP has soaked up the majority of the
liquid.
Remove the pan from the heat and stir in the mashed potato. Mash the mixture
further with the back of a fork to thoroughly combine. You should have a moist but
sticky mixture.
In a small bowl combine the plain flour and plant milk to create a thick and sticky
'glue'.
Place 1-2 teaspoons of vegan grated cheese onto the bottom part of a tortilla wrap in
a line, then top with a line of the TVP mixture. Tightly wrap the taquito, brush the end
with the sticky flour mix and roll it up completely, gently pressing the edge to seal.
Repeat until all taquitos are filled. Brush them with fresh lime juice and sprinkle them
with smoked paprika powder, then pan fry them in a non-stick pan until golden on all
sides.
To create the queso dip, boil the cashews in water for 20 minutes until softened, then
place all ingredients in a blender or food processor and process until smooth.
Serve the taquitos drizzled or dipped into the queso and enjoy!