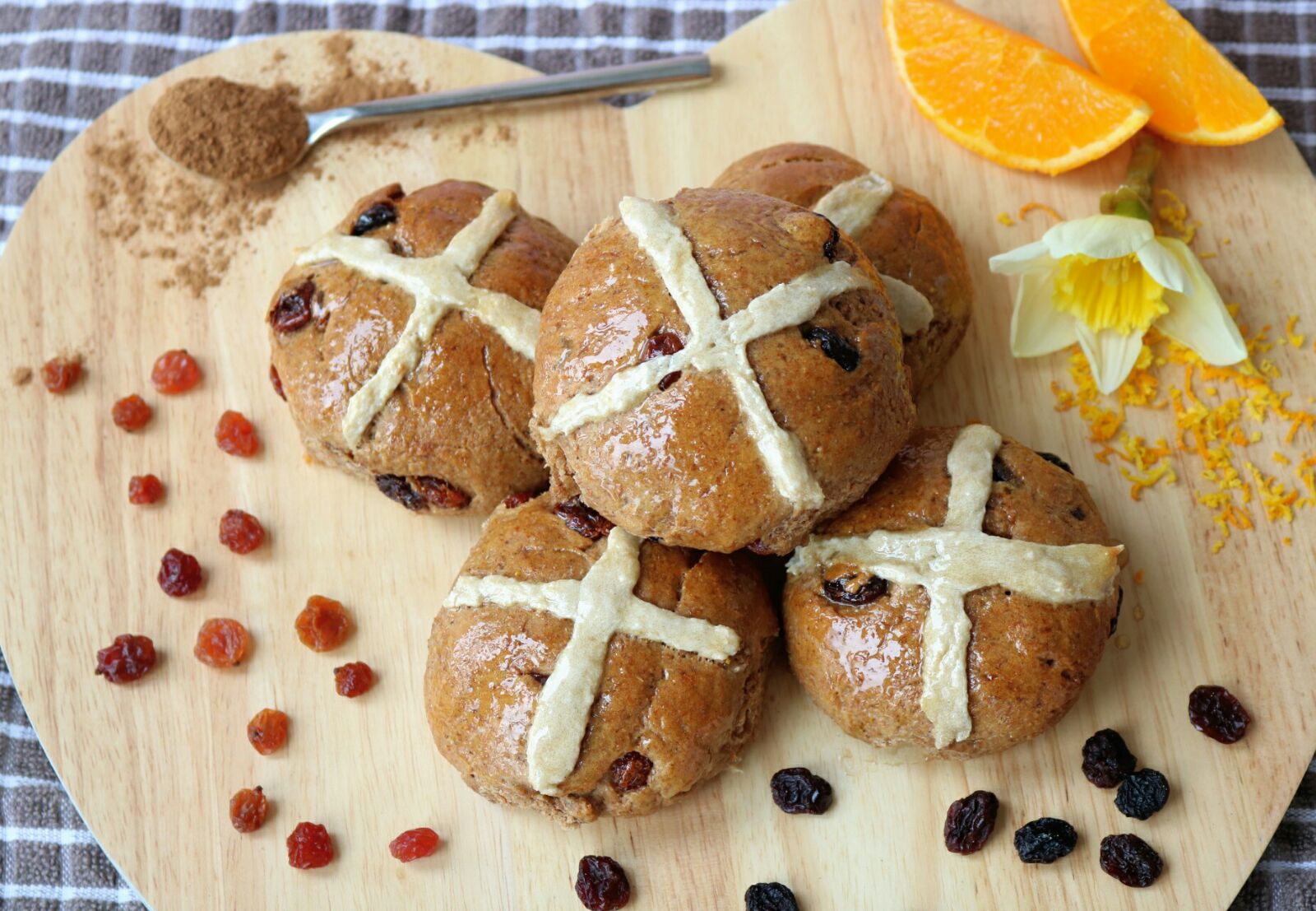 Winter is officially over for another year. Lighter evenings, birds chirping, trees blossoming and a time for new beginnings. There's nothing like the feeling of trying something new. This week we have some great new additions and also a delicious perfectly spiced Easter Hot Cross Bun recipe!
Traditional Hot Cross Buns are a delicious part of the Easter feast or make a lovely afternoon snack and sweet additions to breakfast over the bank holiday. Fresh and tasty with a little bit of spice to them, they are a real treat to have over the celebrations and this vegan version of the spring classic is a delicious bake. Egg and dairy free, your whole family and Easter visitors will love.
INGREDIENTS
Dough:
2 1/4 tsp yeast
1 tsp coconut sugar
1/2 cup lukewarm water
3/4 cup room temperature/lukewarm unsweetened non-dairy milk
1/3 cup oil we used rapeseed oil
3/4 tsp Himalayan pink salt
1 1/2 tsp ground cinnamon
1/2 tsp ground nutmeg
1/4 cup coconut sugar
1 tbsp orange zest
1 tbsp lemon zest
3 1/2 cups spelt flour we used whole meal
1/2 cup Chilean Flame Raisins
1/4 cup South African Pink Flame Seedless Raisins
Vegan "Egg" Wash 1 tbsp unsweetened non-dairy milk
1 tbsp pure maple syrup
Crosses:
3 tbsp white flour
1 tbsp water or more water if mixture is to thick.
METHOD
Dough:
In the food mixer bowl, add the yeast, 1 tsp of coconut sugar and lukewarm water. Let stand for a few minutes.
When the yeast has foamed up, add the room temperature/lukewarm milk, oil, salt, ground cinnamon, ground nutmeg, sugar, orange zest, lemon zest, and 1 cup of flour. Mix with a spoon to combine.
Put mixer bowl in place, add 2 more cups of flour and using the dough hook, set the mixer to knead.
If the dough is sticky, add flour 1/2 cup at a time.
Let mixer knead dough for about 4 minutes and until it is no longer sticky. In the last minute of mixing, add the raisins to incorporate them.
Lightly oil the inside of a medium-sized bowl.
Remove dough from mixer bowl and place into the oiled bowl. Cover the bowl with a towel and let it sit in a warm spot until it has doubled in size, about 1 hour.
Line an 11" x 13" pan with parchment paper. Allowing overhang on each side so they can be easily removed from the pan when done.
After the hour has passed, punch the dough down and knead for a few seconds to get rid of any air pockets.
Separate the dough into 8 equal sized pieces.
Roll each piece into a ball and place each one into the parchment lined pan. It's OK if they are close together.
Cover with a towel and place in a warm spot. Let rise for 30 minutes. Preheat oven to 375 F.
For the crosses:
Mix the flour and water together and place into a piping bag with a very small tip or a small zip lock bag. If using a zip lock bag, snip off one of the bottom corners. pipe the flour onto the buns to make the crosses.
Make the vegan "egg" wash...
Mix the unsweetened non-dairy milk and the maple syrup together.
After the rolls have rested, using a pastry brush, brush the vegan egg wash over each bun.
Bake for about 20 minutes or until they are golden brown.
Remove from oven and let sit for a few minutes in pan.
Remove buns using parchment paper overhang as handles and place onto a cooling rack. The buns will have joined together while rising/baking. Do not separate them yet. Notes - If you don't have a stand mixer, you can still make this, just knead by hand for about 10 mins.