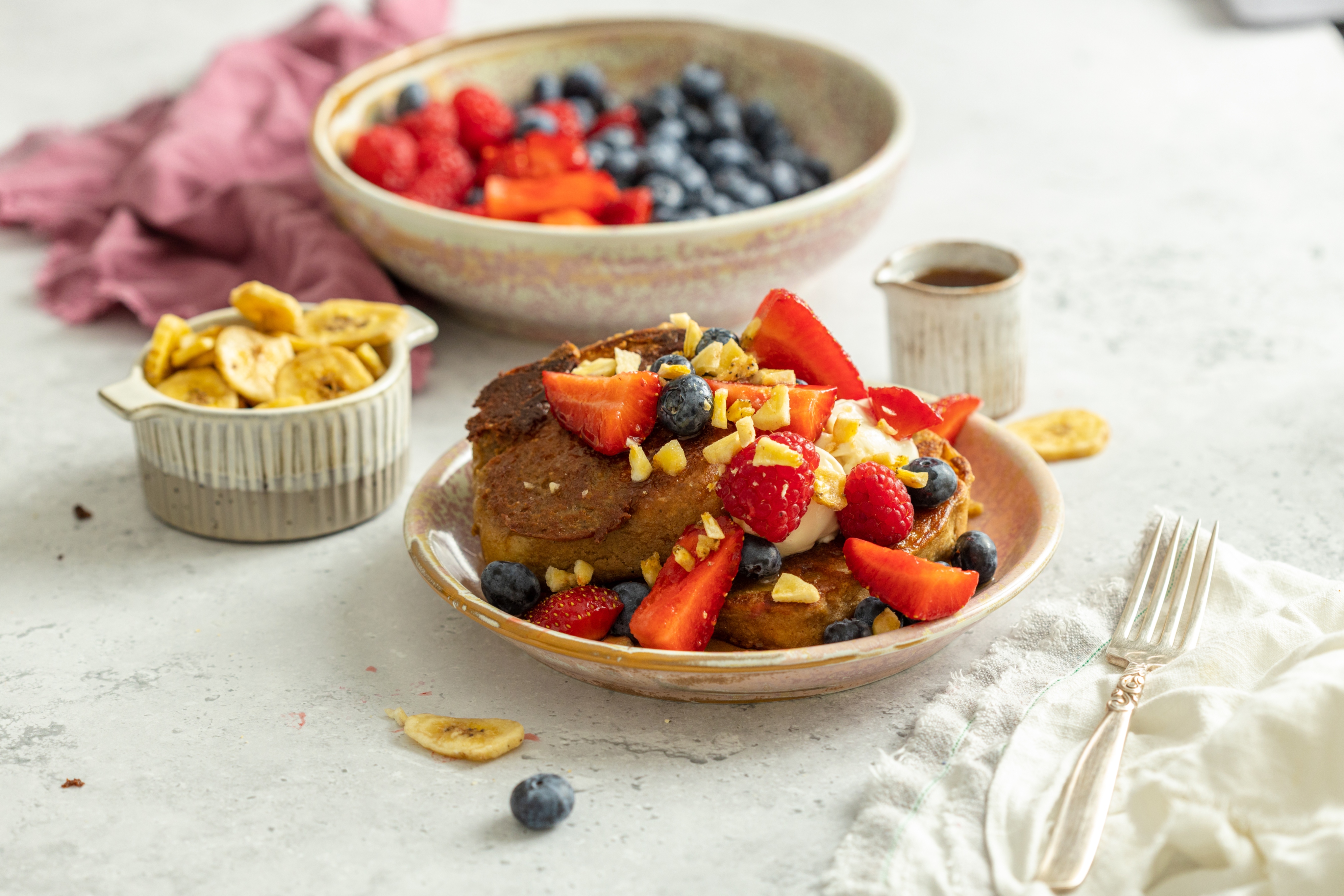 Recipe and images courtesy of Romy London (@romylondonuk on Instagram)
A childhood favourite but with a twist, made with chickpea flour. It's dairy free and egg free. Crispy French toast topped with berries and banana chips. Perfect for a sweet treat for breakfast on the weekends.
Ingredients:
4 thick slices of soft bread (about 1-inch [2.5cm] thickness)
1 ripe peeled banana
1 tbsp maple syrup
1 tsp cinnamon
180ml oat milk
50g chickpea flour
a pinch of salt
coconut oil for frying
To serve:
maple syrup
vegan yogurt
fresh or stewed berries to top
a handful of banana chips for a crunch
Method:
Place the ripe banana into a food processor alongside the maple syrup, cinnamon and plant
milk and process until smooth.
Place the chickpea flour in a shallow bowl and stir through a pinch of salt, then pour the
banana mix into the middle and whisk everything together into a smooth batter.
Place your bread slices into the mix, allowing to sit and soak for 1 minute on each side. In the
meantime, heat a little coconut oil in a non-stick pan over medium heat.
Allow for any excess batter to drip off your slices and place them into the hot pan. Fry them
for 3-4 minutes without moving the toast, then carefully flip and cook on the second side for
another 3-4 minutes. Continue to cook and flip regularly until your french toast is golden on
both sides.
Serve your vegan french toast with a drizzle of maple syrup, a dollop of vegan yogurt, fresh or
stewed berries, and a few banana chips on top for an extra crunch.