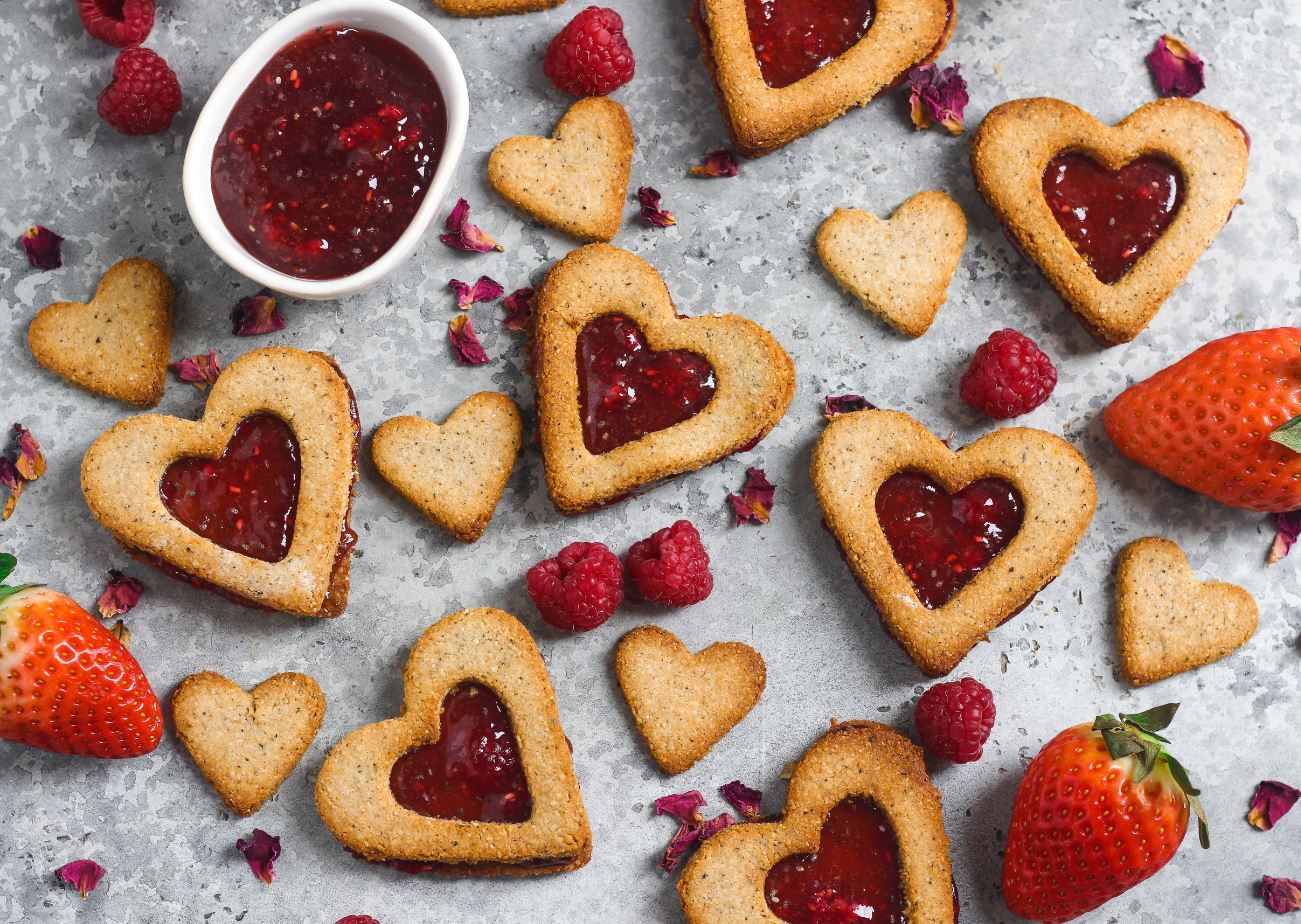 Recipe and images courtesy of Nourishing Amelia, Award Winning Blogger
Valentines/Galentines/Palentines… whatever you're celebrating you need these cookies in your life. A sweet homemade raspberry jam sandwich between two vanilla cookies, heaven! They're gluten-free, vegan and refined sugar-free so perfect for all.
Ingredients:
(For the cookies)
200g ground almonds
50g buckwheat flour
5 tbsp maple syrup
2 tbsp coconut oil -melted
80ml soya milk
2 tbsp flaxseed mixed with 6 tbsp water
1 tsp vanilla extract
pinch of salt
(For the jam
200g raspberries
2 tbsp maple syrup
1 tbsp lemon juice
2 tbsp chia seeds
Method:
Start by making the jam. Add the raspberries to a saucepan over medium heat. Cook for around 4 minutes until they're nice and soft.
Add the maple syrup in with the raspberries then mash with a potato masher until a fairly smooth mixture forms. Stir in the chia seeds and lemon juice, then place back over low heat. Cover and cook for 10 minutes.
After this 10 minutes put the mixture aside and allow the mixture to completely cool
Mix together the flaxseed and the water. Leave for 10 minutes to form a paste
Pre-heat the oven to 150oc
Combine the ground almonds and buckwheat flour in a mixing bowl. Then add the coconut oil, maple syrup, thickened flaxseed mixture, vanilla and pinch of salt. Stir well
Slowly start stirring in the soya milk until a cookie dough forms
Dust some extra flour on your work surface and also dust some on your rolling pin. Roll out the biscuit mixture and cut into shapes - I made heart shapes
Place the biscuit shapes on a lined baking tray. Bake in the oven for 10-12 minutes or until golden brown
Allow the cookies to completely cool before this next step! Spread a thin layer of raspberry jam onto the bottom half of one biscuit and sandwhich together with another biscuit. Repeat untill you've used up all your biscuits.