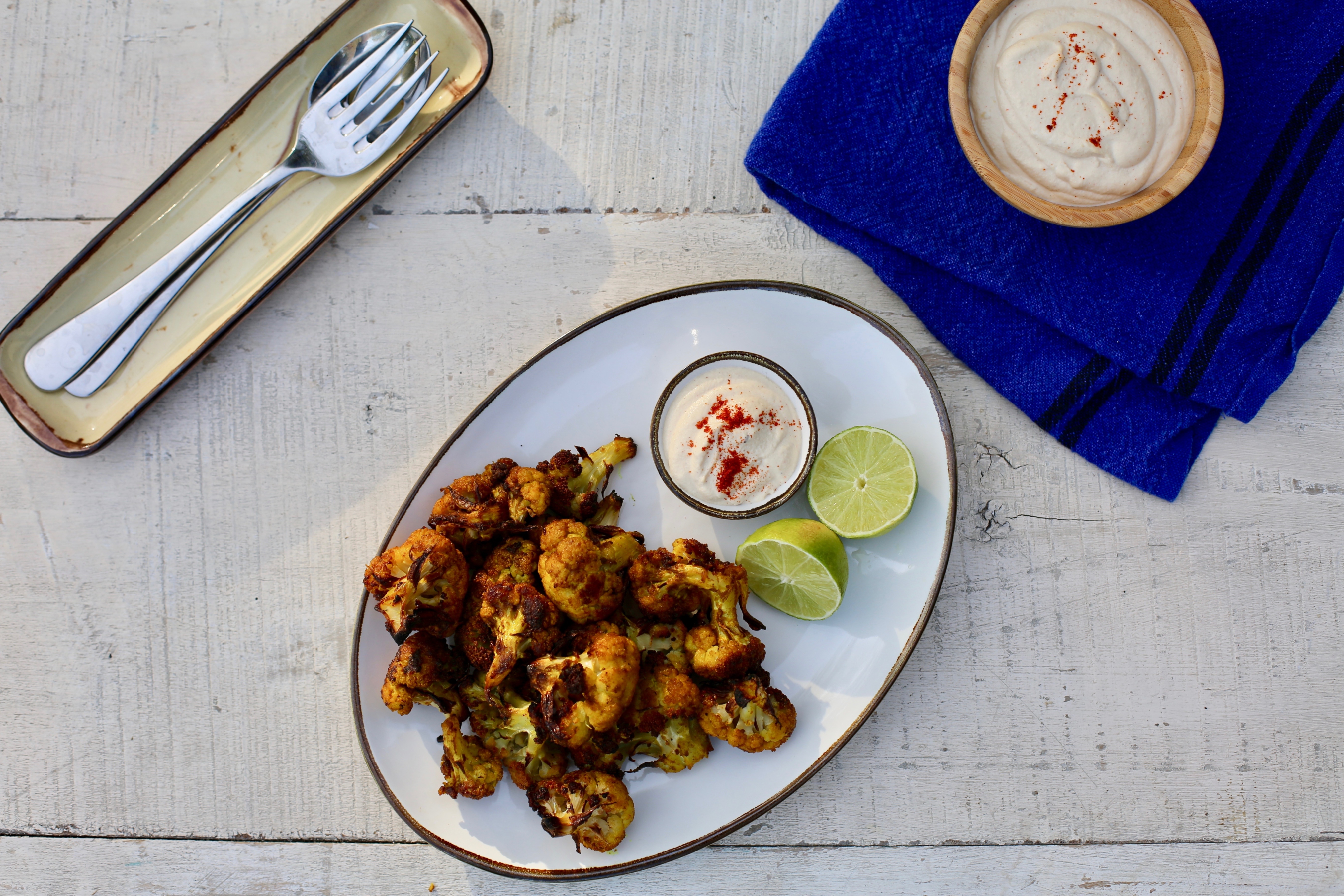 Recipe and images courtesy of Sassy Gregson-Williams (@naturally.sassy on Instagram)
This turmeric roasted cauliflower with spiced dip is delicious and makes a nutritious vegan main or side dish to accompany many meals. Cauliflower is great for marinading as its spongy texture absorbs any spice or marinade. When roasted the cauliflower transforms into a crispy and tasty vegetable. We have paired the recipe with an incredible spiced cashew cream dip that is also great with other veggies, crackers, or sandwiches and wraps.
Ingredients
For the Cauliflower:
2 medium cauliflower Heads
1 tbsp cumin
1 tbsp turmeric
1/8 tsp chilli powder
1/4 cup extra virgin olive oil
1 tsp runny honey (or maple syrup)
A generous pinch of salt
For the Spiced Cashew Cream Dip:
1 lime, juiced
1 cup water
1 cup cashews
1 tablespoon coconut cream (can use coconut milk, using the cream layer)
1/8-1/4 tsp chilli powder (start with less and add more after tasting)
Method
Preheat the oven to 190°C / Gas Mark 5.
Start by separating the cauliflowers into smaller florets. Chop the stalk and use your hands to tear the pieces apart. Lay the cauliflower out onto a roasting tray lined with parchment paper.
To make the marinade mix the olive oil, honey, cumin, turmeric, and chilli powder together in a bowl. Pour the marinade over the cauliflower and toss well until each piece is well coated.
Place the cauliflower into the oven to cook for 45 minutes. Tossing in 15-minute intervals and removing from the oven when crisp and blackening in places.
While the cauliflower cooks you can make your spiced cashew cream dip. In a blender or food processor add your cashews, water, lime juice, coconut cream and chilli powder. Blend until completely smooth.
Serve on a platter, dipping each cauliflower piece into your spiced cashew cream dip. Enjoy!