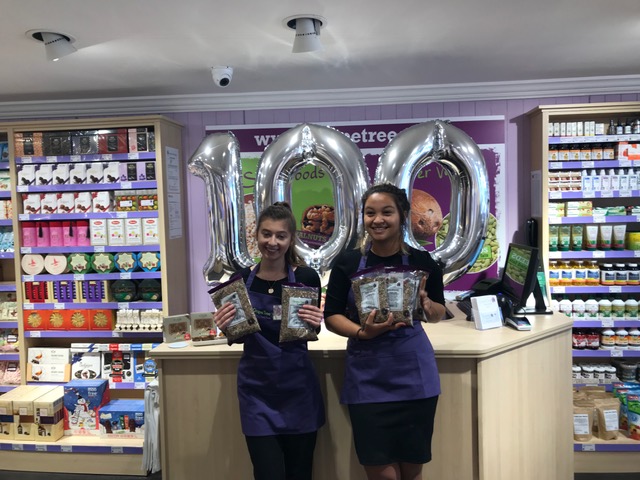 Grape Tree, the health foods, whole foods and superfoods retailer is to open in Chichester. And to celebrate, a thousand healthy eating seed packs including chia and goji berries will be given away.
Grape Tree has become one of the UKs fastest growing retailers opening new stores at the rate of one every fortnight since its launch five years ago. Outlets now stretch from Loch Lomond to the south coast. There is also a flourishing on-line shopping service.
Grape Tree sells nearly 1000 choices of natural, unprocessed foods including dozens of dried fruit products, over eighty ways of buying nuts, a wide range of superfoods, whole grains and seeds as well as energy bars, mixes and baking necessities.
The formation of the company, which now employs almost 400 people, coincided with a major switch to healthier eating patterns in Britain. A third of the nation is now reported to be vegan, vegetarian or flexitarian and numbers are predicted to keep growing.
Founder Nick Shutts said 'The expansion of Grape Tree has been driven by demand from customers who increasingly want natural, unprocessed, plant-based foods. But they also want them at prices they can afford. We are delighted to be opening in Chichester'.
The first one thousand customers in the new South Street store who spend more than £2.99p will each receive a complimentary welcome pack of Omega Mix With Chia and Goji worth £2.99p. The contents also include linseed as well as sunflower and pumpkin seeds all sources of the essential fatty acid Omega 3 which is so critical to our health.
And yes there is such a thing as a grape tree. Its a native of Brazil where its called the Jabuticaba and is prized for producing juicy fruits that not only taste good but are also said to have medicinal qualities. The fruits grow directly on the trunks and branches of the tree. So thats a delicious food that does you good and is easy to get your hands on---just what Grape Tree is all about.
9 South Street, Chichester, West Sussex PO19 1EH Phone: 01243 696162