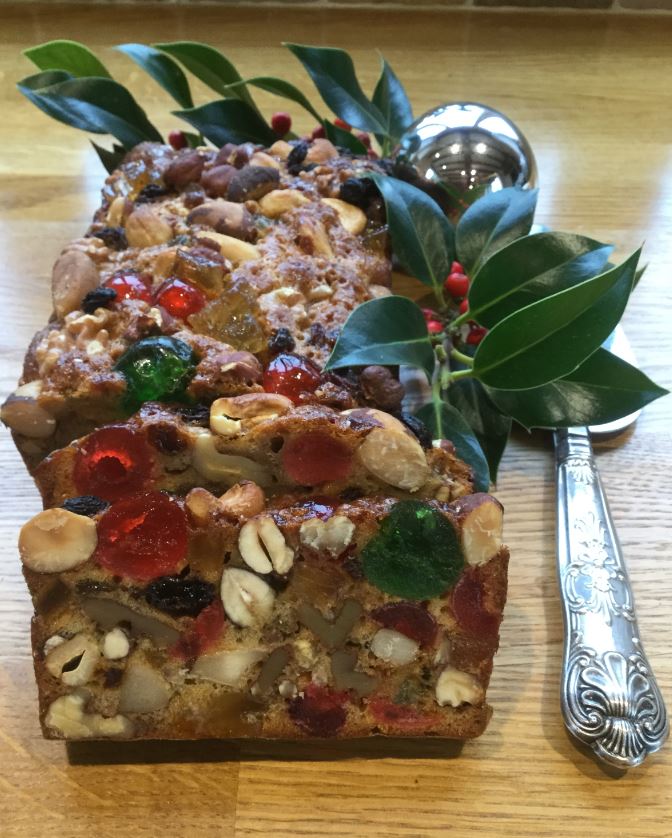 You will never have tasted a Christmas cake quite like this one. You will certainly never have cooked a quicker or a smaller one. But it does have many of the traditional ingredients and in the case of the nuts, it has loads of them. The trick is that when you take a slice it glistens with the glace cherries and sections of nuts and gives a passable impression of a stained-glass church window. So, it is delightfully festive and despite our initial reservations, we think it's delicious. But you will only manage a small slice!
Times:
Preparation 25 mins.
Cooking 60 mins.
Serves 10 to 12
Ingredients:
100g brazil nuts
100g walnuts
50g cashew nuts
50g hazelnuts
150g dried pineapple (chopped)
50g raisins
80g red glace cherries
40g green glace cherries
2 tbsp mixed peel
75g plain flour
½ tsp baking powder
2 large eggs 
80g granulated sugar
60 mls orange juice 
1tsp vanilla essence
Method: 
1. Grease and line a loaf tin (9"x4"x3").
2. Mix together the flour and baking powder and set aside.
3.Take three quarters of the fruits and nuts and cut them in half and put into a large bowl.
4. Keep the remaining quarter of fruits and nuts whole for placing on top of the cake.
5.Add the flour mixture to the bowl and mix well to coat the fruit and nuts. Beat together the sugar, eggs, orange juice and vanilla until well mixed. 6. Add the wet ingredients to the dry flour, fruit and nut mix and mix well.
7. Put the mixture into the loaf tin pressing down to compact. 8.Place the whole fruits and nuts on top of the mixture. Bake at 150°C for 1 hour. Cover with foil during this cooking time if the cake starts to become too brown.
8. Leave to cool in tin for 30 mins and then turn out onto wire tray to cool completely. Wrap in cling film and foil and keep in the fridge. Eat within a week.