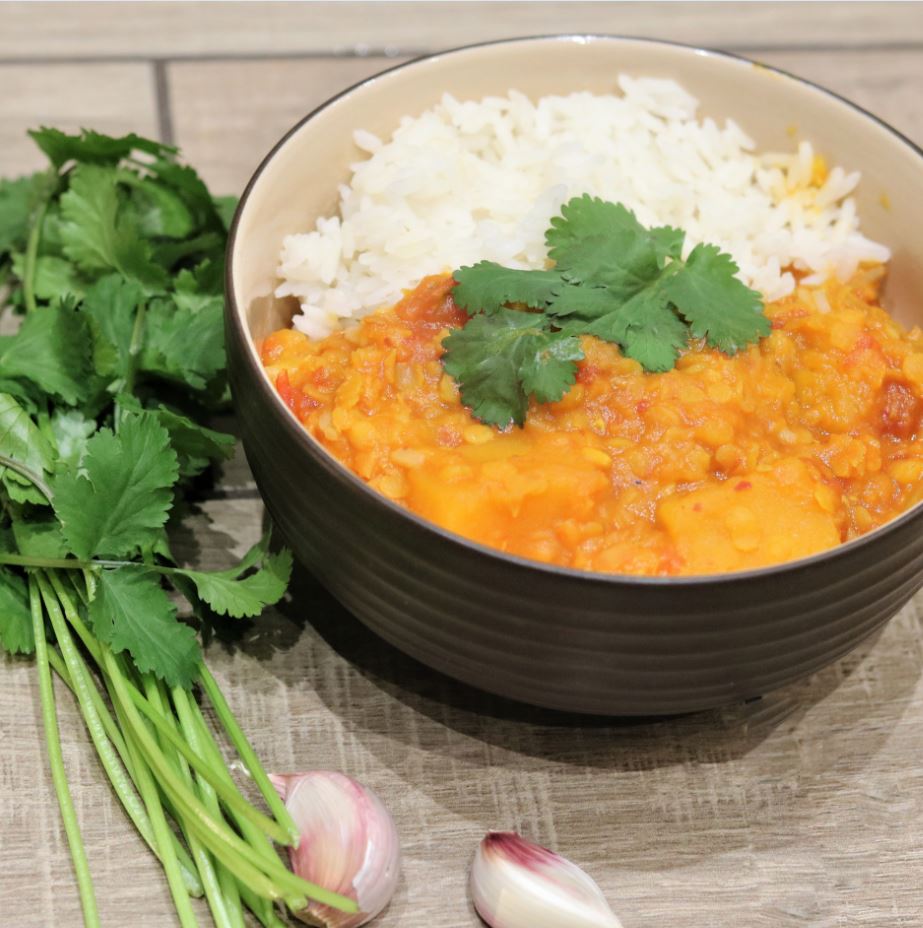 A hearty meal of spiced red lentils with pumpkin or butternut squash and tomatoes. Add chilli, ginger, cumin and turmeric and serve with rice, plain yogurt and coriander. A great balance of spices, sweetness from the pumpkin and heat from the chilli. Its spicy, veggie and a great one pot wonder!
Ingredients
3 tbsp rapeseed or coconut oil
1 large onion, finely chopped
500g Pumpkin or butternut squash, peeled and deseeded and cut into 2.5cm chunks (prepared weight)
1 can Biona Organic Chopped Tomatoes 400g
3 cloves garlic, crushed
2 tsp dried chilli flakes
2 tsp ground ginger
2 tsp ground cumin
½ tsp ground turmeric
225g red lentils
700 ml vegetable stock 1tsp bouillon powder
3 tbsp chopped coriander
Method
Heat 1½ tbsp of oil in a deep non-stick pan and fry the onion for a couple of minutes. Add the remainder of the oil and the chopped pumpkin/butternut squash pieces until they are golden all over.
Add the tinned tomatoes to the pan and cook for a further four minutes. Then add the garlic and spices and cook for two minutes, stirring a little.
Now add the lentils and pour on the 700ml vegetable stock. Season and bring to the boil.
Turn down the heat and simmer for 20 minutes or, until the lentils have softened and the pumpkin is tender. The dahl should be thick and ready. Taste and check the seasoning.
Sprinkle with the chopped coriander and serve with rice.