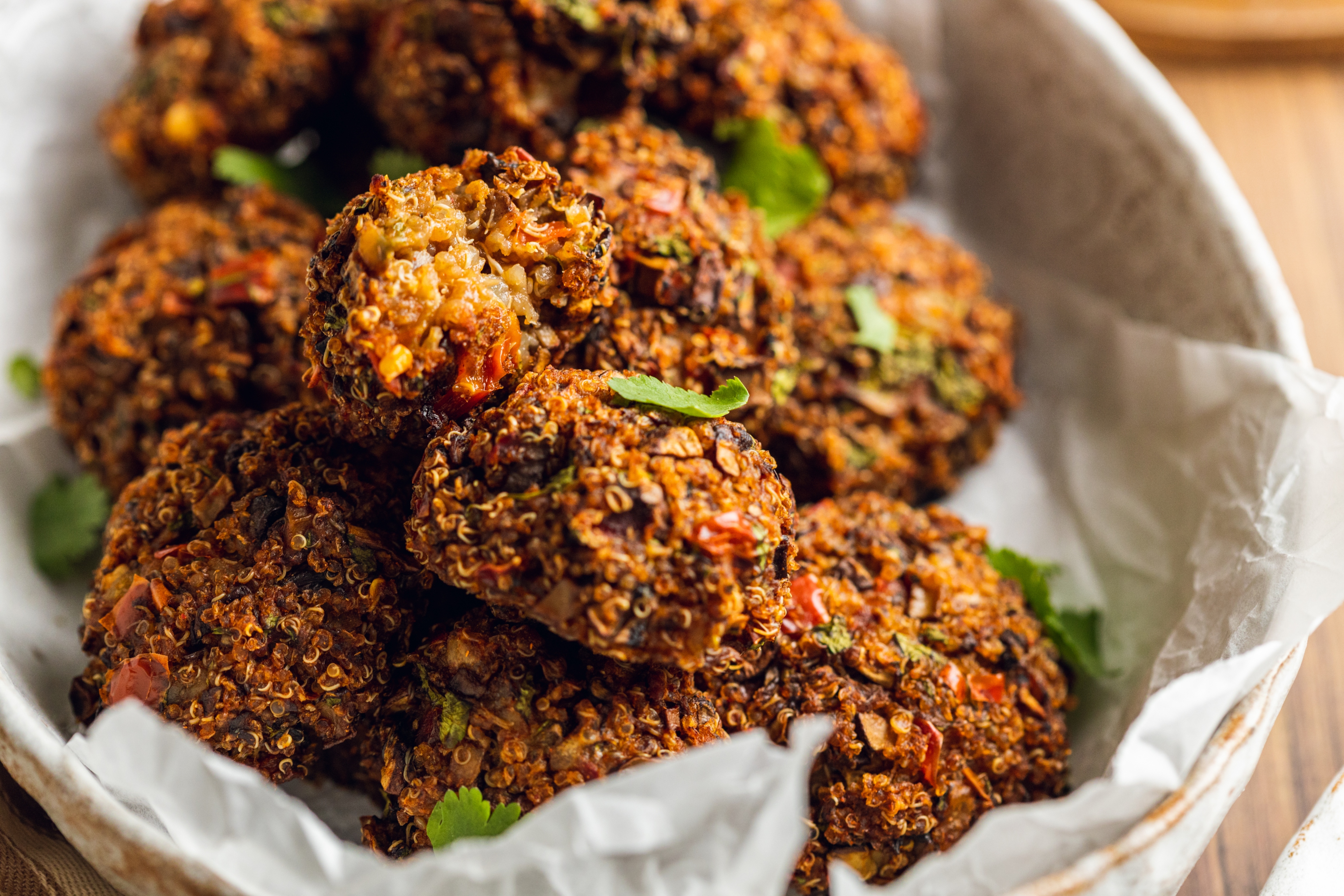 Recipe and images courtesy of Romy London (@romylondonuk on Instagram)
Crispy on the outside and creamy on the inside. Need inspiration for family dinner? These are just perfect, including all your favourite vegetables onions, mushrooms as well as quinoa. Serve with noodles, veggies or pasta.
Prep time: 30 minutes
Cook time: 45 minutes
Ingredients (serves 2-4)
1 tsp olive oil
70g red onion, finely diced
4 crushed garlic cloves
¼ tsp salt
130g finely diced red bell pepper
300g chestnut mushrooms finely diced
130g potatoes, diced
1 tbsp balsamic vinegar
60g quinoa, cooked
20g fresh coriander, chopped
½ tsp smoked paprika powder
¼ tsp chilli flakes
¼ tsp black pepper
2 tbsp walnuts, finely chopped
Method:
Start by heating the olive oil in a large non-stick skillet and place the finely diced
onion inside. Cook for 4-5 minutes until translucent, then add the crushed garlic, salt
and finely diced red pepper. Cook for a further 4-5 minutes or until the pepper is
softened, then add in the finely diced mushrooms. Allow for the mushrooms to
release their water and keep on the stove for 5-10 minutes or until the majority of the
liquid has evaporated.
In the meantime, peel and roughly dice the potatoes and cook them in salted water
for roughly 10 minutes or until softened. Drain and mash the potatoes into a smooth
potato mash.
Remove the mushroom mix from the stove and stir in the balsamic vinegar. Transfer
to a mixing bowl and add the cooked quinoa, potato mash, fresh coriander, smoked
paprika, chilli, black pepper and walnuts. Mix until well combined and set aside to
cool down for 20 minutes.
In the meantime, preheat your oven to 200C.
Once it's cool enough to handle, use a tablespoon to scoop out the mushroom mix
into little portions and form little balls with your wet hands. Place them on a lined
baking tray in a single layer.
Bake in the preheated oven at 200C for 25-30 minutes or until lightly crispy on the
outside.