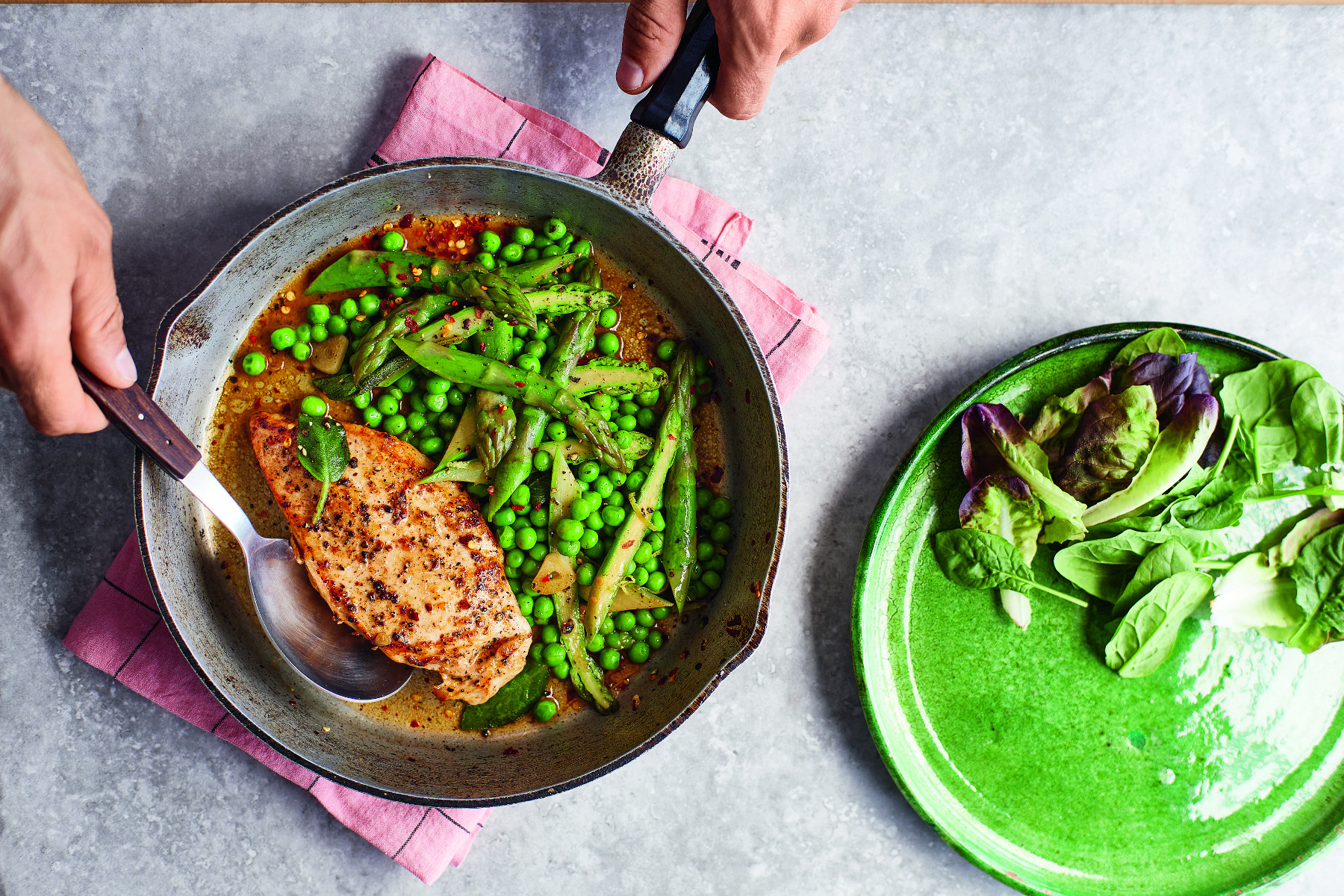 Photo: Andrew Burton
A zesty low carb dinner by Joe Wicks. Easy to make in just 15 minutes, the chicken breast is infused with sage butter to add that extra flavour. This is a great family dish!
INGREDIENTS
1 x 200g skinless chicken breast fillet
Drizzle of rapeseed oil
Salt and pepper
50g butter
Small handful of sage
1 clove garlic
100g asparagus tips
100g frozen peas
Pinch of dried chilli flakes
Juice of ½ lemon
Green salad, to serve
METHOD
Tenderise the chicken until it is 1cm thick.
Rub rapeseed oil into the chicken and season.
Melt 15g of butter over a medium to high heat. When bubbling, lay the chicken in the pan and fry for four minutes each side.
Now pick the sage leaves and finely chop the garlic.
Season the asparagus and cook on high in the microwave for two minutes. Add the peas and cook for two minutes until tender.
Melt the remaining butter in the pan with the chicken, add the sage, garlic and chilli flakes. Stir until the sage leaves are crisp.
When the chicken is cooked, take the pan off the heat and serve.
Put the frying pan back on a high heat. Add the asparagus and peas and cook for 30 seconds more until the veg is warmed through, then squeeze over the lemon juice.
Pile the veg onto the plate alongside the chicken and spoon over all those delicious buttery juices. Serve with a green salad.