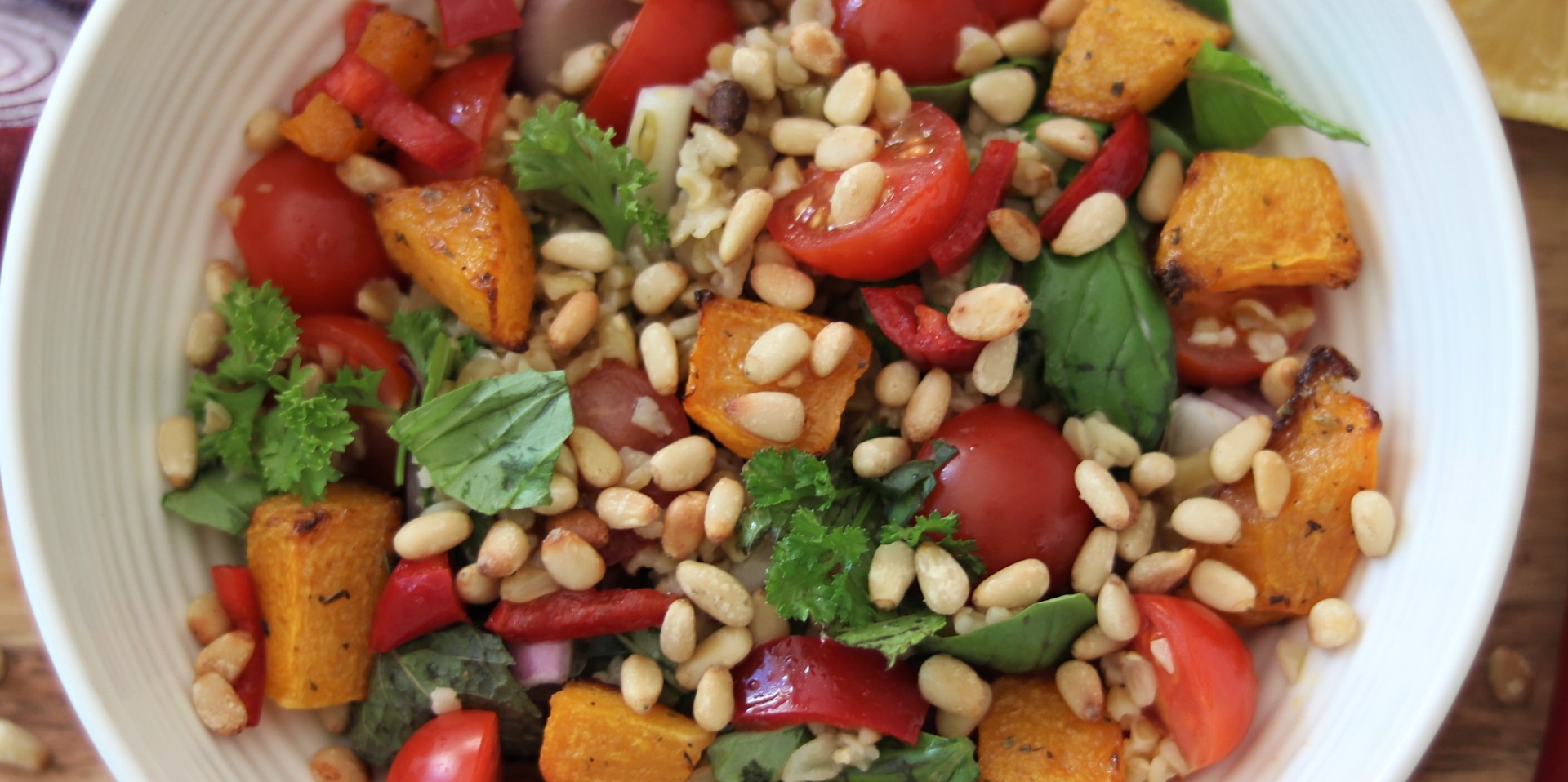 Enjoy a delicious and healthy vegetarian main with this tasty roasted butternut squash and freekeh salad. Freekeh is a delicious high fibre, high protein ancient grain which can be used as the carbohydrate component of any meal. It can be lower in calories than comparable grains such as quinoa or brown rice.
Ingredients
700g piece butternut pumpkin, peeled, deseeded, cut into 3cm pieces
1 tsp mixed herbs
1 tbsp coconut oil
1 red onion, halved, cut into thin wedges
1 tbsp extra virgin olive oil
l1 long fresh red chilli, deseeded, finely chopped
1/2 lemon juice
2 tbsps maple syrup
2 cups cracked freekeh, rinsed
3 cups water
200g cherry vine tomatoes
1 cup firmly packed mixed herbs (mint, parsley and basil)
2 tbsps toasted pine nuts
Method
Preheat oven to 200 degrees celsius (180 fan). Melt the coconut oil on a preheated baking tray, then add the butternut squash making sure all coated with the oil and sprinkle with mixed herbs. Toss to coat. Roast for 20 minutes or until tender.
Meanwhile, bring the freekeh and water to the boil in a small saucepan over high heat. Reduce heat to low and simmer, covered, stirring occasionally, for 15-20 minutes or until tender. Drain.
Combine the chilli, olive oil, lemon juice and 1tbsp maple syrup in a bowl. Season. Cut up the onion into chunks and half the cherry tomatoes. Drizzle the butternut squash with 1 tbs of the maple syrup. Roast for 10 minutes or until golden and caramelised. Set aside.
Once freekeh and butternut squash has cooled, combine freekeh, butternut squash, onion, tomatoes, herbs in a large bowl. Drizzle with half the maple mixture. Gently toss to combine. Sprinkle with pine nuts. Drizzle with the remaining dressing.