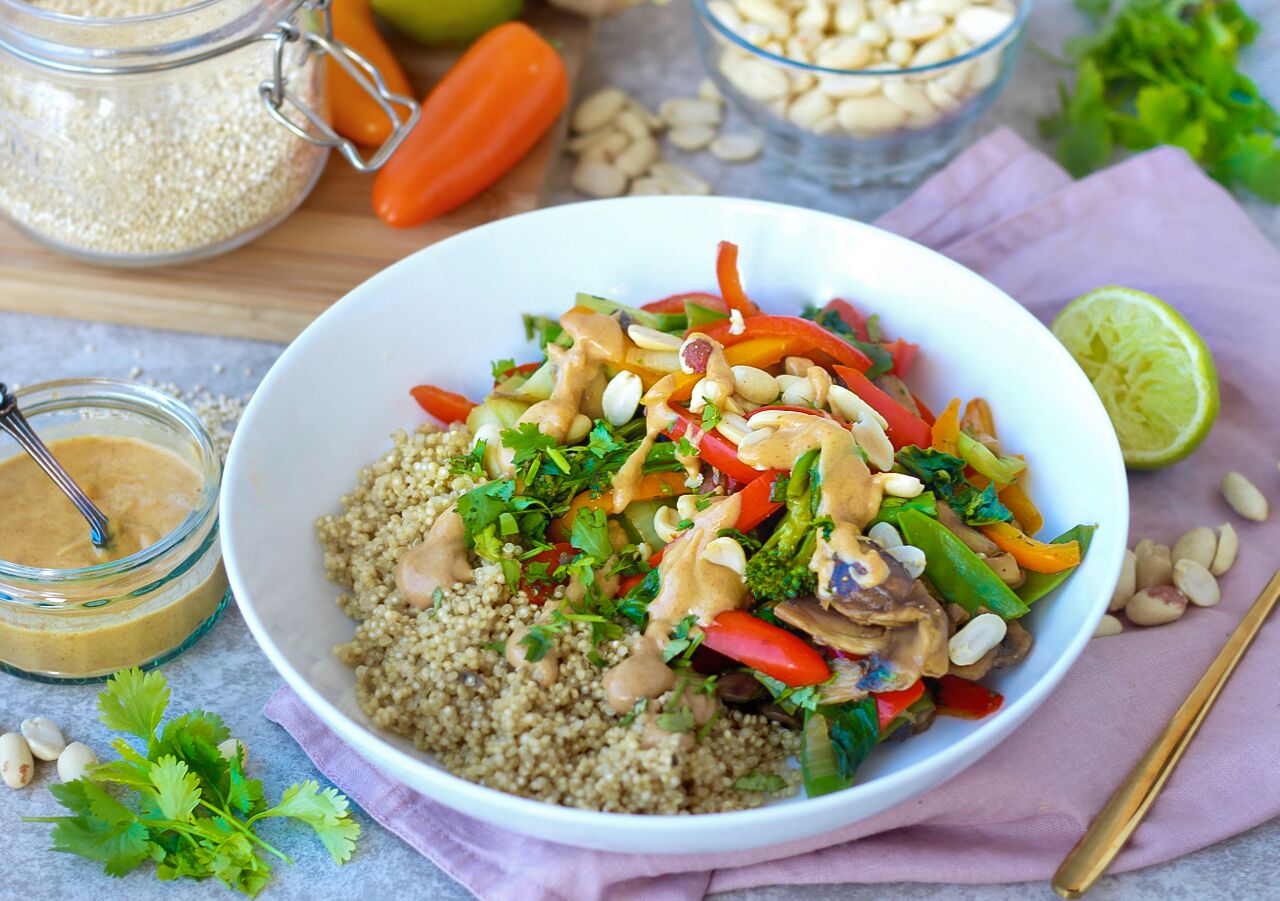 Recipe and images courtesy of Nourishing Amelia, Award Winning Blogger
This Quinoa & Peanut Satay Stir Fry recipe takes the standard stir fry to a whole new level. The combination of vegetables is a dream, especially when cooked in flavoursome tamari and Grape Tree dried herbs then paired with quinoa for a tasty and nutritious change to noodles and crunchy peanuts for added texture.
But what makes this stir fry extra special is the satay sauce you can drizzle over the top! This simple, quick and easy satay sauce will be your new obsession and you wont ever want to have a stir fry without it again. This whole recipe is loaded with goodness, is super satisfying and a real crowd pleaser - all whilst being gluten, dairy and egg free also!
Ingredients: (serves 4)
Stir fry -
120g tenderstem broccoli
200g closed cup mushrooms
2 red peppers
1 yellow peppers
100g mange tout
200g pak choy
1 tsp herbs de provence
1/2 tsp fresh grated ginger
1 tsp chilli flakes
2 tbsp tamari
1 tbsp olive oil
200g quinoa
80g peanuts
Satay Sauce -
3 tbsp peanut butter
2 tbsp tamari
1 tbsp maple syrup
1 tbsp olive oil
1 tbsp almond milk
3 tbsp water
Juice 1/2 lime
Method
Rinse the quinoa and add to a saucepan with double the amount of water to quinoa. Bring to the bowl then reduce to a simmer and cook for 10-12 minutes, or until the quinoa is nice and fluffy.
Add 1 tbsp olive oil to a wok over a medium heat and allow to warm.
Chop each tenderstem broccoli piece in half and add to the wok.
Whilst this cooks prepare the other vegetables. Finely chop the peppers, slice the mushrooms and pak choy and half each piece of mange tout. After the broccoli has been cooking for a few minutes add all the other vegetables. Then stir in the grated ginger, chilli flakes, herbs de provence and tamari. Cover and leave to cook on a low heat for 6-8 minutes while you make the satay sauce.
Add all the satay sauce ingredients to a blender (you can mix them in a bowl but you get a better result with a blender!) and blitz until smooth and creamy.
Dish up the quinoa alongside the delicious stir fry mix. Sprinkle with peanuts and drizzle with the satay sauce.