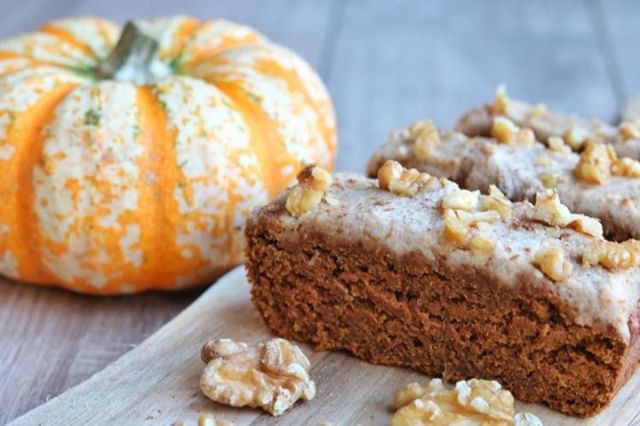 This soft pumpkin cake is made with natural ingredients and topped with a homemade buttercream frosting made from cashews. Easy and super moist this recipe is completely vegan, gluten-free and the perfect comfort cake for fall! See the recipe for our Cashew Buttercream Frosting (Vegan) here
Ingredients
70g Spelt flour
85g oat flour (made from Grape Tree Jumbo Oats)
100g Coconut sugar
1 tsp Baking soda
1 tsp Cinnamon
1 tsp Pumpkin spice (see recipe)
2 flax eggs
1 tbsp Bragg apple cider vinegar
190ml Coconut milk
190ml Pumpkin puree
Flax eggsCan be used as an egg replacement in many of your favourite baking recipes.
2 tablespoon ground flax or chia seeds
6 tablespoons water
Whisk together the ground seeds and water until well combined, then place in the fridge to set for 15 minutes.
Method
Preheat the oven to 400

°

F or

200

°C

.
Mix the dry ingredients (spelt flour, oat flour, coconut sugar, baking soda, cinnamon and pumpkin spice mix) in a large bowl.
Add the wet ingredients (flax eggs, apple cider vinegar, coconut milk and pumpkin puree) mixing well until combined.
Grease a 9-inch cake pan with some oil (we love coconut oil for baking).
Pour the cake mixture into the pan and bake for 40-45 minutes or until a skewer inserted into the centre comes out clean.
Remove the cake from the oven and let it cool.
Serve with vegan cashew frosting, chopped walnuts and extra pumpkin spice.
Can be stored in the fridge for a few days.