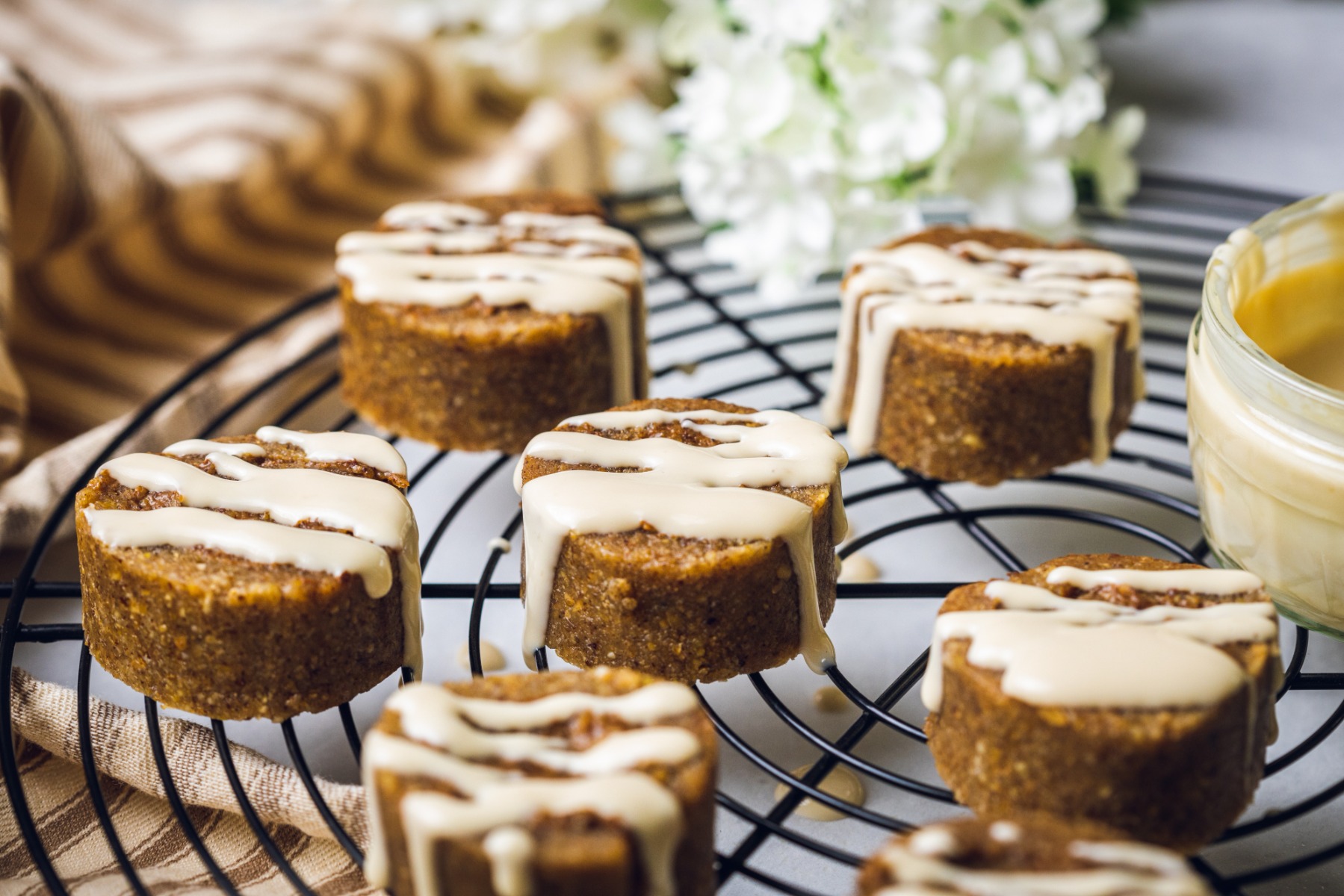 Recipe and images courtesy of Romy London (@romylondonuk on Instagram)
These No-Bake Cinnamon Rolls are made with only natural, vegan ingredients and on top of that also gluten-free - and let's not forget: delicious! Crafted with a nutty batter and a sweet spiced filling, you only need a food processor to make these tasty little no-bake treats.
Prep time: 30 minutes
Rest time: 60 minutes
Cook time: 0 minutes
Ingredients (makes 8 rolls):
For the dough:
75g cashew nuts
30g pecan nuts
30g hazelnuts
55g flaxseeds
1/8 tsp vanilla powder
4 tbsp maple syrup
1 tbsp water
For the filling:
30g dried apricots
30g raisins
1/4 tsp salt
1 tbsp ground cinnamon
1/4 tsp ground ginger
1/8 tsp ground cardamom
A pinch of nutmeg
A pinch of ground cloves
60ml hot water
15 ml melted coconut oil
For the glaze:
30g cashew butter
1 tbsp maple syrup
2 tbsp lemon juice
2-4 tbsp water
Method:
To create the no-bake cinnamon roll batter, start by placing the cashews, pecans and hazelnuts on a baking tray and toast them in the oven at 150C for 10 minutes. Allow for them to cool down, then transfer them to a food processor. Add the flaxseeds, vanilla powder, maple syrup and water to the processor and pulse until the ingredients are broken down and form a sticky, firm dough.
Transfer the dough onto a parchment paper, top with a second parchment and roll out the dough evenly into a 7-inch square.
Place all ingredients for the filling into a food processor or blender and blitz until smooth. Spread the cinnamon filling across the cinnamon roll batter, then carefully roll it up firmly.
Transfer the roll to the freezer for 1 hour.
Once firmed up, but not frozen, remove the roll from the freezer and slice it into 8 cinnamon rolls using a sharp knife.
For the glaze, whisk up the ingredients in a small bowl and drizzle the glaze over the cinnamon rolls with a spoon.
Store these no-bake cinnamon rolls in the fridge for up to 5 days and enjoy them alongside a
cup of chai tea!