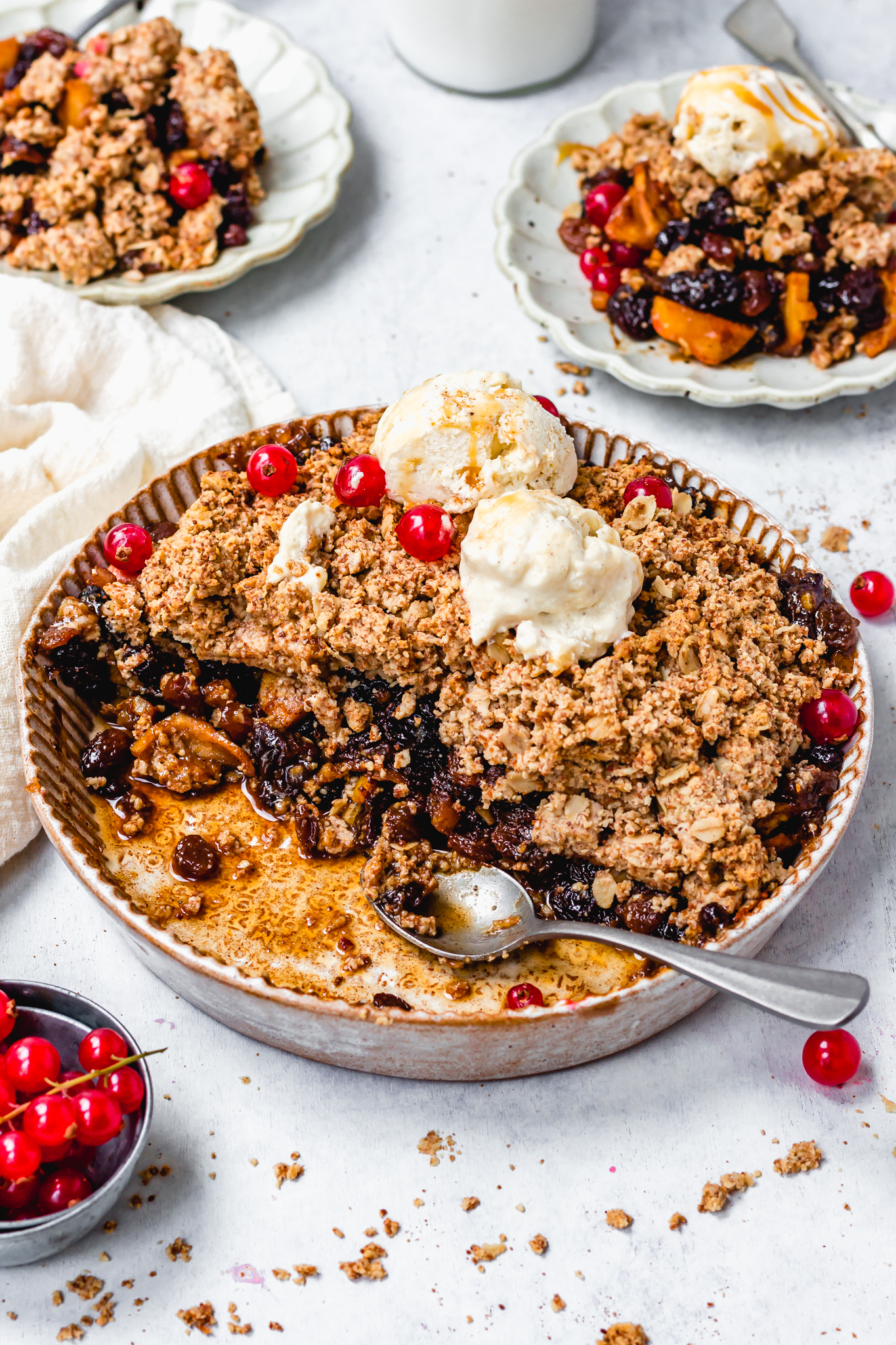 Recipe and images courtesy of Nourishing Amy (@nourishing.amy on Instagram)
It's crimble crumble season, a fruity, zesty and delicious crumble packed with fried fruits, sticky apple and topped with the best nutty and oaty crumble. This recipe has combined two classics to make one amazing sweet dish. Best served with ice cream or custard!
The base is fruity, wholesome and cinnamon while the topping is healthier, lower sugar and packed with wholefoods. It#s fully vegan and gluten-free.
Serves 6-8
Time: 40 minutes
Ingredients:
For the fruit:
300g mixed dried fruits with peel
60ml orange juice
30g coconut sugar
40g vegan butter
1 tsp cinnamon
1 tsp mixed spice
1 tsp vanilla essence
½ orange, zested
2 apples, peeled
For the crumble topping:
110g oats
80g mixed nuts
40g coconut oil
60g smooth cashew butter
50g coconut sugar
To serve: redcurrants, vanilla ice cream
Method:
Preheat the oven to 160Fan/180*C.
Add the mixed dried fruits, orange juice, coconut sugar, vegan butter, cinnamon, mixed spice, vanilla and orange zest to a medium saucepan, allow the butter to melt and then simmer over a medium heat for 5-10 minutes until glossy.
Chop the apples into quarters, remove the core and then slice the apples thinly. Stir through the mincemeat mix. Pour into a 20-cm pie dish.
Make the crumble topping: add 80g of the oats and all the nuts to a food processor and blitz to a fine meal. Now add in the coconut oil, cashew butter and coconut sugar and pulse to a sticky mix that clumps together.
Stir through the whole oats and break up with your hands to crumble over the fruits.
Bake for 25-30 minutes until golden on top and bubbling at the edges.
Serve warm or cold with redcurrants and vanilla ice cream, if you like. Leftovers will keep ini a sealed container in the fridge for 3-5 days or in the freezer for up to 1 month.