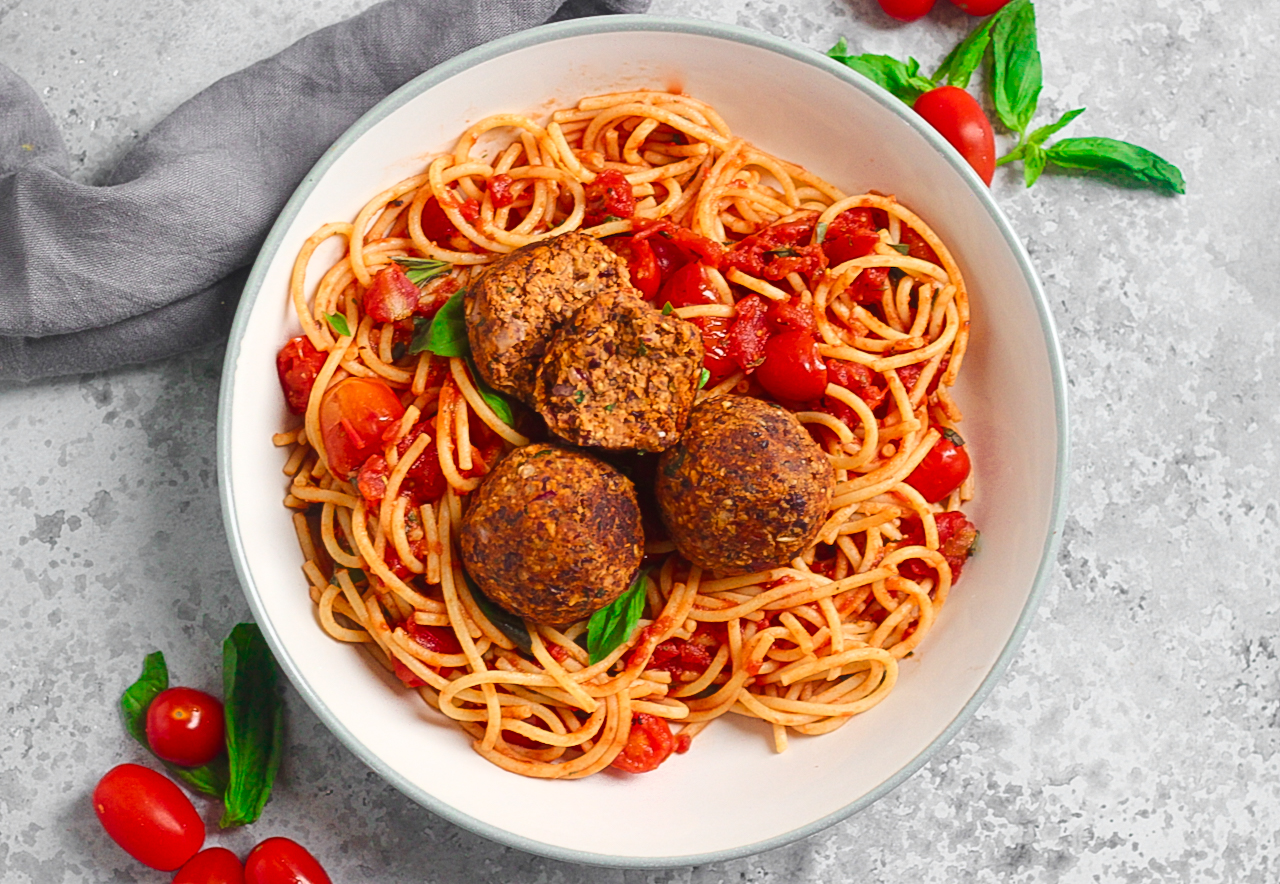 Recipe and images courtesy of Nourishing Amelia, Award Winning Blogger
This isn't your traditional meatball recipe as its completely plant-based! These meatless meatballs are so delicious and perfect for any vegetarian or vegan in your family or really for any meat-lover too as these vegan meatballs have an almost meat-like texture, are super high in protein and they are mega filling too. These veggie balls are surprisingly easy to make and they're really versatile. Of course, you can serve them with a traditional tomato & basil spaghetti dish or perhaps with some herby quinoa and roasted veg, in a pasta bake or on top of a salad. The meatballs freeze well too so why not make a batch ready to thaw for whenever you fancy them?
Ingredients (makes 8 balls)
80g oats
1 x 400g tin black beans
1/2 onion (chopped)
2 cloves garlic
5 tbsp tomato puree
2 tbsp rapeseed oil - plus extra for cooking
1 tbsp balsamic vinegar
2 tsp paprika
1 tsp herbs de provence
1/2 tsp chilli flakes
6g fresh basil
Salt & pepper
2 tbsp water
Method
Add the oats to a food processor and blend into a flour.
Drain and rinse the black beans then add these to the food processor along with all the other ingredients.
Blend until all the ingredients are fully combined. If the mixture appears too dry simply add a little more water, 1 tsp at a time.
Using your hands scoop out some of the mixture and roll into a ball. Place on a plate or tray then repeat with the rest of the mixture.
Place the balls in the fridge to set for around half an hour. While the balls are setting you could be getting on with cooking the rest of your meal. I went for spaghetti and a very simple tomato & basil sauce to serve the ??meat??balls with.
After half an hour remove the balls from the fridge. Heat a generous glug of rapeseed oil in a frying pan over a medium heat and allow to warm before adding the balls to the pan.
Fry the meatballs for a couple of minutes on each side until brown and ready to serve.
Serve the meatballs with whatever you fancy! You could top them on a salad, with tomato & herb quinoa, in a pasta bake or with a traditional tomato & herb sauce and spaghetti.