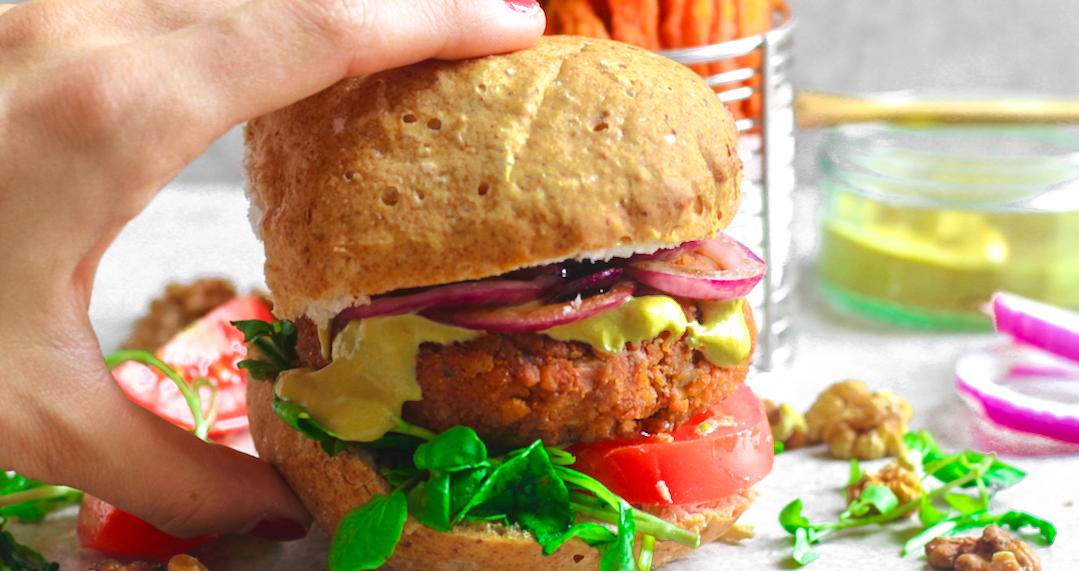 Recipe and images courtesy of Nourishing Amelia, Award Winning Blogger
These delicious Lentil & Walnut Burgers are a game-changing veggie recipe! Made with all plant-based ingredients these burgers may be super healthy and completely vegan but it doesn't mean they're lacking in anything. They're high in protein thanks to the red lentils, they contain heart-healthy & brain-boosting fats from the walnuts and flaxseed, they're full of flavour thanks to the combination of spices used and they couldn't be more satisfying if they tried! The burgers are delicious on their own or try serving them inside a bun with fresh rocket, slices of tomato, some spicy mustard and a side of sweet potato fries!
Ingredients (makes 4 burgers)
150g red lentils
80g walnuts
1/2 onion
2 cloves garlic
2 tbsp milled flaxseed
2 tbsp chickpea flour
2 tbsp BBQ sauce OR tomato ketchup
2 tsp paprika
1 tsp ground cumin
2 tsp dried mixed herbs
2 tbsp + 1 tsp rapeseed oil
Salt & pepper
Method
Rinse the lentils under cold water then add them to a saucepan with 200ml water. Bring to the boil then reduce to a simmer and allow to cook for 12-15 minutes or until the lentils have absorbed all the water. Make sure to stir regularly.
Combine the flaxseed with 6 tbsp water then allow to sit and thicken up.
Add 1 tsp rapeseed oil into a frying pan over a medium heat. Dice the onion and add this to the frying pan along with the garlic. Cook for a few minutes until the onion begins to soften.
Transfer the onion and garlic mixture into a food processor along with the walnuts. Blend until broken down into a coarse flour-like consistency.
Add the cooked lentils, paprika, cumin and dried herbs to the food processor then pulse until combined but the lentils aren't broken down into a puree.
Transfer this mixture to a mixing bowl and stir in the now thickened flaxseed mixture, the chickpea flour, BBQ sauce (or ketchup), 1 tbsp olive oil and salt & pepper. If the mixture appears to wet simply add more flour, if it's too dry try adding some more BBQ sauce or a dash more rapeseed oil.
Add 1 tbsp rapeseed oil to a frying pan over a medium heat and allow to warm.
Shape the burger mixture into four patties and place them in the warmed frying pan. Allow to cook on one side for 3-4 minutes before flipping and cooking on the other side for a further 3-4 minutes.
The burgers are ready to serve hot or keep them in the fridge in an air-tight container and consume within 2 days!