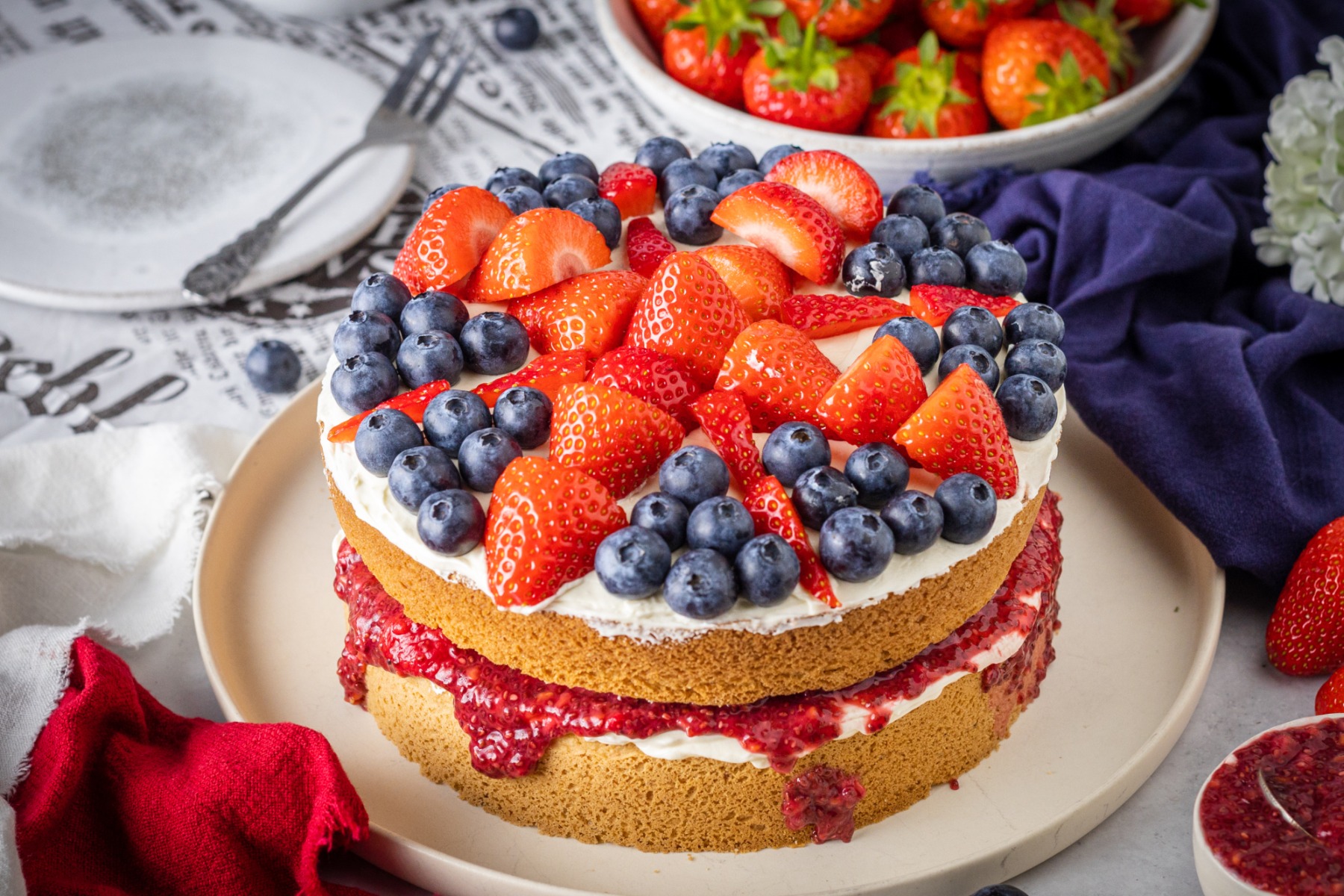 Recipe and images courtesy of Romy London (@romylondonuk on Instagram)
Time to get celebrating with this vegan & gluten-free Victoria Sponge Cake - just in time for the Queen's Jubilee! This gluten-free version of the British classic is created with a delicate mix of gluten-free flour and a hint of coconut flour, giving it a naturally sweet and nutty flavour. Filled with a smooth vegan buttercream and a homemade strawberry chia jam for the most perfect slice of Victoria sponge you could ask for.
Prep time: 60 minutes
Cook time: 25 minutes
Ingredients (makes 12 slices):
For the cake base:
For the strawberry chia jam:
For the buttercream:
120 g vegan butter
2 tbsp aquafaba
200g powdered sugar
1 tbsp lemon juice
Method:
Preheat your oven to 190C (170C for fan-assisted ovens) and line two 7-inch cake tins.
In a jug, combine the plant milk and vinegar, briefly stir, then set aside for 10 minutes to curdle. Sift the gluten-free flour, coconut flour, baking powder and baking soda into a mixing bowl and stir in the flaxseeds and salt.
Pour the maple syrup, melted coconut oil and vanilla bean paste into the curdled plant milk mix and briefly whisk to combine. Pour this wet mix into the mixing bowl and use a spatula to combine all ingredients.
Divide the batter between both cake tins and bake in the middle of the oven for 25-35 minutes or until golden. Remove from the oven and allow for both cakes to cool down entirely.
In teh meantime, prepare the chia jam: Remove the strawberry greens and cut them into small chunks, leaving a handful of strawberries aside for decoration. Place them into a saucepan alongside the raspberries and 125 ml water. Bring to a simmer over low/medium heat and wait until the berries soften. Stir in the maple syrup and finally the chia seeds, then remove from the heat. Set aside to cool down completely and stir every 5 minutes for 30 minutes, or until the chia seeds have soaked up the remaining liquid.
To create the buttercream, simply whip up the vegan butter until white and creamy, then sprinkle in the powdered sugar, lemon juice and, lastly, the aquafaba.
To assemble the vegan Victoria Sponge Cake, place one cake onto a serving tray, top withhalf of the vegan buttercream - either with a pallet knife or a piping bag - add the chia jam and place the second cake on top. Spread the remaining buttercream over the top and decorate with berries, then you're ready to slice up and serve!