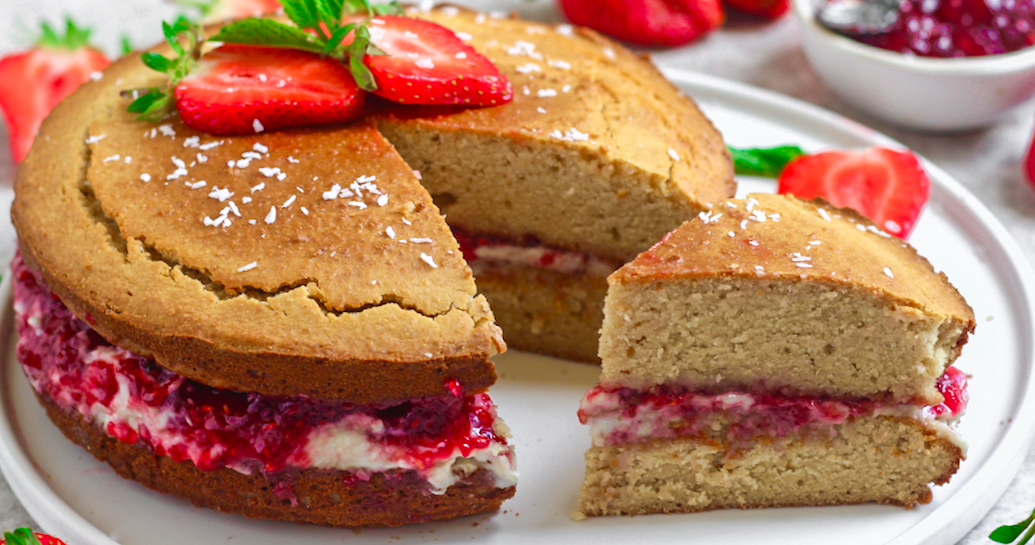 Recipe and images courtesy of Nourishing Amelia, Award Winning Blogger
This double layered vanilla cake with a middle layer of jam & coconut cream is a dream. It may be gluten free, vegan and refined sugar-free but it has all the taste of your classic sponge cake with the light but satisfying texture, the indulgent sweetness and the centre with strawberry jam & vegan cream compliments the sponge perfectly. The secret to making this free-from cake so fluffy is water from a can of chickpeas. This might sound very strange but trust us, nothing else will work so well in a vegan cake!
Ingredients
Cake -
300g ground almonds
220g gluten-free flour
1 x tin chickpeas (just the water from the tin)
130ml maple syrup
250ml soya milk
2 tsp vanilla extract
1 tsp bicarbonate of soda
Pinch of salt
Coconut oil for greasing
Filling -
100g cashews (soaked in water for a minimum of 5 hours)
4 tbsp coconut cream
2 tbsp maple syrup
4 tbsp strawberry jam
Method
Pre-heat the oven to 150 degrees celsius.
Add the ground almonds, gluten-free flour and bicarbonate of soda for a mixing bowl. Mix well to remove any lumps.
Drain the chickpeas and keep the water. Don't throw the chickpeas away - be sure to use them in a curry, a stew or to make hummus!
Add the chickpea water to a blender and blend for a few minutes, until the liquid goes white and fluffy.
Add the chickpea water to the mixing bowl along with the sofa milk, vanilla extract, salt and pinch of salt. Mix well.
Grease two cake tins with coconut oil then pour the cake mixture into them, diving the mixture evenly.
Bake in the oven for 20 minutes. Allow to completely cool before adding the filling - this is really important.
To make the cream, simply drain and rinse the soaked cashews and add them to a food processor along with the coconut cream and maple syrup. Blend well into a creamy, smooth mixture.
Once the two cakes have cooled completely spread the coconut cream on to the top of one cake and the strawberry jam onto the bottom of the other cake. Sandwich together.
You can enjoy the cake as it is or top with a few fresh strawberries and a sprinkling of desiccated coconut!
This cake is best eaten the same day but you can keep it in the fridge and consume within 2 days.