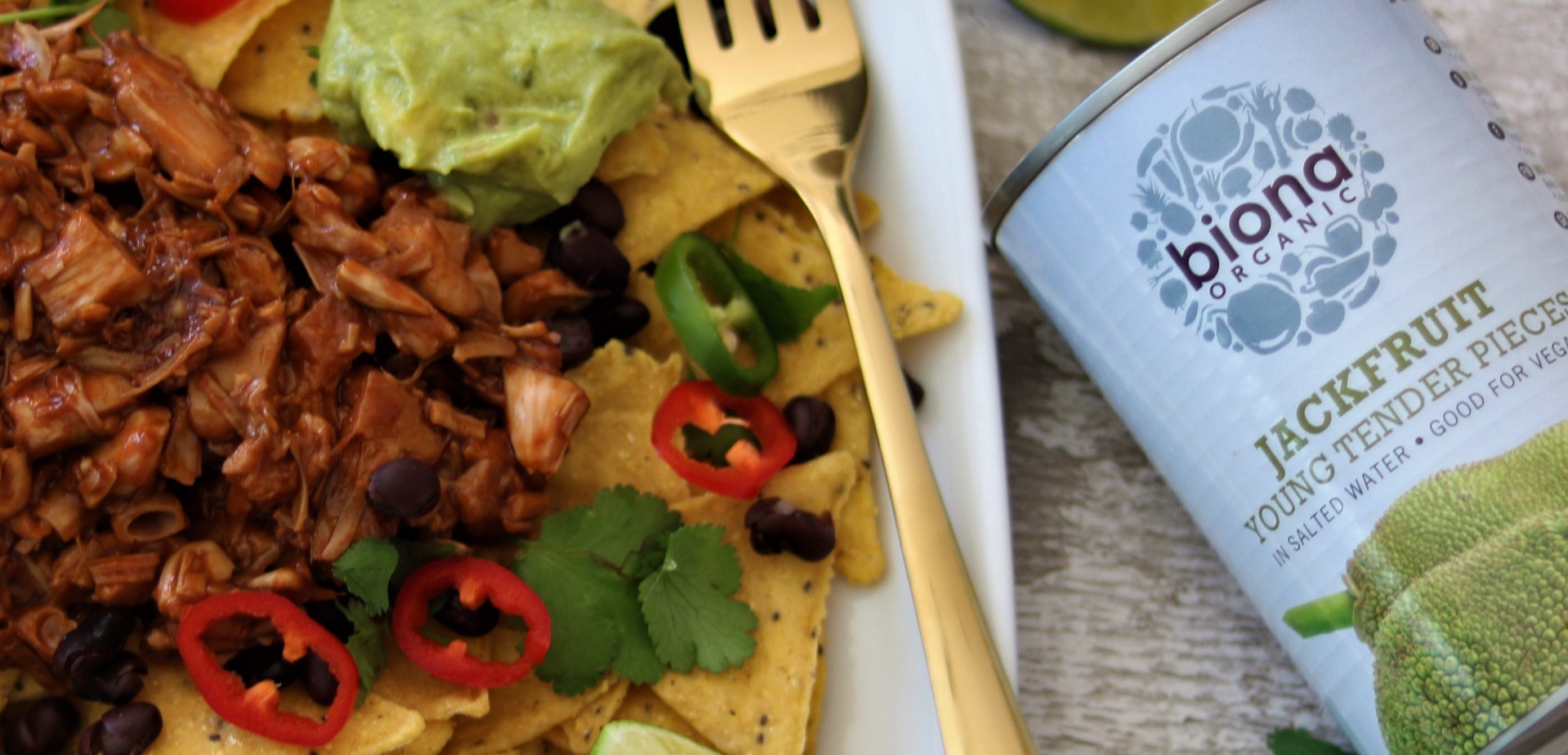 If you haven't yet heard of it, jackfruit is a large fruit originating from Asia that has become popular as a meat alternative because when the fruit is cooked and flavoured, it resembles pulled pork or chicken. We hope you love this loaded nachos recipe with barbecue jackfruit and our own homemade sour cream and guacamole sauce, its delicious! The barbecue jackfruit in this recipe requires only a few ingredients, and once you've mastered the recipe then you can try it in buns, sandwiches, pizzas and buddha bowls, as well as loaded with nachos! They taste really good and would be perfect for sharing so, great for social gatherings or parties and would delight any of your vegan guests.
Ingredients
1 bag of tortilla chips (we've used mister freed chia seed tortilla chips)
1 can Jackfruit
200ml Barbecue Sauce (homemade see recipe below)
200ml Cup Water
All the nacho toppings you like including
Black Beans
Jalapeno
Guacamole (homemade see recipe below)
Coriander
Lime
Method
Rinse jackfruit very well and remove seed pods.
Chop the jackfruit, mostly chopping the harder core.
Add jackfruit, BBQ sauce, and 200ml water to a pan.
Simmer on low for 25 to 35 minutes until most of the liquid is gone.
Optional step for a drier crispier jackfruit. Heat oven to 425f
Place a pan of jackfruit in the oven and bake for 15 minutes. If using a pot that is not oven safe, transfer jackfruit to an oven safe pan and bake for 15 minutes. Place tortilla chips on a large plate or platter. Sprinkle BBQ Jackfruit, and all other nacho toppings.
Healthy Barbecue Sauce
Why not skip the sugar loaded shop bought barbecue sauce and make this really easy and healthy homemade recipe? It has the sweet and spicy flavour that you love from regular barbecue sauce, using only natural ingredients! Ingredients
1/2 tsp coconut oil
2 crushed garlic cloves
Chopped onion
1 can of tomato sauce
2 tbsp tomato paste
3 tbsp maple syrup
1 tbsp molasses
1 tsp apple cider vinegar
1 tsp tamari or coconut aminos
1 tsp sea salt
1/2 tsp paprika
1/2 tsp cayenne pepper
1/2 tsp chilli powder
1/2 tsp ground pepper
Dash of cinnamon
Method
Add the coconut oil to a pan over a medium heat and add the garlic and onion to soften. Stir frequently so not to burn.
Add the tomato sauce, maple syrup, molasses, apple cider vinegar, tamari or coconut aminos in to the pan and stir to combine.
Add the seasonings and spices.
Allow the mixture to simmer over a medium heat for approximately 15 minutes. Don't let the mixture boil. Stir frequently.
Use right away or cool and refrigerate.
Sour Cream Recipe
Ingredients
1/2 cup cashews soaked
1/4 cup water
1 tsp apple cider vinegar
1 tbsp lemon juice
1/4 tsp sea salt
Method:
Soak cashews in hot water for 10 minutes or at least 4 hours if you don't have a high powered blender. Drain.
Combine all ingredients in a blender until smooth.
Taste and add more lemon juice or salt if required.
Guacamole Recipe
Finely chop one chilli, one garlic clove and one small red onion. Mash one avocado and combine with the other ingredients. Add 1 tbsp of lemon juice, season and serve.