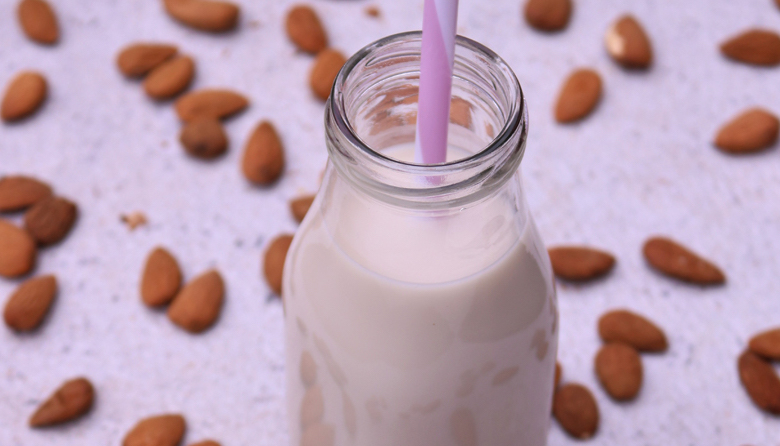 We have been making nut milk for many years, it's an incredibly old process that essentially involves soaking nuts in water overnight or for up to two days. The longer you can soak the nuts, the easier it is to grind and the creamier the milk will be. It is also important to help the body to absorb the nutrients and make them easier to digest. Our recipe uses organic almonds for a healthy and delicious plant-based alternative to dairy. It's so easy to make and lasts a few days in the fridge. We would advise to make the milk little and often to prevent any waste. We have used a ratio of 150g almonds to 500ml water when making this almond milk but if you like a thinner milk, use more water next time or, for thicker milk, use less. You can also make homemade milk using a wide variety of nuts and seeds, see our list below to check which will need soaking beforehand. You can also try adding dried coconut for a richer flavour and texture.
Ingredients
150g almonds
500ml water, plus more for soaking
Sweeteners like honey, agave syrup, maple syrup (optional)
Equipment
Bowls
StrainerMeasuring jug / weighing scales
Blender or food processor
Fine-mesh nut bag or muslin cloth
Method
Soak the almonds in a bowl and cover with about an inch of water. Leave them to stand on covered with a cloth for overnight or, for up to 2 days in the fridge.
Drain the almonds and rinse thoroughly under cool water.
Combine the almonds and water in a blender or food processor and blend at the highest speed for 2 minutes. Every so often pulse the blender to break up the almonds. Continue to blend for a further 2 minutes. You should be left with a very fine meal and the water should be white and opaque.
Strain the almonds using a fine-mesh strainer with either an opened nut milk bag or muslin cloth, and place over a bowl.
Gather the nut bag or muslin cloth around the almond meal and squeeze and press to extract as much of the almond milk as possible.
If desired sweeten to taste with honey, agave or maple syrup.
Use the leftover almond meal in oats, smoothies, and muffins.
Store for up to 2 days in a sealed container in the fridge. NUTS & SEEDS FOR SOAKING:
Almonds
Walnuts
Hazelnuts
Brazil nuts
Pistachios
Pumpkin seeds
Sunflower seeds
Sesame seeds
NUTS & SEEDS THAT DON'T NEED SOAKING:
Cashews
Macadamia nuts
Hemp seeds