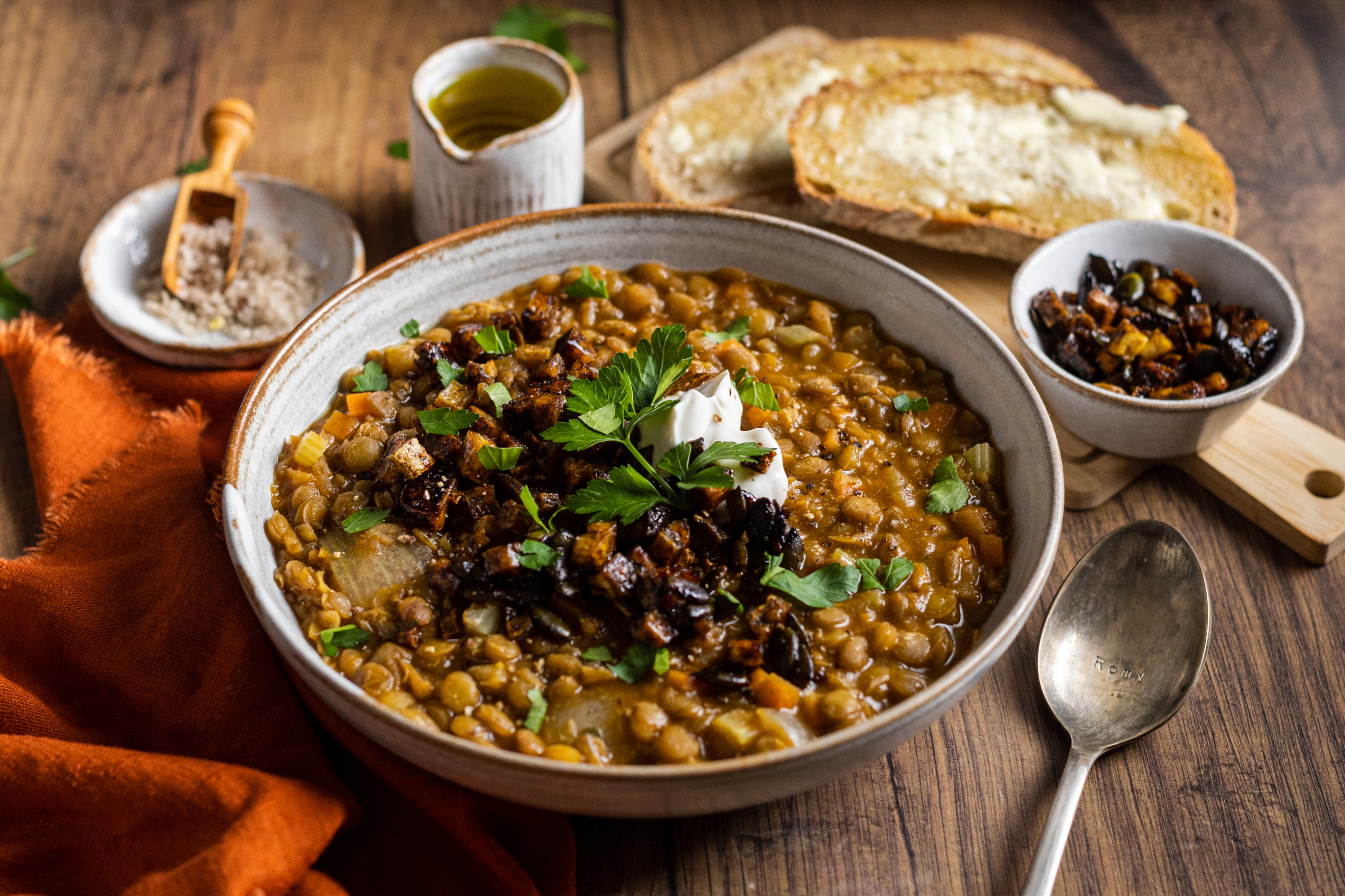 Recipe and images courtesy of Romy London (@romylondonuk on Instagram)
Hearty winter lentil soup packed with vegetables and full of flavour. This is easy to make from scratch with high protein, cook this for your bonfire get togethers to keep everyone warm. Made with green lentils and tofu making it a well balanced nourishing dish.
Prep time: 20
Cook time: 45
Ingredients (serves 4):
1 tbsp rapeseed oil
1 large onion, finely diced
1 garlic clove
1 tbsp tomato paste
300g green lentils
125ml red wine
3 tbsp vegetable bouillon powder mixed with 1.5 l hot water
60g celery, finely diced
60g carrots, finely diced
½ tsp marjoram
2 tbsp nutritional yeast
For the tofu bits:
100g smoked tofu, finely cubed
1 tbsp rapeseed oil
2 tbsp tamari soya sauce
1 tbsp pumpkin seeds
For serving:
Fresh parsley
Toasted sourdough
In a large saucepan heat the rapeseed oil and add the finely diced large onion. Cook for 3 to 4
minutes until translucent, then add in the crushed garlic and cook for a further minute.
Add in the tomato paste and green lentils, and give it a good stir. Then deglaze the pan with the red wine.
Pour in the vegetable stock and bring to a simmer. Allow for the soup to simmer for 40 to 45 minutes.
In the meantime, finely dice your celery and carrots, then add them into the soup alongside marjoram.
Cook for 5-10 more minutes, or until the carrots are softened.
In a separate small skillet, heat the remaining rapeseed oil, and add your cubed smoked tofu to the
hot oil. Fry for a couple of minutes until the tofu is crispy on all sides, then stir in the Tamari and
pumpkin seeds.
Remove from the heat once the liquid has evaporated from the pan.
Serve your lentil soup with a dollop of coconut yoghurt, and sprinkle with the smoky tofu bits and fresh
parsley.
Enjoy with a slice of toast with sourdough!