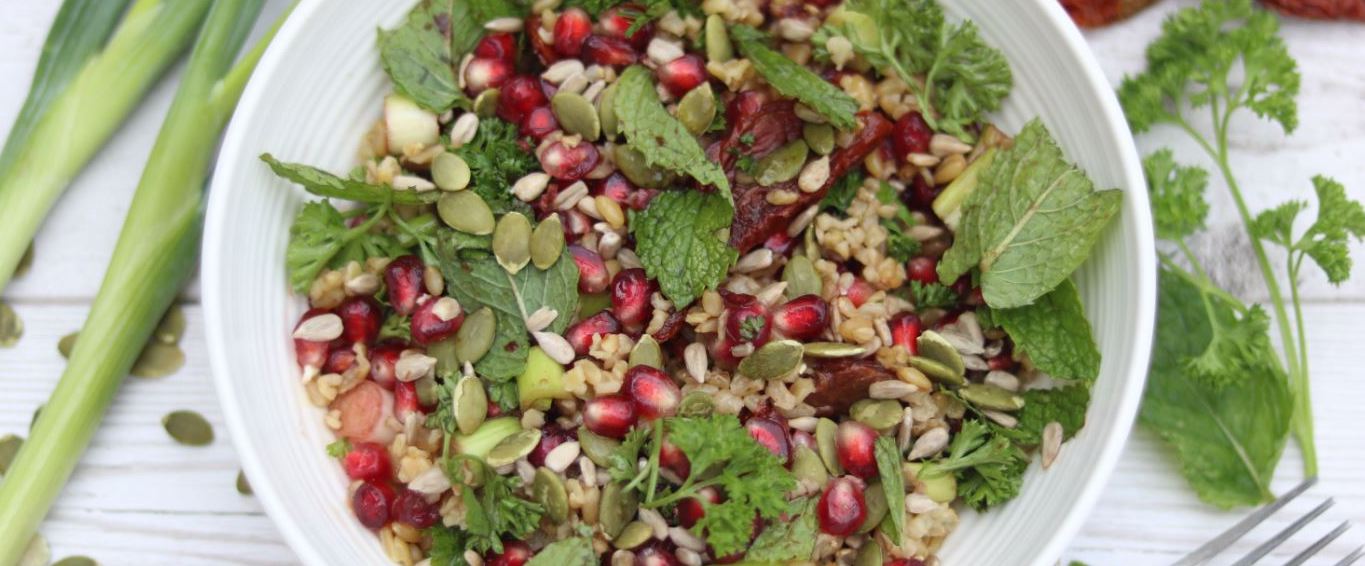 Freekeh is a delicious high fibre, high protein ancient grain which can be used as the carbohydrate component of any meal. It can be lower in calories than comparable grains such as quinoa or brown rice. It works well as an accompanying pilaf or a salad, in this case with pomegranate, sunflower and pumpkin seeds, mint and spring onion.
Ingredients Serves 4
2 cups freekeh
3 cups water or stock
Handful of mint Handful of parsley
4 spring onions, finely chopped
1 pomegranate
15 sundried tomatoes chopped
2 tbsp rapeseed oil
Juice of a lemon
2 tbsp balsamic vinegar
1 tbsp pumpkin seeds
1 tbsp sunflower seeds
Method
Fill a saucepan with 2 cups of Freekeh and 3 cups of water or stock.
Bring the freekeh and water to the boil in a small saucepan over high heat. Reduce heat to low and simmer, covered, stirring occasionally, for 15-20 minutes or until tender. Drain.
When cool, mix together the freekeh with the spring onions, pomegranate seeds and herbs, and season with salt and pepper.
Mix together 2tbsp of rapeseed oil, 2tbsp balsamic vinegar, juice of half a lemon with a pinch of salt, and dress the salad with it, mixing gently.
Serve topped with pumpkin and sunflower seeds.