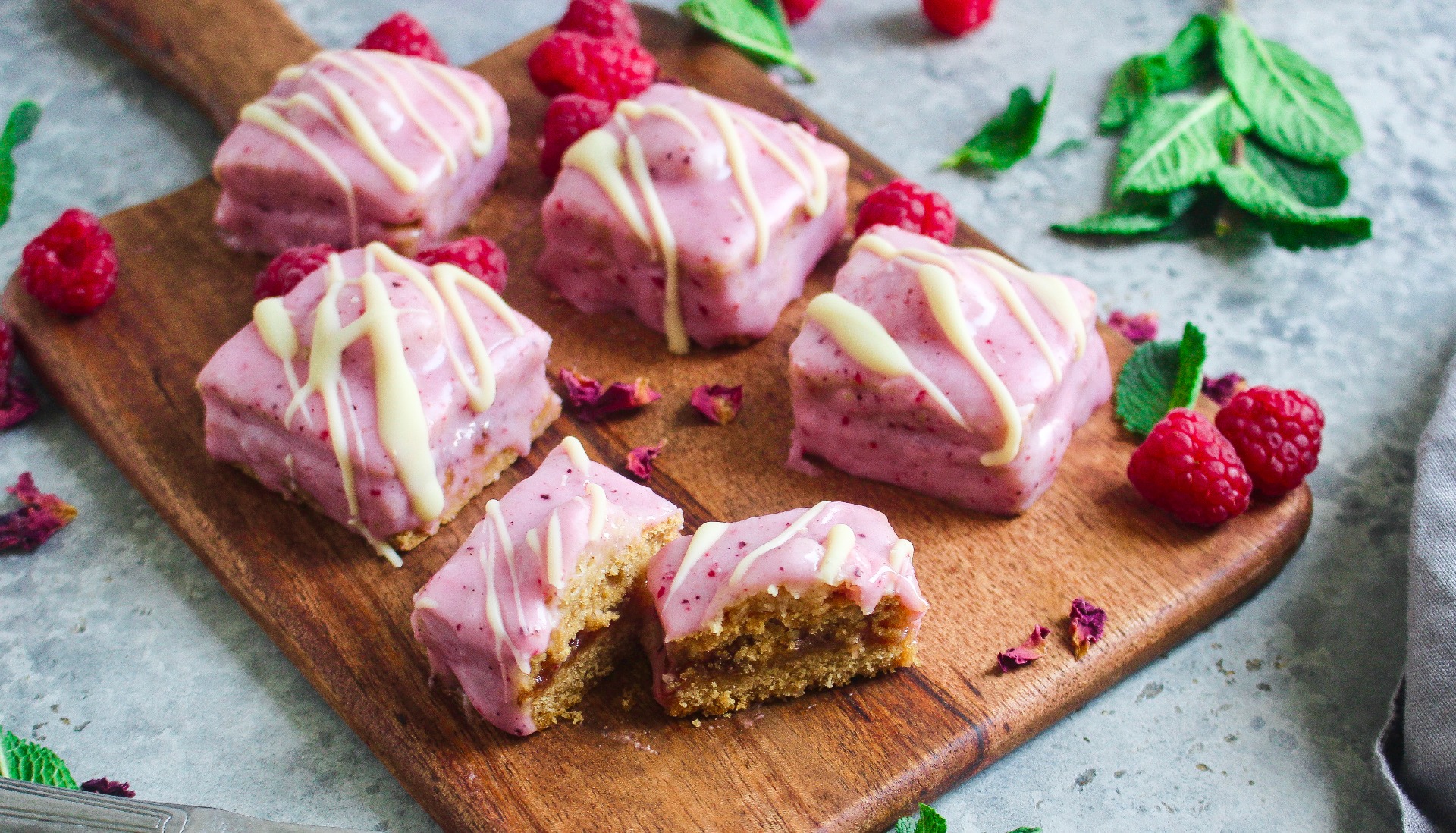 Recipe and images courtesy of Nourishing Amelia, Award Winning Blogger
A favourite sweet treat from your childhood! A delicious and delicate sponge, jam filling, marzipan on top and finally the sweet icing topping!
We are yet to see a free-from version of French Fancies in the shops so we decided to create our own, and they turned out perfectly! Almost all the ingredients can be picked up from your local Grape Tree store too which is so handy.
Ingredients
For the cake -
200g buckwheat flour
60g ground almonds
3 tbsp coconut sugar
4 tbsp maple syrup
3 tbsp coconut oil
180ml soya milk
1 tsp vanilla extract
1 tsp baking powder
1/2 tsp bicarbonate of sofa
Pinch of salt
For the jam layer -
For the marzipan layer -
3 tbsp ground almonds
2 tbsp maple syrup
For the icing -
1 can coconut milk
1 tsp acai powder
2 tbsp maple syrup

Method
Pre-heat the oven to 180 degrees celsius.
In a mixing bowl combine the flour, ground almonds, baking powder, bicarb and salt.
In a food processor cream together the coconut oil, coconut sugar, maple syrup and vanilla then fold this mixture into the mixing bowl with the dry ingredients.
Slowly pour in the soya milk gradually, mixing to combine.
Pour the cake mixture into a square cake tin lined with baking paper. Bake for 20-22 minutes.
Allow to cool completely then cute the cake into mini squares. You should make around 14-16.
Cut eat cake square horizontally so you have a top and bottom. Spread a thin layer of the jam on the bottom half of the cake then place the top half on top to sandwich together.
In a small bowl mix together the ground almonds and maple syrup. Roll into small marzipan balls using your hands and press one ball on top of each cake square.
To make the icing start by opening the can of coconut milk and scooping out the solid part. Place in a mixing bowl along with the maple syrup and whip together until fluffy then stir in the acai powder.
Ice each cake carefully, making sure each is evenly covered.
Place in the fridge to set for at least an hour.
For an extra touch you can drizzle with vegan chocolate or sprinkle with extra acai powder!