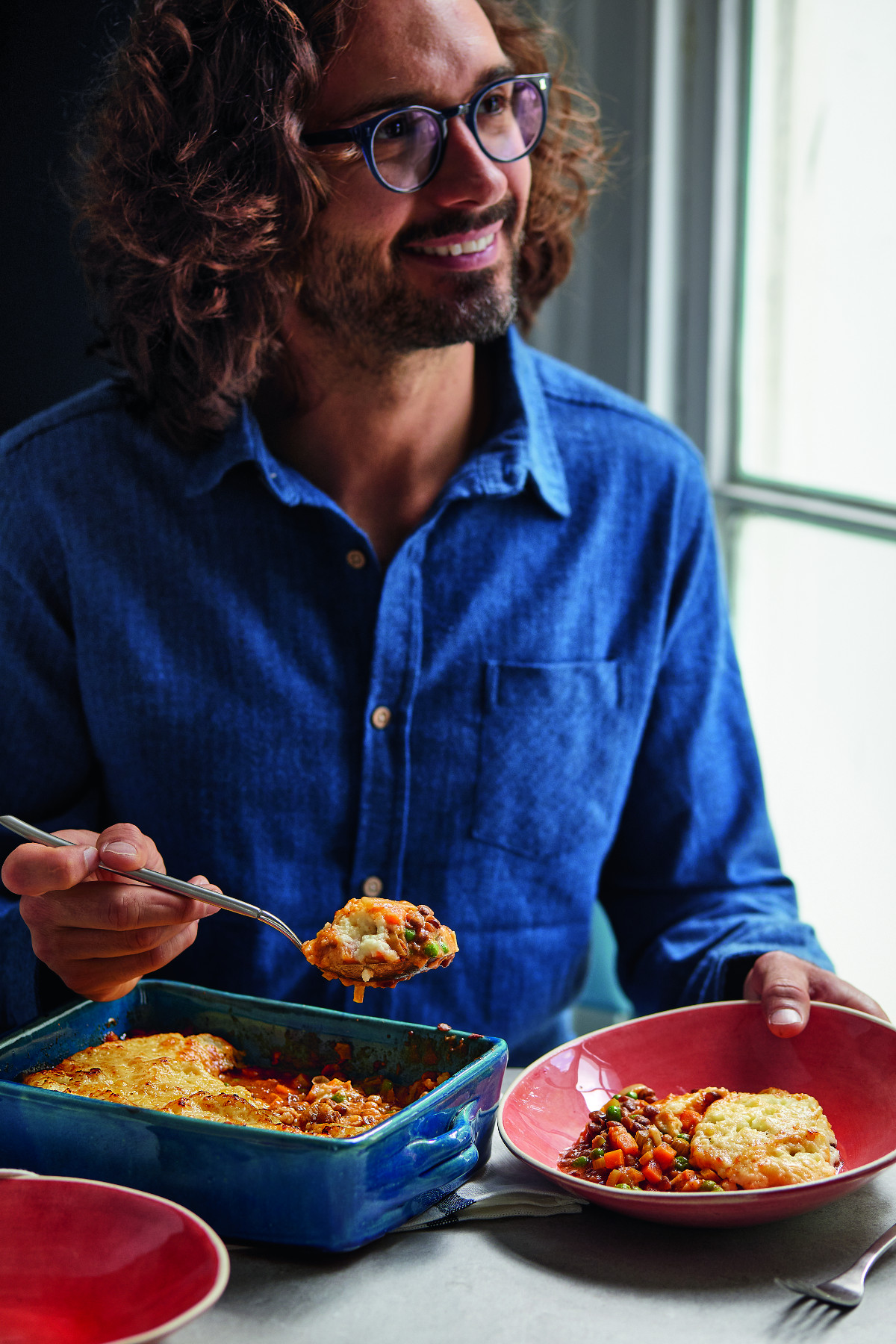 Photo: Andrew Burton
National fitness treasure and the man credited with helping keep the nation as fit as possible through the pandemic, Joe Wicks, believes it's often what we can't see that is more important than what we can.
The Body Coach, back on our screens during this latest lockdown, explained: "Exercise is about feeling good, being mentally strong, energized, optimistic, confident and in control. "Exercise can play a huge part in helping people manage anxiety, depression, low self-esteem and stress. Exercise makes me happy. I sleep better and I'm nicer."
With his new 30 Day Kick Start Plan Joe has pulled together diet, exercise and lifestyle tips to help support healthy choices. He said: "Many people believe it takes 21 days to form a new habit, so with 30 days, you can not only form great healthy-living habits but also start to cement them for the long term."
We have a delicious healthy recipe from Joe Wicks new book for Grape Tree customers, wintry curried cottage pie.
CURRIED COTTAGE PIE
INGREDIENTS
60g butter
1 leek, finely sliced
2 medium carrots, finely chopped
2 celery sticks, finely chopped
Salt and pepper
1 veggie stock cube
2 fat cloves garlic, finely chopped
Knob of fresh ginger, finely chopped
1 tbsp medium curry powder
2 tsp cumin seeds
2 tbsp tomato puree
400g green lentils (1 tin) or 40g dried lentils
1 head of cauliflower, cut into small florets
2 handfuls of frozen peas
30g cheddar, grated
METHOD:
Melt 20g butter, once bubbling, add the chopped leek, carrots and celery along with a pinch of salt and cook until veg is soft.
Make 150ml of vegetable stock.
Now add the garlic and ginger, cook for a minute more, sprinkle in the curry powder and cumin seeds and spoon in the tomato puree. Mix and cook for two minutes, then pour in green lentils and veggie stock.
Bring the pie mix to a simmer, then it turn down while you make the mash.
Drop the cauliflower florets into boiling salted water. Cook for 10 minutes until tender then drain and leave to steam for a few minutes.
Preheat the grill to maximum and process the cooked cauliflower adding in the last of the butter and seasoning to make a smooth mash.
Tip the cooked cauliflower into a food processor, add the remaining butter and some seasoning, blitz to a smooth mash.
Come back to your pie mix and add the frozen peas and season to taste. Once the peas have defrosted, spoon the filling into an ovenproof dish.
Spread the mash on top, then grate over the cheddar cheese. Slide under the grill and brown until there is a crispy top.
COOK'S TIP: Steaming the cauliflower will prevent it from becoming watery
Follow Joe's beginners tips
As part of the 30 Day Kick Start Plan Joe includes a range of exercise plans to supplement his healthy eating regime. Here we bring you two beginner moves to show you how easy it is to get moving. If you are new to exercise please remember to check with your GP to ensure any fitness plan is suitable for you.
MARCH ON SPOT
Jog or march up and down on the spot. Lift knees high, keep your back straight and pump your arms to accelerate.
SQUATS
Place your feet in a comfortable position that will allow you to squat down while keeping them firmly flat on the ground. Sit low and drive through the heels to stand up. Repeat fast.