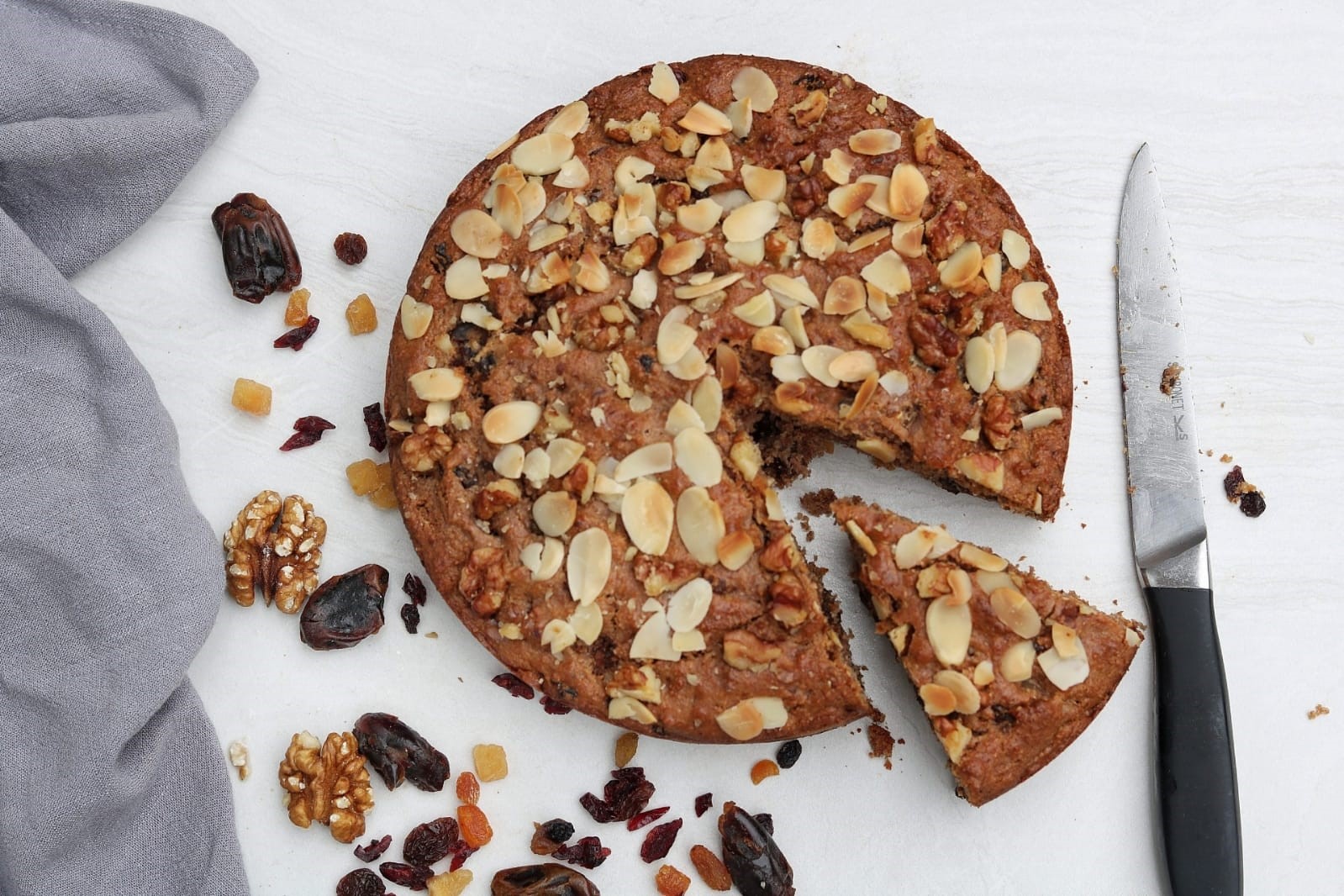 Who doesn't love a good dried fruit cake? And this go to mixed dried fruit cake recipe does not disappoint. Its light, moist and fragrant that improves each day after baking. Naturally sweetened packed full of your favourite Grape Tree dried fruit. We recommend that you bake a big batch, as they won't hang around for long!
You can adapt this dried fruit cake recipe and tailor to suit many dietary requirements. For example, switch ground almonds for ground walnuts, or go nut-free by switching ground walnuts for ground sunflower seeds. Any type of oil would work just as well, and that applies to the flour and milk too. Go gluten free by choosing an almond flour replacement.
Ingredients
200g dried mixed fruit, finely chopped
1 tablespoon orange zest
50g walnuts, finely chopped
1 teaspoon ground ginger
1/2 teaspoon ground cinnamon
1 teaspoon mixed spice
Orange juice
60g coconut oil
200ml soya milk (or any other plant-based milk)
2 tbsp fresh lemon juice
1 tsp vanilla extract
Pinch salt
150g ground almonds
150g almond flour
2 tsp baking powder
1/4 tsp baking soda
For the topping - flaked almonds
Method
Place the mixed dried fruit, orange zest, chopped walnuts (or pecans), ground ginger, ground cinnamon and mixed spice in a bowl and add a generous amount of orange juice until everything is coated.
Cover the fruit mixture and leave in the fridge overnight.
Preheat the oven to 180°C.
Place the coconut oil that has been melted in a large bowl and add the milk, lemon juice, vanilla, salt and ground almonds.
Sift in the almond flour, baking powder and baking soda.
Add the dried fruit mixture and mix well. If it looks dry, then trying to add a drop of milk.
Transfer mixture into a greased 7inch lined baking tin and smooth over.
Finish by scattering with flaked almonds before transferring to the pre heated oven.
Bake for 30 minutes until risen and an inserted skewer comes out clean.
Note: Keeps covered in the fridge for up to a few days.