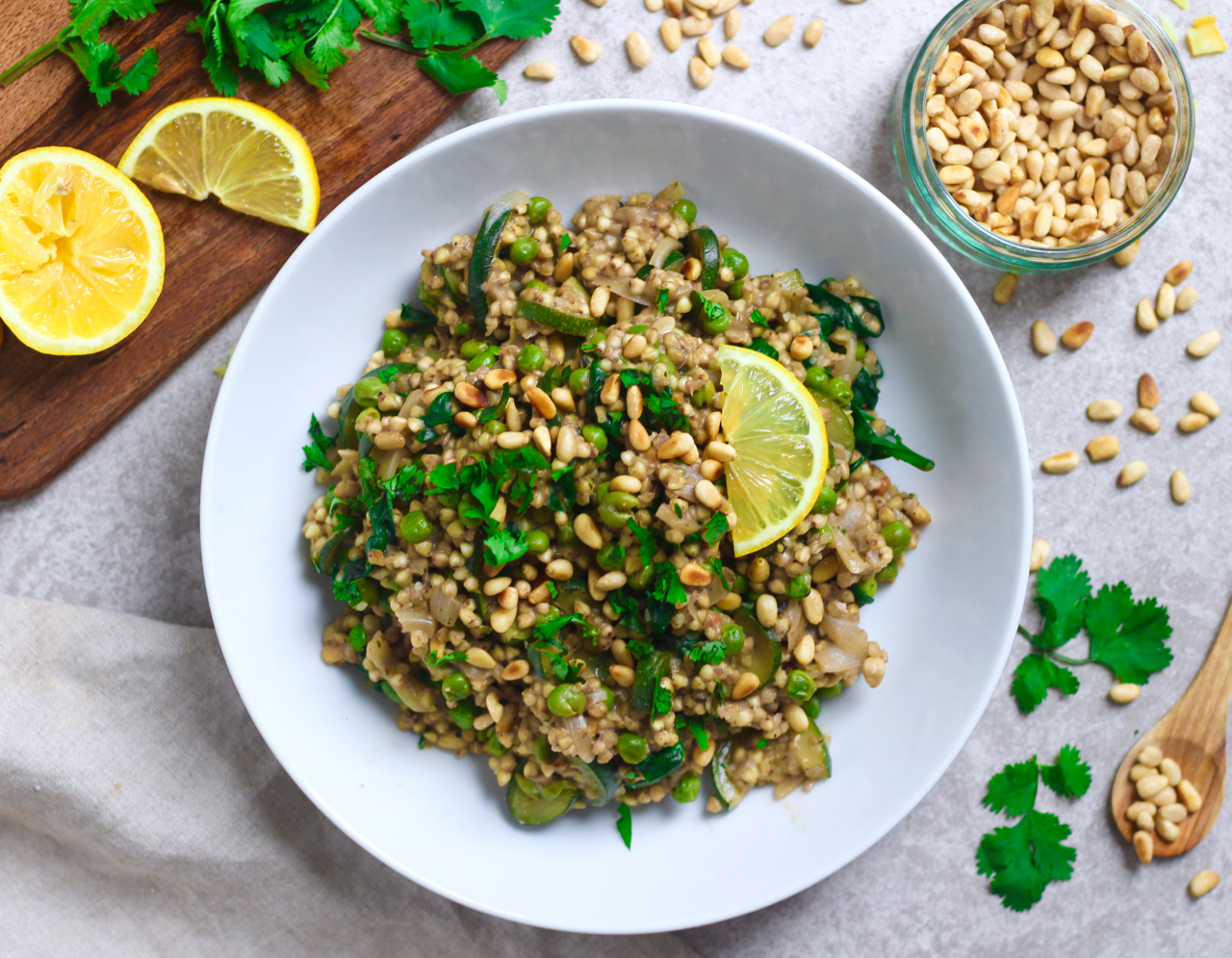 Recipe and images courtesy of Nourishing Amelia, Award Winning Blogger
This fresh & vibrant vegan risotto will become your new go to dinner. It's the easiest meal to make, requires so little washing up and it's so incredibly filling too. This risotto is also absolutely loaded with plant-based goodness that'll leave you feeling full of energy and ready to take on the world!
Buckwheat is used instead of rice to give an extra oomph of nutrients. Buckwheat is a naturally gluten free grain (technically a seed) that's high in protein, high in fibre and it's easier for the body to digest compared to rice. Buckwheat has so many health benefits, such as having the ability to help balance blood sugar levels and it contains many vitamins & minerals like energy boosting B vitamins, zinc, iron and folate. So it really is a great addition to your diet!
Ingredients
120g buckwheat
1/2 onion
1 clove garlic
320ml vegetable stock
200g courgette (1 medium)
100g frozen peas
80g spinach
Juice 1/2 lemon
2 tbsp nutritional yeast
1 tsp herbs de provence
40g pine nuts
1 tbsp olive oil
8g fresh coriander
Black pepper
Method
Add the olive oil to a saucepan over a medium heat. Dice the onion and add this to the warmed pan.
Once the onion begins to brown add the garlic. Cut the courgette into half moon shapes and add to the saucepan too. Allow to cook for around 5 minutes.
Rinse the buckwheat groats under cold water and add to the saucepan along with the vegetable stock. Sprinkle in the dried herbs and plenty of black pepper. Allow to cook on a low heat for 5 minutes then add the frozen peas.
Continue to cook on a low heat, stirring regularly. Once the buckwheat starts absorbing the water add the lemon juice and nutritional yeast. Cook the mixture for around 10-15 minutes, or until the stock is absorb and the buckwheat is soft.
Stir in the fresh coriander and the spinach at the end of cooking, and allow the spinach to wilt.
 Add the pine nuts to a dry frying pan over a low heat and gently toast for 2-3 minutesor until they begin to brown. Stir 2/3 of the pine nuts into the risotto.
Serve between 2 plates, sprinkling the remaining pine nuts over the top.