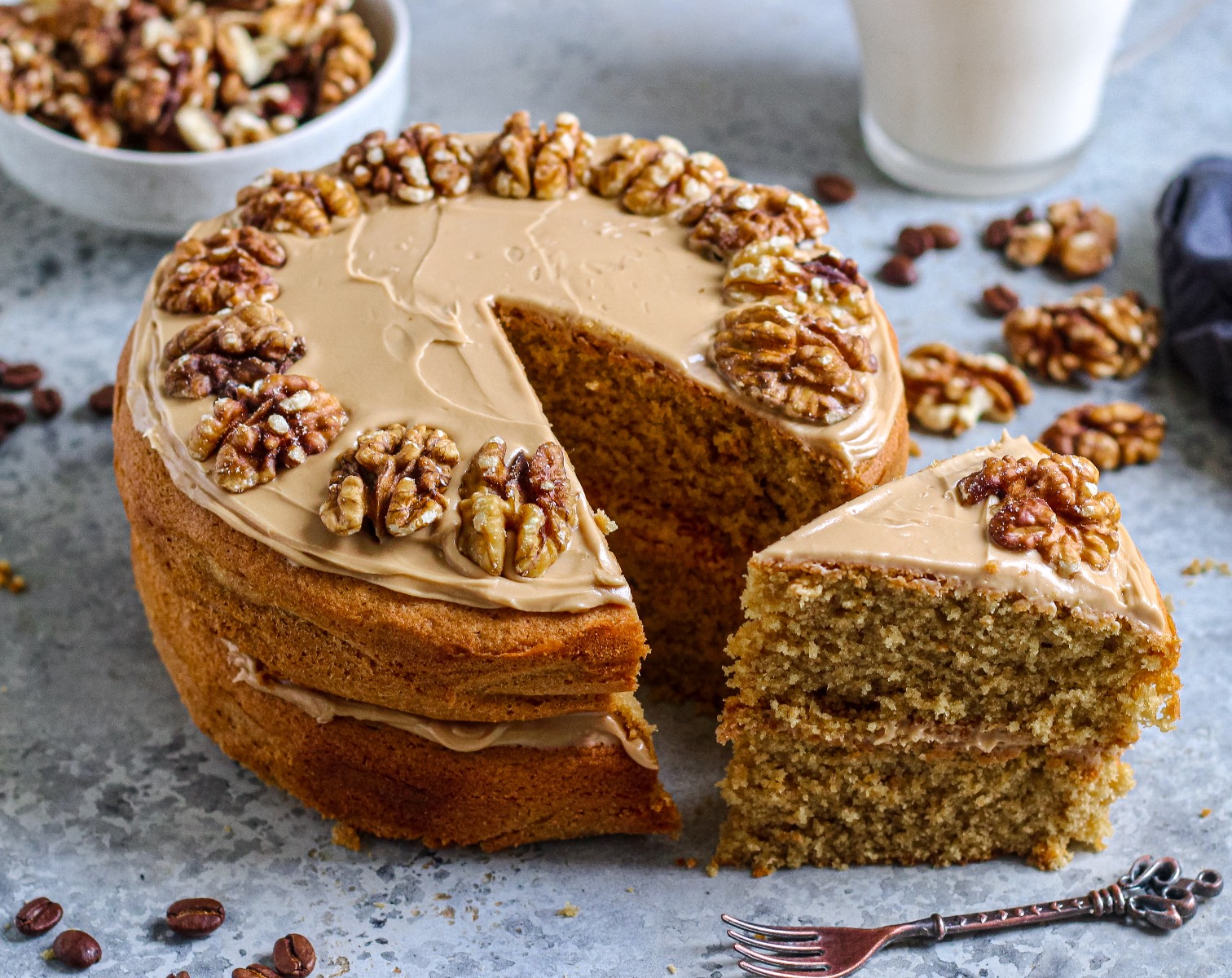 Recipe and images courtesy of Nourishing Amelia, Award Winning Blogger
THE SWEET TASTE OF A NEW LIFE
A classic cake that can be enjoyed at parties, afternoon tea, birthday's or simply with a cup of tea! 
COFFEE AND WALNUT CAKE
Ingredients (Cake): 
• 240g self raising gluten free flour
• 200g coconut sugar
• 6 tbsp maple syrup
• 8 tbsp soya milk (or any dairy free milk)
• 4 tbsp ground linseed (flaxseed) mixed with 10 tbsp water
• 200g vegan margarine or coconut oil
• 1/4 tsp xanthan gum
• 2 tbsp instant coffee (alongside 2 tbsp boiling water)
• Pinch of salt
Ingredients (Frosting):
• 300g coconut yogurt
• 3 tbsp maple syrup
• 2 tsp instant coffee (alongside 1 tbsp boiling water)
• 12-14 walnuts to top
METHOD
1. Pre-heat the oven to 160°C.
2. Combine the linseed with the water and allow to thicken.
3. Add the coconut oil or vegan margarine to a mixing bowl along with the coconut sugar. Whisk using either an electric whisk or in a food processor until creamed together.
4. Add the maple syrup, soya milk, linseed mixture and coffee to the bowl and whisk again until combined.
5. Sift the flour into a mixing bowl along with the xanthan gum and pinch of salt.
6. Slowly mix in the wet mixture until well combined.
7. Grease two cake tins and pour the cake batter into each cake tin evenly.
8. Bake in the oven for 22-25 minutes or until golden brown on top and a knife comes out clean when poked in the centre.
9. Allow the cakes to cool completely before removing from the cake tins and adding the frosting.
10. To make the frosting, simply mix together the coconut yogurt, maple syrup and coffee until creamy and well combined.
11. Spread the frosting on top of one cake, then place the other cake on top. Add the remaining frosting to the top of the cake and place the walnut halves around the outside.